Granite is one of the most renowned countertop materials, however, it can be a little pricey. Luckily, a homeowner looking for a cheap alternative to granite will have no shortage of choices. For instance, there are plenty of countertop materials that also offer durability and a good return on investment.
Quartz countertops are among the best alternatives.Choosing a premium quality quartz manufacturer like Caesarstone will provide homeowners with a worthwhile and valuable option that will last long and won't require much maintenance or upkeep.
The cost of granite countertops ranges between $80 to $175 per square foot. These countertops also require regular sealing and maintenance.
Looking for cheap alternatives to granite countertops? Keep reading as we explore some other countertop materials.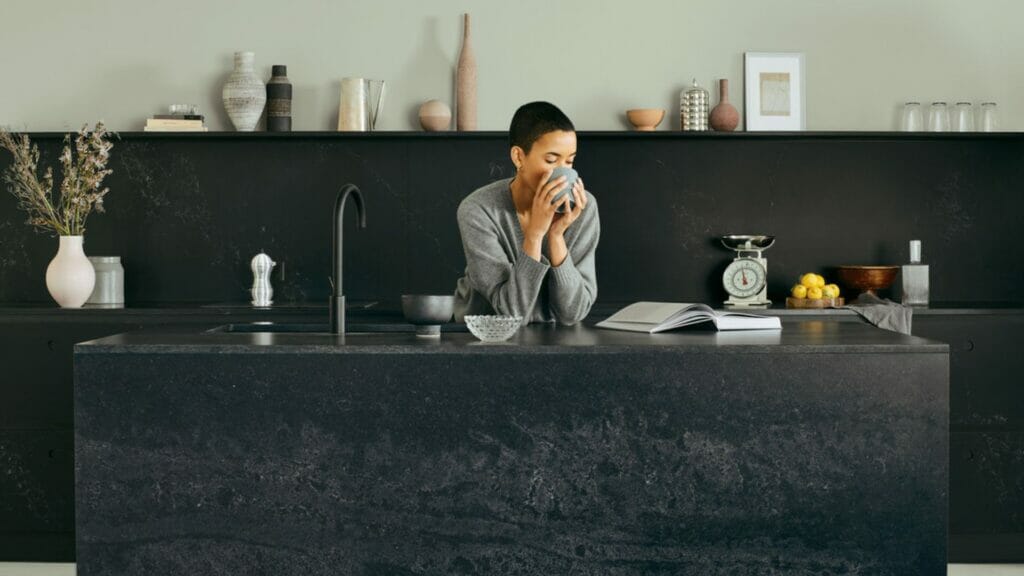 Quartz
While quartz countertop prices are similar to granite, quartz will likely cost less down the line, as it does not require sealing or much regular upkeep.
Quartz offers high durability, a non-porous nature, a wide variety of colors and designs, and ease of customization. Many homeowners choose this countertop material, praising it for the ease of cleaning and maintenance, given that it does not stain easily.
Premium quartz, such as that supplied by Caesarstone, isn't cheap initially, but offers value in the long run.
It is non-porous and will not absorb liquids, chemicals or cleaning detergents. And no matter the bathroom or kitchen countertop specifications, quartz can be modified to achieve the desired aesthetic appeal. And given the large variety of colors and designs, homeowners who want countertops that mimic natural stones have a plethora of choices. Looking for whites, blacks, greys or beige color hues? Caesarstone's 5810 Black Tempal, 4033 Rugged Concrete, or even 4046 Excava are some of the best Caesarstone quartz countertop options.
Tile
With an average cost of $5 to $30 per square foot, this is one of the most common cheap alternatives to granite counters. Tile countertops have an appeal that is often preferred by creatively inclined persons, given the vast opportunity for customization. Tile countertops create a classic and polished look.
Slate
Slate is one of the most affordable countertop materials, with an approximate cost of $20 to $60 per square foot. It is a stunning countertop material that offers a variety of colors including blacks, greys, blues, greens, browns, and even reds. And because each slab is uniquely made, it provides uniform countertops.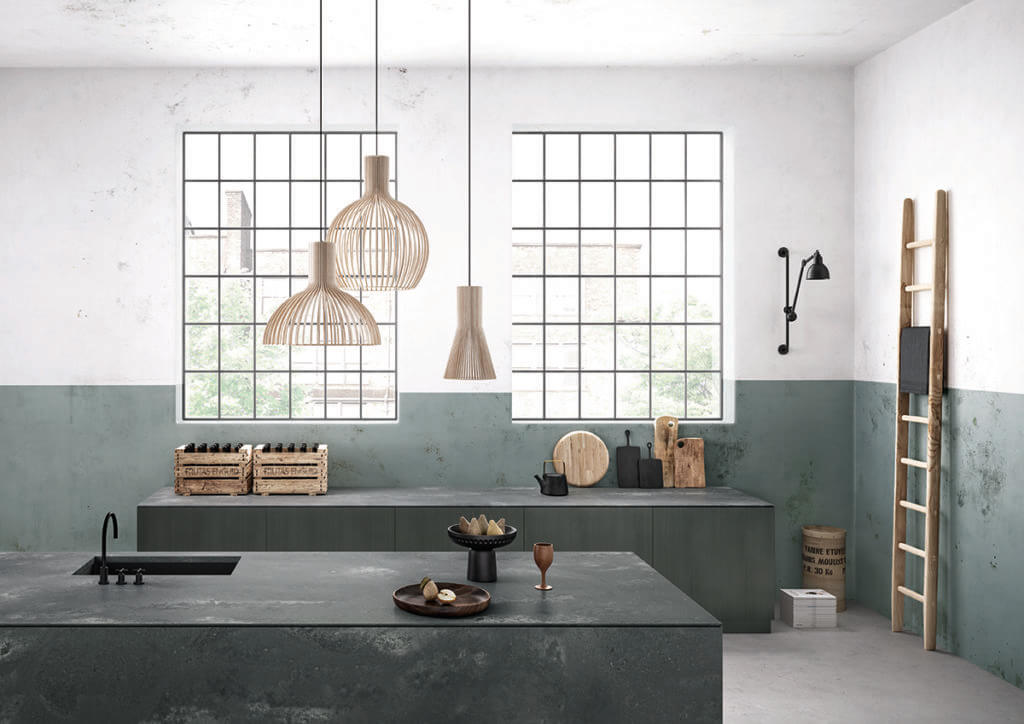 Wood
Used since time immemorial, the current cost of wood countertops ranges between $10 to $38 per square foot, making it a great cheap countertop alternative to granite. These countertops are made from different types of wood such as cherry, bamboo, walnut, and oak, which means homeowners can achieve different looks.
Laminate
With a cost ranging between $20 to $30 per square foot, laminate countertops are recommended as a cheap alternative to granite worktops given their low cost and ease of installation. They are waterproof and are also remarkably non-porous. Further, they come in countless colors and patterns, to suit any homeowner's individual preference.
What factors should homeowners consider before choosing countertop materials?
Countertop material selection is not an easy task. The wrong selection can not only leave a homeowner with a less appealing space but is also more expensive in the long run. And since we wouldn't want anyone to regret their choice, here are some of the top factors that should be considered when selecting countertop materials.
Hardness – This is vital when selecting a countertop material. The hardness of a stone is measured on the Mohs Hardness Scale from one to ten. The harder the stone, the more durable it is. Quartz, for instance, has a hardness scale of 7 on the Mohs Hardness Scale, making it a great choice for countertop material.
Heat tolerance – While homeowners should always use trivets and heat pads when placing hot cookware down on their countertops, installing kitchen counters that are heat-resistant, like Caesarstone quartz, will provide some peace of mind for those who are always busy in the kitchen.
Porosity – Porous countertops absorb cleaning solutions, liquids, and even food, leaving visible stains. No one loves when liquids seep into countertops. The permanent and costly damage it can create is the reason there is such a need for countertop materials that are not porous. Quartz comes highly recommended as a non-porous countertop material.
Maintenance needs – Some countertop materials, such as those that are porous, need regular sealing. Not only is this an added cost but also a time-consuming activity.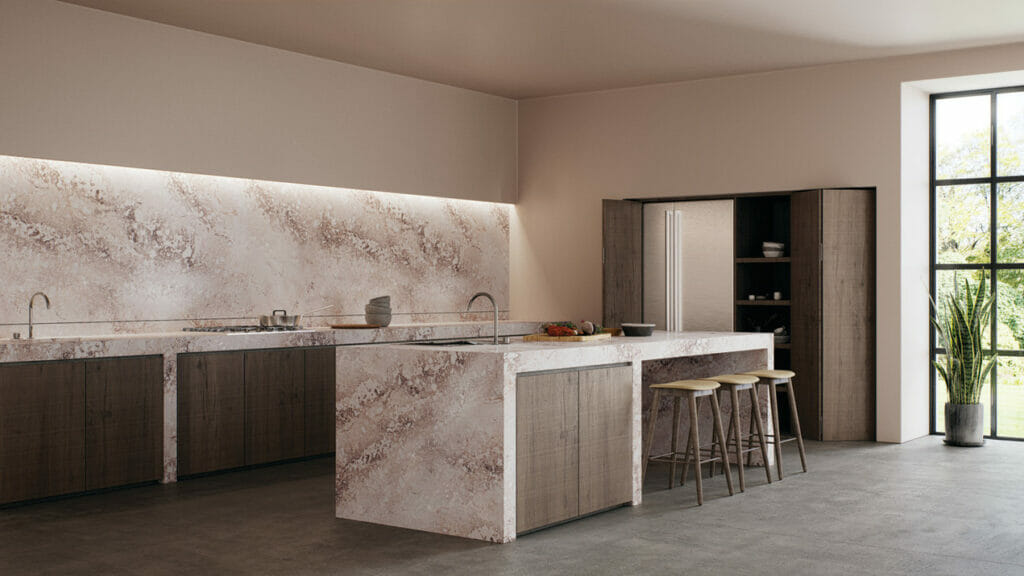 The bottom line
While there are many cheap alternatives to granite countertops available on the market, making the right choice can be challenging. However, once homeowners understand the characteristics of each alternative, it becomes an easier process.
Quartz countertops are one of the best alternatives to granite counters in terms of durability, aesthetic appeal, functionality, and versatility. However, if purchasing quartz, it is important for homeowners to seek out a quality manufacturer like Caesarstone to ensure they are getting the best product possible for their needs.