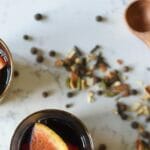 Picking the perfect signature cocktail can make a holiday party more memorable. Whether you try new seasonal recipes or keep it classic, a party is always better with tasty libations. We've put together three of our favorite festive holiday drinks, each perfect for its own unique occasion.
For Friends with Something to Celebrate: Peppermint Bark Mimosas
Ingredients:
¼ cup melted semisweet chocolate chips
3 crushed candy canes
6 oz peppermint schnapps
1 bottle champagne
6 whole candy canes
This is an easy way to give a yuletide twist to everyone's favorite brunch drink. To begin, place the melted chocolate on one plate and the crushed candy canes on another. Dip champagne flutes first into the chocolate, and then into the candy cane bits so that the rims are coated. From there it's simple! Add an ounce of peppermint schnapps to each glass and top them off with your favorite champagne. When the glasses are garnished with a complete candy cane, they don't just look fantastic, they taste incredible! For smaller groups who need an excuse to give a few toasts, the Peppermint Bark Mimosa is a perfect option.
Resource: Delish
For a Guest with Classic Taste: Winter Old Fashioned
Ingredients:
3 oz bourbon
2 cups water
1 cup sugar
1 cup fresh cranberries
3 shakes Angostura bitters
Garnish of choice
You can't beat the classics. This is one of the best holiday drinks for getting cozy by the fire or sipping while catching up with old friends. It's similar to the Old Fashioned we all know and love, but what makes this a "Winter" Old Fashioned is the handmade cranberry simple syrup.
To begin, place the water, cranberries and sugar into a saucepan and bring to a boil. Once the mixture is boiling, let it cook for five minutes and then strain it through a mesh sieve. Let it cool before adding it to the drink. You've just made cranberry simple syrup!
From there, it's fairly straightforward. Simply stir together the bourbon, cranberry simple syrup, and bitters in a serving glass. It can be served neat or on the rocks, and you can garnish however you see fit! We recommend rosemary or the classic orange zest. For additional style points, freeze cranberries in the center of your ice cubes.
Resource: Inspired by Charm
For a Big Crowd: Coquito
Ingredients:
2 ¼ cups water
Zest from 2 limes
25 cinnamon sticks
2 ⅓ cups sugar
14 oz unsweetened coconut milk
12 oz evaporated milk
16 oz rum
¼ cup vanilla extract
This one may take a bit more finesse, but it's the perfect mix for a big get-together since this recipe makes enough for two dozen glasses. A spin-off of the classic eggnog, Coquito (meaning "little coconut") is a delicious holiday drink that originated in Puerto Rico and is sure to leave a lasting impression.
Place the water, lime and one cinnamon stick into a medium saucepan for fifteen minutes over moderate heat. After it's finished, strain and place into the refrigerator. Once it is chilled, whisk in the sugar, coconut milk, evaporated milk, light rum and vanilla. Place back in the refrigerator and let it chill until you are ready to serve. At that point, just stir well and ladle it out into glasses garnished with the remaining cinnamon sticks.
Resource: Food and Wine
Festive Holiday Drinks Look Best on Caesarstone Surfaces
At Caesarstone, we know that where you prepare the refreshments for your holiday party is just as important as how you prepare them. Our countertops are perfect for preparing your signature cocktail dish, but also function as a beautiful spot to place your holiday snacks and drinks. Whether it's finding the perfect drink for your party, or finding the perfect quartz surface for your dream kitchen, it's time to trust the experts. To learn more about Caesarstone, or to see our incredible line of products, visit caesarstoneus.com today!