Marble is undeniably a classic motif that stands the test of time. It has captivated artists since 400 BC and has since been used to create some of the most famous monuments throughout history. Today, marble has a refreshed image as its organic nature represents an expression of refined strength.
Empira White Color Story
Because the beauty of marble continues to elevate residential and commercial interiors, we have added 5151 Empira White to our collection of marble-inspired quartz designs. Soft, refined ebony veining traverses a pure white base, creating an interplay between color, movement and emotion. The uplifting surface is an interpretation of authentic Calacatta marble and its timeless, yet urban look. Reliable and versatile for either residential or hospitality settings, Empira White is inherently elegant. This reinvigorated classic for bars, counters, and islands purveys sustainable style with guaranteed longevity.
Empira White presents the sophisticated beauty of natural stone alongside the durability and easy maintenance that are now synonymous with the Caesarstone name.
Brass Benefits
One of the best features of a quartz marble-inspired surface is its ability to seamlessly mingle with trends. For instance, brass has become a popular metal for light fixtures, kitchen hardware and accessories. The combination of marble and brass fashionably updates architectural spaces as the contract between classic and contemporary continues to influence design.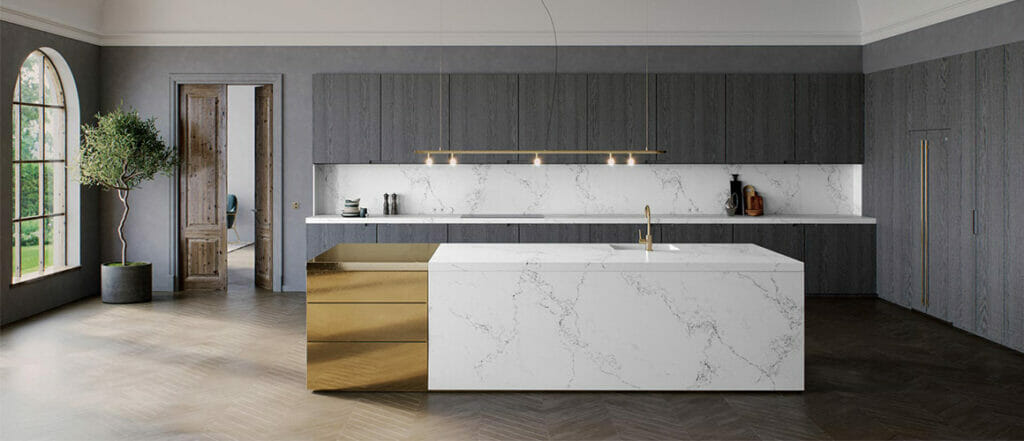 Wood Pairings
Natural woods and bright whites give a room that crisp yet comforting vibe where people tend to want to gather. The warmth of wood and the elegance of marble together offer aesthetic charm and sensorial delight. Pair Empira White with beautifully stained dark wood floors for a classic feel with a hint of rustic or take the sophistication of marble countertops to another level by pairing with sleek Scandinavian-style wood cabinets.
Color Complements
Green is associated with nature and wellness so it's no surprise that some shade of green tops the color trends list every year, and 2019 is no different. We are seeing sage green come to life in fashion and interiors. Pair this soft color with shades of white to bring freshness and light into a room.
Hunter green is another stylish shade that's a perfect backdrop for Empira White. "Hunter green holds a sultry and worldly value to it, it's intrinsic in nature and all of life. It's timeless in every respect and works beautifully with natural elements and neutral tones. What we also love about this color is how seamlessly it transitions between millwork, walls, furniture and accessories. Its gender neutrality also holds a special place in my heart, there's no definition of a home feeling more masculine or feminine; it's the perfect balance of each," said interior designer Becky Shea to Elle Décor.
Visit the Caesarstone Visualizer tool to see how Empira White brings beauty to surfaces, walls, stairs, flooring and other applications in residential and commercial settings.