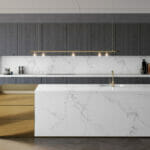 A classic pumpkin pie is always welcome at Thanksgiving dinner. But imagine elevating that vintage dessert to another level of indulgence and you will be the talk of the town (OK, maybe the talk of the room, but still). You will not only find this delectable Pumpkin Maple Meringue Pie recipe below, but you will learn some key piemaking secrets that will make your work of art stand out among the others.
Here, you'll notice this beautiful pie on a Caesarstone Empira White surface that FeedFeed founders Julie and Dan Resnick chose as their working kitchen countertops, not only for ease of use but as the ideal background for their food photography.
"My Caesarstone surface is the perfect addition to my kitchen! The smooth surface makes rolling out pie crusts effortless, while the Empira White coloring makes for a sleek focal piece to set up a beautiful holiday spread," shared Julie.
Whether you're looking into documenting your food journey on Instagram or are an avid food blogger/styler, Caesarstone engineered quartz surfaces offer a functional and elegant backdrop that highlights what's most important in this case – the food.
FeedFeed curates content shared by home cooks, professional chefs, and bloggers as a source of inspiration for the average cook. Founders Julie and Dan are devoted to this living and breathing community that provides a lens into kitchens around the world, changing with the seasons, and inspiring people to cook more and to use more local and seasonal products. A portion of all proceeds goes to small farms.
Pastry chef Miro Uskokovic from Gramercy Tavern in NYC stopped by the FeedFeed kitchen in Brooklyn to share this recipe with the FeedFeed community and you.
Miro's pie tips:
All ingredients should be extremely cold for a super flaky crust. Refrigerate your flour and other ingredients and freeze your butter (it will also be easier to grate).
Wrapping dough in parchment paper instead of plastic wrap will allow it to breathe and reduce the chance of it being sticky on the outside.
Prep Time: 2 hours
Cook Time: 1 hour 15 minutes
Yield: 1 (9-inch) pie
Pie crust ingredients
2 cups (250 grams) unbleached all-purpose flour
1/3 cup cold water
1/4 cup full fat sour cream, cold
1 tablespoon organic cane sugar
1/4 teaspoon kosher salt
2 sticks unsalted butter, frozen
1 egg, beaten with a pinch of salt
Instructions
STEP 1
Place flour into a large metal bowl and refrigerate until cold to the touch, at least 20 minutes. In a small bowl, whisk water, sour cream, sugar and salt using a fork or small whisk. Place in the fridge too.
STEP 2
Grate the frozen butter using a food processor fitted with a grater attachment or a box grater onto a parchment-lined sheet tray, then chill the grated butter for about 10 minutes to make sure everything is still cold.
STEP 3
To the cold flour, add cold, grated butter and use your hands to mix together. Make a well in the center and pour in cold sour cream mixture. Use a silicone spatula to mix until everything just comes together. Use your hands if needed. Dump mixture onto a sheet of parchment paper. With your hands, gently pat and press it into a shaggy disk. Wrap securely in parchment (channel your inner bodega man with his perfect sandwich-wrapping skills) and let it rest in the fridge for at least 4 hours, or preferably overnight. As dough rests, the flour will hydrate, and it will become smooth and more like the pie dough you'd expect.
STEP 4
When ready to use, let the dough sit at room temperature for 15-20 minutes so it's easier to roll out. If it's too cold, it will crack when rolling. The ideal dough temperature should be somewhere between 65-70°F. Dust the counter generously with flour to help roll out the pie crust. You should be able to roll dough into a circle approximately 10-inch across and ¼-inch thick. Before lining the pie tin, use a pastry brush away all excess flour. Press the dough carefully into the tin. Use a sharp paring knife or scissors to trim dough flush with the rim of the pie tin.
STEP 5
After lining the pie tin, chill the pie crust for at least 1 hour. Preheat oven to 400°F. Place the still chilled pie crust on a half-sheet tray. Crumple a large square of parchment in your fist, unfold and place over the pie crust. Fill the parchment with uncooked lentils, small beans or rice to come all the way to the top of the crust.
STEP 6
Bake the weighed down pie crust in the preheated oven for 20-25 minutes. Remove from oven and carefully lift off the parchment and pie weights. Return pie crust to oven and continue to bake for another 10-15 minutes. The crust should be deep golden brown on the edges and outside, the color of light brown sugar. If it bubbles and puffs during this time, just gently press it down with a clean kitchen towel. When done brush the crust thoroughly with a light coating of egg wash. Put back in the oven and bake 1 minute to set the coating.
Pumpkin custard ingredients
11/2 cups (350g) heavy cream
1/2 cup (100g) organic cane sugar
1/3 cup (50g) light brown sugar
1 tablespoon all-purpose flour
1 teaspoon kosher salt
1 teaspoon cinnamon
1/2 teaspoon ginger powder
2 eggs
1 (15 ounces) can pumpkin puree
Instructions
STEP 1
In a large bowl, blend everything with an immersion hand blender until combined and smooth.
Maple meringue ingredients
3 large (90g) egg whites
1/4 teaspoon cream of tartar
1 cup (180g) maple sugar
1/3 cup (70g) water
2 teaspoons (5g) cornstarch
Instructions
STEP 1
In a bowl of a stand mixer, combine egg whites and cream of tartar and start whipping on medium speed. When eggs are frothy, begin slowly adding sugar and continue whipping on medium speed. Meanwhile, make a slurry by combining water and starch in a small saucepan. Bring to boil over medium-high heat while constantly stirring. Reduce heat to low and cook for 2 minutes, stirring constantly. Add hot slurry to the whites and continue to whip until stiff peaks form.
Assembly
STEP 1
Preheat oven to 325°F. Pour pumpkin custard into pre-baked pie crust and smooth the top with a spatula. Bake for 45-60 minutes until slightly puffed and set on the sides, but still jiggly like a jelly in the middle. Let cool completely, then chill for 1 hour. When pie is completely cool and set, top with meringue and torch until golden. Slice and serve.
Watch Miro Uskokovic make this Pumpkin Maple Meringue Pie.
Follow @thefeedfeed for more recipe inspiration, @caesarstoneus for the latest in interior design, and @mirouskokovic for dessert photos and recipes from this pastry king.