The waterfall countertop design is among the most popular countertop trends at the moment. In this post, we'll tell you everything you need to know about it. We'll also provide some waterfall countertop ideas to inspire your next kitchen design.
What Are Waterfall Countertops?
Conventional countertops consist of a slab resting atop base cabinets or an island. While this can certainly be beautiful in its own right, a waterfall countertop edge creates a more dramatic look. With this design, the countertop has vertically-extending sides that reach to the floor.
In the picture above, observe how the countertop material flows beyond the top surface and down to the floor. This design element creates a very elegant countertop that enhances a modern kitchen design.
What Materials Can You Use for Waterfall Countertops?
The unique profile of a waterfall countertop edge means you need to choose a surface material carefully. You want the countertop to look like it's made from one continuous material. This is difficult to do with a waterfall countertop island made from wood, marble, granite, or any other material that contains natural veining. Mismatched veining will ruin the cascading waterfall effect.
Because of this, most designers now use quartz countertops to create the waterfall look. Our experts at Caesarstone combine the natural beauty of quartz with resins and pigments to produce a versatile material. We can flawlessly match veining or exclude it altogether to create a waterfall countertop island that looks like one cohesive material.
Beyond installation, quartz countertop benefits make engineered stone a much more practical solution for day-to-day life as well. While waterfall granite countertops are porous and expensive to maintain, quartz requires no maintenance.
Waterfall Countertop Cost
Stone slabs (including quartz) for a waterfall countertop cost from $40 to $100 and beyond per square foot. Installation will run you as much as $100 per square foot. These costs are no different than what you'd pay for the materials and installation of a conventional countertop. Of course, you'll need more material — but the cost per square foot is typically the same.
Fabrication costs are where waterfall countertops pull far ahead. Manufacturers will cut the slab precisely with a computer numerical control laser cutter (CNC). This produces mitered edges that fit together seamlessly. Expect to pay as much as an extra $2,000 for this process.
With waterfall granite countertops, your costs don't end there. You also need to worry about resealing the surface as often as twice annually. These costs range from $200 to $1,200.
While the upfront cost for a quartz waterfall countertop is by no means cheap (if it is, you should be suspicious), you'll save money in the long run.
Waterfall Countertop Pros and Cons
Pros
Stunning Beauty
A waterfall countertop edge is stunningly beautiful. It can be the centerpiece of any modern or contemporary kitchen.
Durability
Base cabinets made from wood can scratch very easily. Belt buckles, utensils, and chairs all pose risks. Quartz, on the other hand, is a very resilient material. It's very unlikely that you'd scratch a waterfall countertop made from quartz.
Cons
Cost
There's no way around it. A good waterfall countertop is going to cost you. You'll of course spend more on materials for a waterfall countertop island. But you'll also pay as much as $2,000 for the CNC fabrication process.
Doesn't Work with Every Theme
As jaw-dropping as waterfall countertops are, they don't necessarily work with every kitchen design theme. They're primarily suited towards modern and contemporary kitchen designs and may look out of place in a traditional space.
Waterfall Countertop Design Ideas
Waterfall Countertop Edge
You Don't Have to Avoid Patterns Altogether
While creating a waterfall countertop with most veined materials is impractical and expensive, it's a breeze with quartz. Check out this white waterfall countertop edge:
We can even do it with more intricate veining: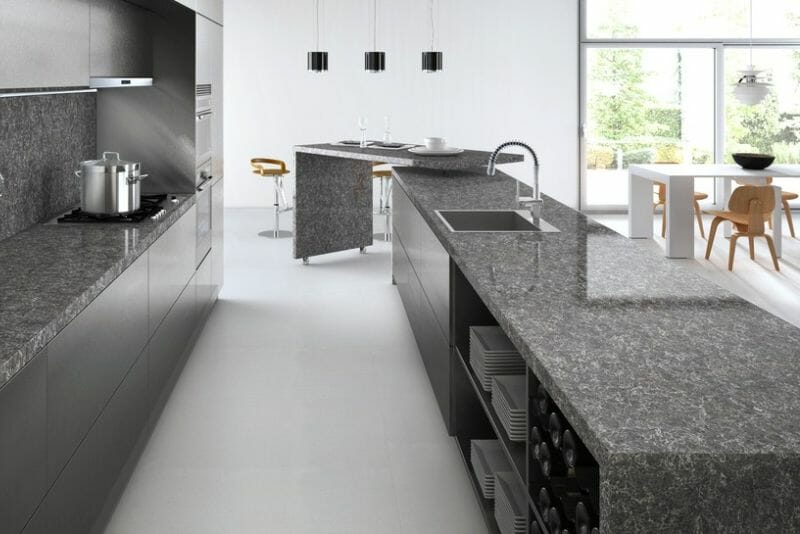 Notice how the edge where the top and sides join appears seamless. This is what you want for a true waterfall countertop island look.
Don't Add Unnecessary Complexity
Part of a waterfall countertop's beauty is its simplicity. While it's certainly possible to include various edge profiles in your waterfall countertop (bullnose, etc.), a square edge almost always looks better.
Waterfall Countertop Island
Match It To Other Surfaces in Your Kitchen
To create a seamless look in your kitchen, consider matching your waterfall countertop island to other surfaces, such as the kitchen backsplash. Look at how we made use of 4046 Excava in the design below.https://www.instagram.com/p/B0oW3klhAI_/embed/captioned/?cr=1&v=12&wp=720&rd=https%3A%2F%2Fwww.caesarstoneus.com&rp=%2Fabout-us%2Finformation-inspiration%2Fdesign-to-inspire%2Fwaterfall-countertop-everything-you-need-to-know%2F#%7B%22ci%22%3A1%2C%22os%22%3A1557.055000012042%2C%22ls%22%3A1261.5349999978207%2C%22le%22%3A1414.0750000078697%7D
Choose Your Seating Wisely
A waterfall countertop island makes a bold statement. Enhance this by accessorizing properly, with intelligently-chosen seating. Wood chairs can be a great choice, as in the case of this design. The countertop itself is 4033 Rugged Concrete.https://www.instagram.com/p/BtBkgYVlbZL/embed/captioned/?cr=1&v=12&wp=720&rd=https%3A%2F%2Fwww.caesarstoneus.com&rp=%2Fabout-us%2Finformation-inspiration%2Fdesign-to-inspire%2Fwaterfall-countertop-everything-you-need-to-know%2F#%7B%22ci%22%3A2%2C%22os%22%3A1562.2450000082608%2C%22ls%22%3A1261.5349999978207%2C%22le%22%3A1414.0750000078697%7D
In Summary
Waterfall countertops are incredibly popular right now – and for good reason. They provide a very unique look and make for a beautiful space. Quartz is currently the most popular material for waterfall countertops. Its versatility allows our engineers and designers at Caesarstone to mold it seamlessly into a variety of shapes and patterns.
Check out the Modern Kitchen template in our virtual kitchen designer to experiment with various quartz colors and patterns. Once you've landed on a design you like, stop by one of our Caesarstone locations to turn your dream into a reality.
Frequently Asked Questions
How thick is a waterfall countertop?
A waterfall countertop's sides and top will typically be around 2 to 3 inches. Whichever dimension you choose, all slabs should be of the same thickness.
What is the size of the overhang for a waterfall edge countertop?
The exact dimensions of a waterfall edge countertop overhang can vary wildly. Generally, it can be as little as 10.5 inches or as substantial as 18 inches. Larger dimensions are suited towards a waterfall island that you intend to sit at regularly while smaller dimensions are fine for occasional seating.