Wholesale countertops might seem like a good bargain. In reality, they have many flaws. Internet design forums are filled with complaints from homeowners who made the mistake of spending money on wholesale countertops and are now stuck with a poor-quality surface.
Today, we'll take a look at the various issues with wholesale countertops as well as red flags you should look out for when shopping for quartz countertops.
The Problem with Wholesale Countertops
There are many different types of wholesale countertops out there, the most common being wholesale solid surface countertops and wholesale quartz countertops.
In both cases, low-grade manufacturers are attempting to fool you into believing premium surfaces can be yours for suspiciously low rates.
Let's look at specific problems you're likely to find with each of the common types of wholesale kitchen countertops.
Wholesale Quartz Countertops
Very Poor Quality
The quartz countertop manufacturing process requires a high degree of expertise. At Caesarstone, our quartz countertop quality standards are extremely high. While our prices are highly competitive (more on this later), they also represent the quality you'll receive.
When you buy cheap quartz countertops wholesale, however, you will likely find the following issues:
spots and smudges
shade differences on the same slab
small holes in the surface
inconsistency in thickness (due to lack of slab calibration)
tainted surfaces and superficial resin coats (done to cover up porous surfaces)
more resin, less quartz
These quality issues should be particularly troubling in light of the next challenge you face when buying quartz slabs wholesale.
Poor Warranty
At Caesarstone, we're so confident in our work that we offer lifetime warranties. When you buy quartz slabs wholesale, manufacturers don't afford you the same level of care. You may find you get no warranty at all – or a policy that's full of restrictions and doesn't actually cover you for any of the issues you're likely to run into.
Wholesale Solid Surface Countertops
As with buying quartz countertops wholesale, ultra-cheap wholesale solid surface countertops lack quality and durability. There are some other issues specific to wholesale solid surface countertops as well, though.
Negative Environmental Impact
Wholesale solid surface countertops often come from China, where environmental standards in manufacturing are much lower than here in the United States.
Additionally, wholesale solid surface countertops need to be shipped to the United States, unlike higher-quality countertops produced here.
Wholesale Granite
As you've probably noticed, the most common wholesale kitchen countertops are made from materials that consumers deem desirable and even luxurious. It's a tale as old as time. The promise of luxury for almost no money.
Buying granite and quartz wholesale pose many of the same issues but the former is particularly concerning given how inferior even premium granite is to quartz.
Severe Lack of Durability
Even high-grade granite is extremely porous and needs to be resealed as often as twice yearly. Otherwise, the surface will soak up stains with ease.
With wholesale granite countertops, that issue is magnified. You'll end up with a surface that stains and soaks up moisture remarkably easily. Repairing granite is very costly and it's an expense you will certainly deal with if you cheap out on it.
Quality Quartz Countertops May Be Cheaper Than You Think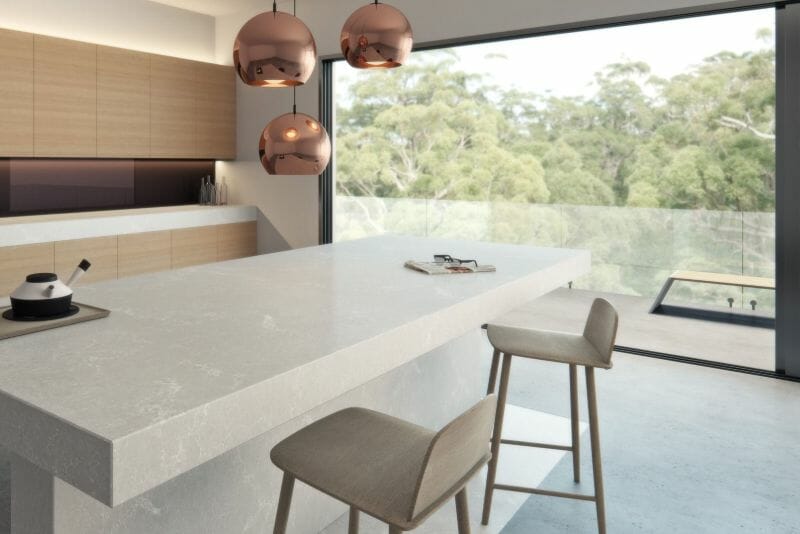 Quartz countertop benefits number in the dozens. It's undoubtedly the best countertop material available – and it may not be as expensive as you think.
Sure, with an upfront cost between $40 and $150+ per square foot, it surpasses the likes of laminate. But a quality quartz countertop is more than worth it in light of the following benefits.
Quartz Countertops Last Longer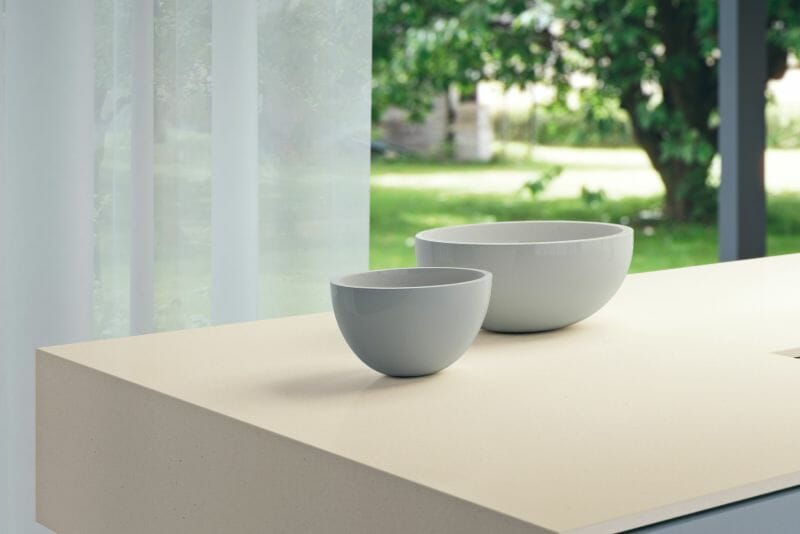 Pictured:
Buying solid surface, granite, and quartz wholesale will result in you replacing your kitchen countertops frequently. If you forgo buying kitchen countertops wholesale and instead purchase a quality quartz surface from Caesarstone, however, your countertop will last you a lifetime.
Quartz Countertops Are Low-Maintenance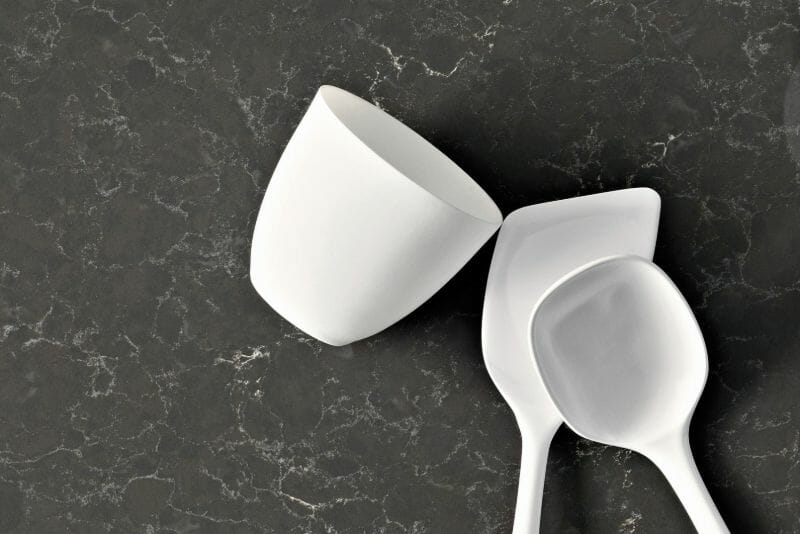 When you buy kitchen countertops wholesale, maintenance can be a headache. The surfaces often stain much easier than premium quartz countertops. You may find that you need to de-stain them more often, which quickly becomes a headache.
Quartz Countertops Increase Your Home Value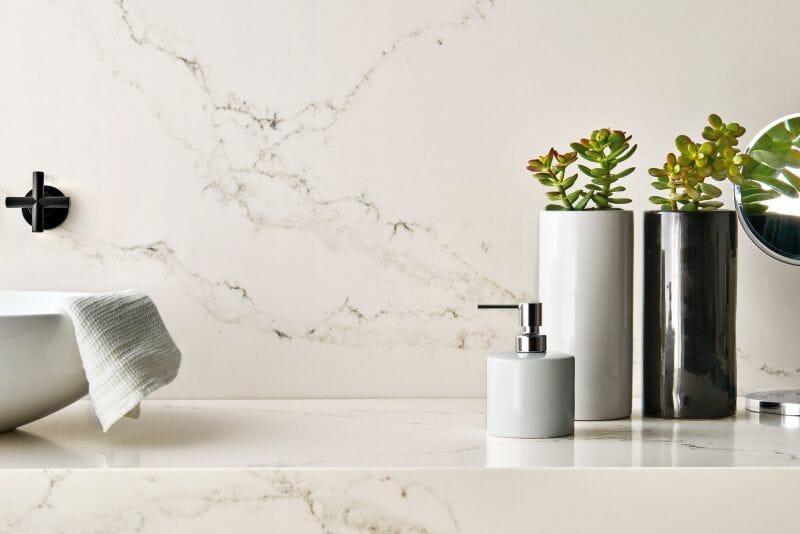 When you buy quartz countertops wholesale, you're not adding resale value to your home. In fact, buying kitchen island countertops wholesale acts as a deterrent against prospective buyers. You won't recoup money spent buying or maintaining wholesale quartz kitchen countertops, costing you in the long run.
Tips for Fitting a Quartz Countertop Into Your Budget
Now that you have a good idea of the downsides to buying kitchen island countertops wholesale, here are a few tips for fitting premium quartz countertops into your budget.
Cut Back On Less Important Kitchen Upgrades
Of all the rooms in your home, the kitchen has the biggest impact on resale value. That doesn't mean every kitchen upgrade is worth the price tag, though. Choosing the right countertop is key. Scale back on these areas to ensure you get a quality countertop:
built-in coffee makers
all-new custom cabinets (your old ones can be refurbished)
all stainless-steel appliances
ceramic flooring
Remove Your Existing Countertops Yourself
Understandably, quartz countertop installers will typically charge you more to remove and dispose of your existing countertops. If your existing countertops are a material like laminate, you can easily remove them yourself. This is especially true if you do plan to replace the cabinets as well.
Do The Whole House At Once
After the kitchen, the master bathroom is the second most important room when it comes to your home's resale value. If you're planning on installing quartz countertops there (or anywhere else, for that matter), consider combining the projects to save money overall.
The Caesarstone Advantage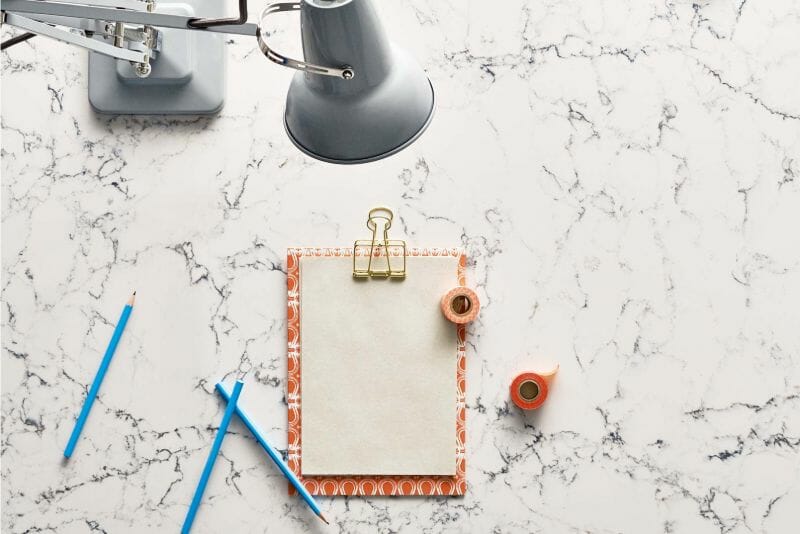 Caesarstone pioneered the quartz surfacing movement and continues to dominate the industry by delivering uncompromising performance. Caesarstone countertop materials are extremely durable, scratch, stain and crack resistant, nonporous, mold and mildew resistant, consistent, and low maintenance.
The following are some major differences between Caesarstone quartz countertops and low-quality quartz:
Caesarstone surfaces blend at a ratio of approximately 90% quartz, while wholesale surfaces often use less.
Caesarstone sources only the highest quality raw materials, while substandard companies lean toward lower quality, inadequate raw materials.
Because Caesarstone uses the Bretonstone process, the slabs are compacted to be more resistant and to better perform. With other forms of generic factory equipment, there is inefficient compaction and resistance, so performance suffers.
Caesarstone provides greater consistency than other stones whereas low-quality slabs are often mismatched.
Below average products and production facilities are not VOC (Volatile Organic Compound) certified and don't follow any sustainability practices. Caesarstone has a sustainable approach with low VOC emissions which contributes to better indoor air quality for you and your family.
Caesarstone offers U.S.-based customer service with Residential and Commercial Warranties.
In Summary
When considering buying low-quality quartz surface slabs, you are entering the unknown. Many companies aren't strictly quartz. They sell all types of different stones, from low-quality granite and marble to travertine and onyx, along with holiday décor, apparel and electronics.
Caesarstone has perfected one material and offers one of the widest spectrums of colors, design options, and applications in the industry. The slab composition is precise, and each and every slab goes through a rigorous inspection process and is imprinted with our trademark zigzag for identification.
Frequently Asked Questions
What is the wholesale price for quartz countertops?
Wholesale quartz kitchen countertops can cost as low as $50 per square meter. That's about $5 per square foot. That's the definition of 'too good to be true.'
Where can you buy new countertops wholesale?
One of the most common sources of wholesale quartz countertops is Alibaba, which will ship the surface to you from overseas. In other words, you won't even be able to inspect it – and installation is your responsibility to arrange.