The butler's pantry has made a resurgence in recent years. Unlike in past eras where they were strictly utilitarian and kept out of sight, the butler's pantries of today are as much about aesthetics as they are about function.
In this post, we'll give you some tips modern interior designers use when creating butler's pantries.
What is a Butler's Pantry?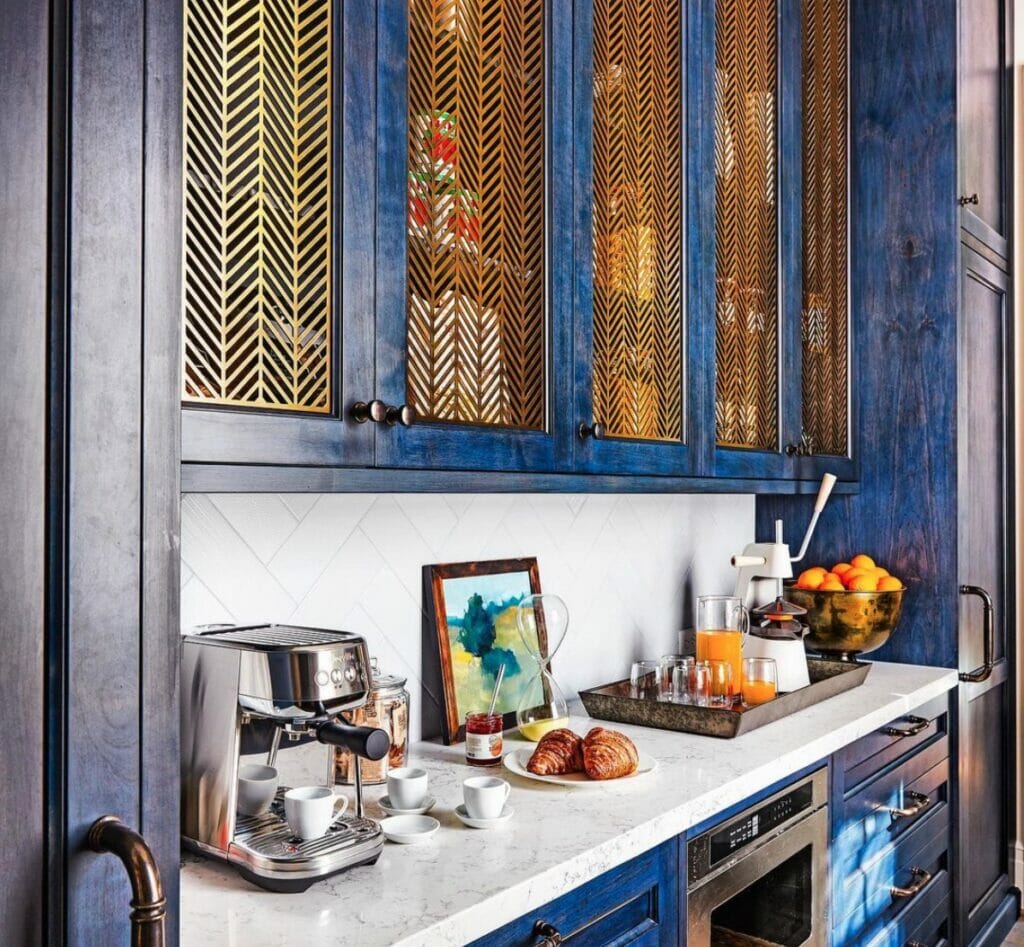 A butler's pantry has historically been a storage room for valuable kitchen utensils, plates, and the like. The name hints at who spent the most time in this room; butlers for wealthy families often even slept in their pantries and used the space to fulfill their duties of maintaining the valuables locked inside.
Today, although butlers themselves are not as commonplace as they were during the Middle Ages and Colonial America, people continue to request the butler's pantry as a home addition.
It can range from a simple storage area with shelves, all the way up to an elaborate room that contains refrigeration equipment, sinks, and dishwashers. A butler's pantry can also be sealed off, open, or free-standing.
One thing butler's pantries tend to have in common today, however, is their location: somewhere between the kitchen and the dining room.
What Goes in a Butler's Pantry?
You may be wondering what you could possibly use one of these spaces for today.
Even if you don't have luxurious family heirlooms like china plates and silverware, a butler's pantry can still prove useful. In modern times, people use them to store things like wine, candles, and tablecloths.
With the proper quartz countertops, such a room can be an elegant meal staging area.
Why Should You Consider a Butler's Pantry?
Even a small pantry provides enormous utility for homeowners today. Without this room, most people are forced to store items in a cabinet or room such as the basement.
This can be inconvenient; a conventional butler's pantry location between the kitchen and dining room is extremely convenient by comparison. You'll thank yourself for including a butler's pantry in your home every time you have guests over — and potential future buyers of your home will thank you too.
How to Design a Butler's Pantry: Tips and Ideas
Now that you have a solid idea of what you can use a pantry for, let's explore some helpful ideas for designing one.
Start with the Cabinets and Countertops
Begin with a color scheme and surfaces that will function best in the space. To make it feel like a hideaway next to heavy kitchen traffic, consider using darker quartz colors like Caesarstone's Jet Black or Piatra Grey countertop. Light counters, cabinets, dinnerware, storage and tools give a clean slate a larger-than-life look.
Built-In Butler's Pantry
A butler's pantry doesn't necessarily have to be hidden away behind a door. Some extremely elegant butler's kitchen pantry designs incorporate them right into the wall in a hallway joining the kitchen to the dining room.
The centerpiece of these built-in designs is a quartz surface that can be used for displaying artwork or staging meals, with storage above and underneath.
Corner Pantry
One smart way to go about installing a built-in butler's kitchen pantry is to place it in a corner of your kitchen. Glass doors for the cabinets can create a particularly interesting look here, as can countertops that hug the corner's angles tightly; quartz is a great, versatile material for achieving this.
Small Butler's Pantry
Don't think you have enough space for a kitchen with a butler's pantry that's built in? You might be surprised at how a skilled interior designer is able to fit one into even the tightest of spaces. This is particularly useful if you're looking to store wine; the bottles themselves don't need too much space when stored laying horizontally in a rack. As with the corner pantry, glass doors for the cabinets are a great idea.
Light The Room Just Right
Lighting is key to a pantry transformation. Replace an old fixture with a vintage chandelier, focused, recessed lighting or industrial-style pendants. Whether you choose to embrace the size of the pantry or make it feel bigger or more secluded, lighting will help complete the aesthetic. Just make sure that important areas are lit comfortably and complement the pantry's contents or features.
Old-Fashioned Butler's Pantry
A butler's pantry can come in many styles. An old-fashioned butler's pantry is a great option if you want to give a nod to the elegant, secure rooms they were in past eras. An old-fashioned butler's pantry will make use of ornate elements, such as crafted wood and checkered floors. While a modern pantry will be more 'lightweight' and 'integrated' in appearance, an old-fashioned one gives off a feeling of grandiosity and monumentalism. You may want to trade glass cabinet coverings for wood, for example.
Butler's Pantry in the Dining Room
While this isn't the most intuitive for layouts involving a fridge, placing your butler's pantry in the dining room is ideal for displaying china plates and the like. Go with a built-in design for stability, which is important in the case of a butler's pantry with dishes on display; you don't want the unit to be knocked over by playful kids or a mishap while moving the table.
Free-Standing Butler's Pantry
A free-standing butler's pantry is more a piece of furniture than a room. You still have a wide range of options, though. This type of pantry can be slim, movable, and therefore very obviously a piece of furniture. It can also, however, be massive and make casual observers believe it's a structural element.
Color coordination and getting the measurements exact is key if you're going for the latter.
Modern Butler's Pantry
The tips above will help you design a well-considered, modern butler's pantry. However, some additional modern elements to keep in mind are:
using a quartz surface
sticking to visually lightweight, minimalist wood (if you use it at all)
relying primarily on white colors, with splashes of bold accent colors as needed
using pot light fixtures instead of anything grandiose
In Summary
Whatever ideas you choose to follow, remember that a butler's pantry doesn't have to be standard or dull. It can be modified to fit you or your client's lifestyle, and design style and needs.
Frequently Asked Questions
How do you decorate a butler's pantry?
You don't have to be very ornate when considering how to stage a butler's pantry or add decor to it. Remember that these rooms are intended to be primarily utilitarian; build decorative elements into the space with things like quartz countertops and lighting.
What does a butler's pantry look like?
A butler's pantry typically looks like a room with shelves or cabinets that are used to store kitchen-related items.
What size is a butler's pantry?
A butler's pantry is typically no smaller than 5 feet by 6.5 feet.
What size is a butler's pantry sink?
In a typical butler's pantry, the sink should not be larger than you'd find in a typical powder room. It's simply for washing utensils and your hands periodically. 24'' x 30'' x 36'' is a good size.
What was traditionally kept in a butler's pantry?
Traditionally, wealthy families kept valuable heirlooms like silverware and china in their butler's pantries.
What is the difference between a walk-in butler's pantry and a butler's pantry?
A walk-in butler's pantry typically has a wall with an opening in front of it. This opening is usually framed but lacking a door, to give you an idea of what that looks like visually.
A non-walk-in pantry has more of an open concept design.
Why is it called a butler's pantry?
Originally, a pantry was occupied by butlers, who guarded the valuables inside and conducted much of their work there.