Design ideas aren't limited to the home – business owners and managers alike can easily take trendy concepts and aesthetics and work them into their commercial spaces as well. Creating visual appeal with a commercial countertop can work wonders towards making a good first impression on visitors and clients.
As such, business owners and managers should make use of the best quality materials for their commercial countertops and strive to utilize modern design techniques to make their workspace a sight to remember.
Caesarstone quartz is one of the best possible options for any commercial countertop. They are available in a wide variety of styles and colors such as 6270 Atlantic Salt to spruce up any office space. Let's go over why anyone looking to renovate their commercial space should heavily consider quartz.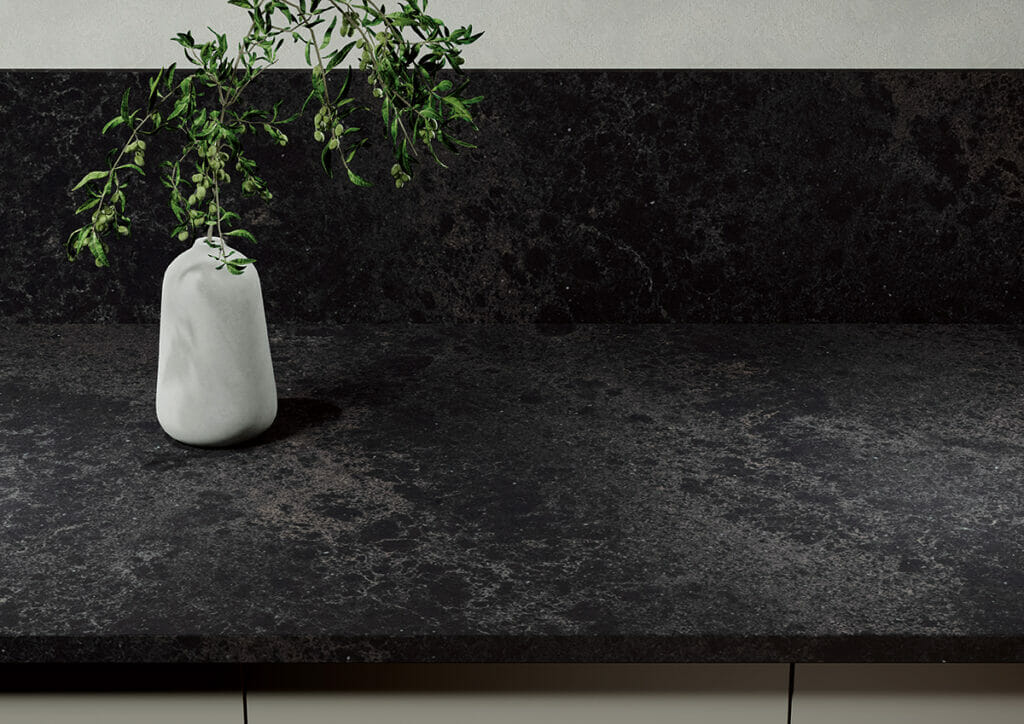 Why should businesses consider using quartz for their commercial countertops?
There is a variety of reasons why Caesarstone quartz is the go-to option for countertops within business and commercial spaces. Quartz countertops have several features that are particularly useful to those looking to renovate:
Durable – Quartz countertops are extremely resistant to chips, cracks and scratches, and can easily withstand the wear and tear resulting from daily use. High-traffic countertops in particular can benefit from this type of surface material.
Easy to install – Installing quartz surfaces for commercial countertops is quick and easy, which minimizes the disruption of business activities. (Bear in mind that Caesarstone does not install or repair countertops in residential or commercial spaces directly – please contact a professional service or retailer for assistance.)
Low maintenance – Quartz countertops are hygienic and require a minimal amount of effort to keep clean, safe, and looking great. This makes them an optimal choice for a commercial kitchen countertop, as the ease of maintenance can increase workplace productivity.
Non-porous – Quartz countertops are non-porous, meaning they're resistant to spills. A commercial countertop made of quartz provides peace of mind and makes sure those coffee rings and food spills don't result in any permanent damage, as long as they're cleaned up quickly.
On top of these features, the most crucial factor which makes quartz surfaces so ideal for commercial spaces is their varied designs. Since quartz is present in such a large variety of colors and styles, it's easy to see why they're a top pick that provides for commercial space renovations. Caesarstone's inspiration gallery is a great place to start on ideas for commercial design projects.
Incorporating quartz into commercial countertop designs
Here are some fresh concepts for a commercial countertop redesign that aims to utilize quartz to its full potential.
High, bar-style quartz countertops for commercial kitchens
While drinking isn't an option in commercial spaces, renovators can still capture the communal feel of a bar space by using high-leveled quartz for their commercial kitchen countertop. When using colors like the new 5820 Darcrest to contrast some tastefully chosen decor, business owners can implement a more relaxed and casual atmosphere within their kitchen spaces.
Some renovators take their commercial kitchen spaces to another level, opting for fully stylized options such as a retro-themed diner. Quartz is a fantastic option for a commercial kitchen countertop that looks like it came straight out of the 60s. Thanks to its customizability, it's easy to get a quartz countertop design that aligns perfectly with a wide spectrum of unique themes.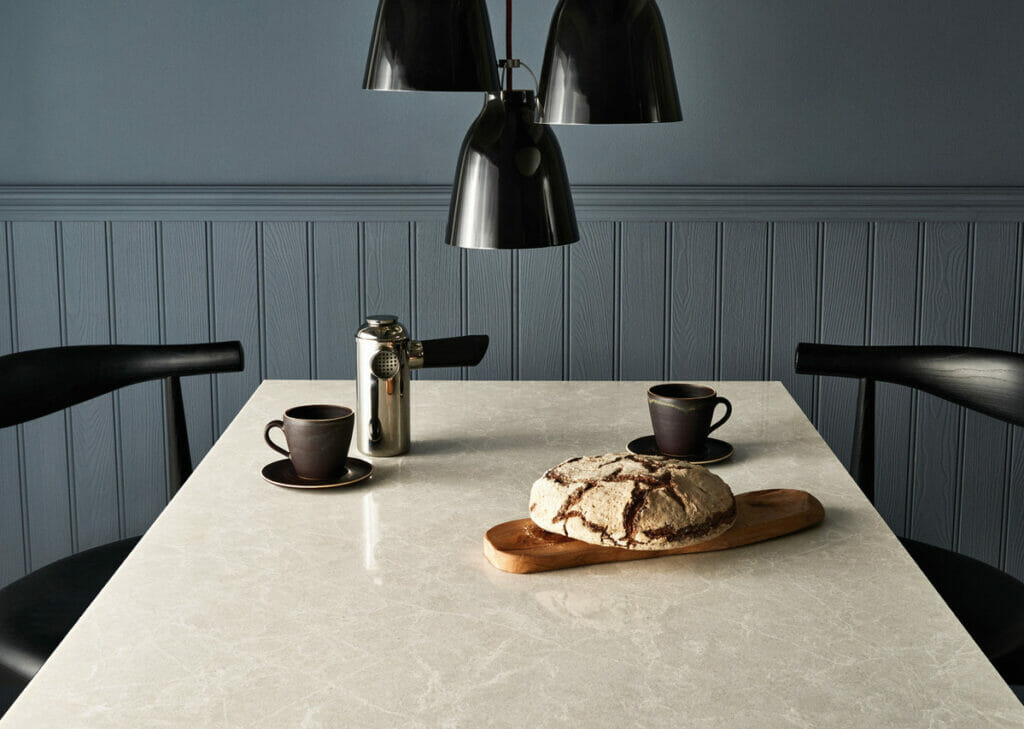 Quartz commercial countertops for reception areas
A reception space tends to make a large impression on first-time visitors and clients, which makes it crucial to select the right design layout. In this scenario, it's hard to go wrong with an impressive quartz commercial countertop to welcome guests in style.
Not only does Caesarstone offer a variety of eye-catching color choices, such as 5212 Taj Royale and 5130 Cosmopolitan White, but the hard-wearing nature of quartz makes it durable enough to withstand any amount of stresses brought on by daily contact.
Make a bold statement with a quartz display piece
Quartz installations don't have to be limited to workplace bathrooms, communal kitchen areas, or reception spaces. Savvy renovators will find that leveraging the right combination of counter styles and colors in combination with existing decor allows for a stunning quartz centerpiece which can be used as an artistic display in a commercial space.
These types of display pieces prioritize form over function, and add a huge amount of personality and character to an office space. Caesarstone quartz is easy to manipulate and effortlessly meets shape and contour specifications to create complex artistic pieces. And with fantastic color options like 5810 Black Tempal, it's easy to pick a slab that meets the designer's exact specifications.
Business owners can also consider a waterfall style counter surface for their commercial space. This particular option offers the best of both worlds, between captivating style and durable functionality.
Why Caesarstone is the best choice for commercial countertops
Caesarstone is a leader in the industry when it comes to producing high-quality, professional commercial countertops. We've been setting the bar high for luxury quartz countertops since 1987, and we have a wealth of experience when it comes to offering dynamic, contemporary designs for our clients.
Our engineering process is designed to incorporate up to 90% quartz minerals into each commercial countertop. This means the end product we deliver is durable and expertly crafted, and highlights all the various strengths of quartz as a countertop material. With Caesarstone, business owners and commercial managers can rest assured they're getting a product that will last them for many years to come.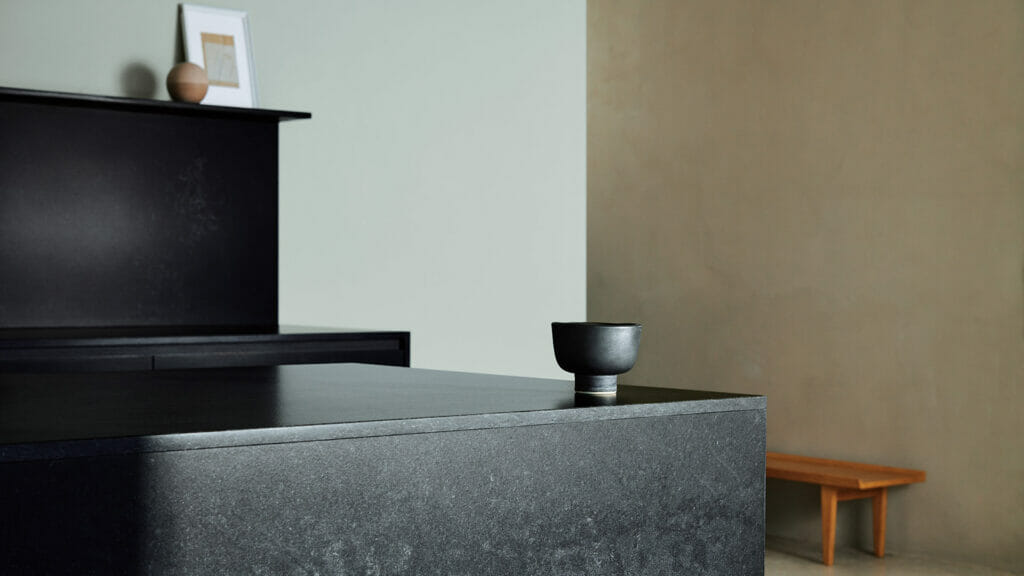 FAQs about commercial countertops
What kind of countertops do most commercial kitchens have?
Although most commercial kitchens have customarily used concrete for their countertops, quartz is taking over as a popular surface material for commercial kitchen spaces. With almost all of the same benefits coupled with a much easier installation process, it's not hard to see why!
What is the standard commercial countertop height?
The standard height for a commercial countertop is approximately 36 inches. However, the final height of a commercial countertop ultimately depends upon the individual needs of the business space.