Countertops complete the look and feel of any space. Luckily, there are a wide variety of countertop options in the market. Made from one of the hardest minerals on earth, acquiring quartz countertops is the most valuable investment that a homeowner can make. Quartz countertops are durable, non-porous, and available in a variety of patterns and colors. They also mimic natural stone countertops like granite or marble.
While they are less expensive compared to natural stone countertops, they are not cheap either. Most homeowners are often on the lookout for discount quartz countertops. While cheap does not always translate to low-quality products, purchasing poor-quality products when heavily discounted is a big mistake.
This is why homeowners should opt for a premium quality quartz countertop from a reputable brand like Caesarstone. With the variety of Caesarstone countertops available, there is a quality option for every homeowner, no matter their style preference or color palette.
For example, homeowners who want white quartz countertops will be spoiled for choice with Caesarstone's Whitelight Collection. Colours like 5151 Empira white or 1111 Vivid White are some exquisite whites that can go well with any space.
Let's talk about things that any homeowner must watch out for when looking for cheap quartz countertops.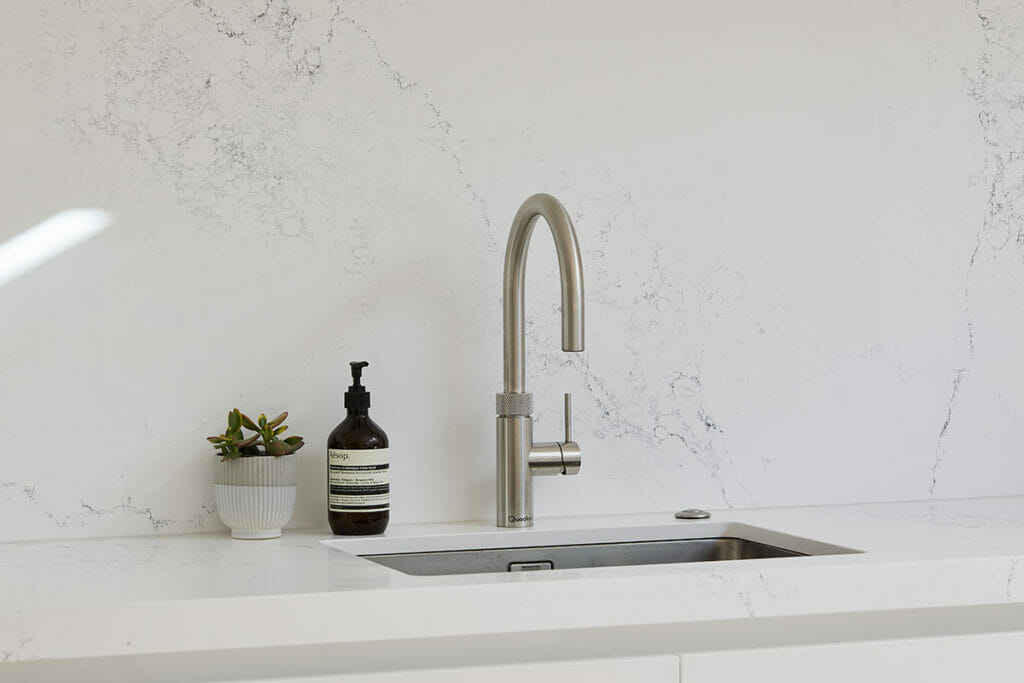 But first, let's see why quartz is such a great countertop material.
Quartz is an engineered material that is made up from 90% quartz and 10% resins and polymers. It is renowned for its durability, with most countertops serving homeowners for many years without the need for repairs. It is also non-porous, a trait that makes cleaning a seamless experience. The non-porous nature of the material also eliminates the need for sealing, which can save on costs.
Quartz countertops are available in a wide variety of colors and patterns such as speckled, industrial, solid, or veined. This means that there aren't any limitations of the imagination, as homeowners can pick the aesthetic of their choice. Quartz also perfectly mimics natural stone countertop materials. This makes it a great alternative for a similar look that is easier to maintain.
Here's what to watch for when looking for discount quartz countertops
Quartz countertops are a more affordable option in comparison to its natural stone counterparts. That being said, they are not cheap. The average cost of quartz countertops ranges from about $50 to more than $100 per square foot. This cost may prompt some homeowners to search for inexpensive quartz countertop alternatives. While this may be a tempting bargain, it could end up being more costly in the long run. How can homeowners keep the cost of quartz countertops low while still reaping the benefits of high-quality quartz?
Only purchase the quartz that you require for the project
Most homeowners worry that the quartz they've purchased may not be sufficient for the scope of their project. This prompts them to buy more than would be required for the project. While it is a wise decision, someone who is working with a limited budget can keep the cost low by purchasing only what is required. In order to accomplish this, the measurements for the countertop must be precise.
Take on one project at a time
We all want a curated, beautiful kitchen or bathroom space. When renovating a home, stick to one project at a time. For someone with a limited budget, this ensures that they get high-quality quartz countertops without putting too much of a strain on their finances.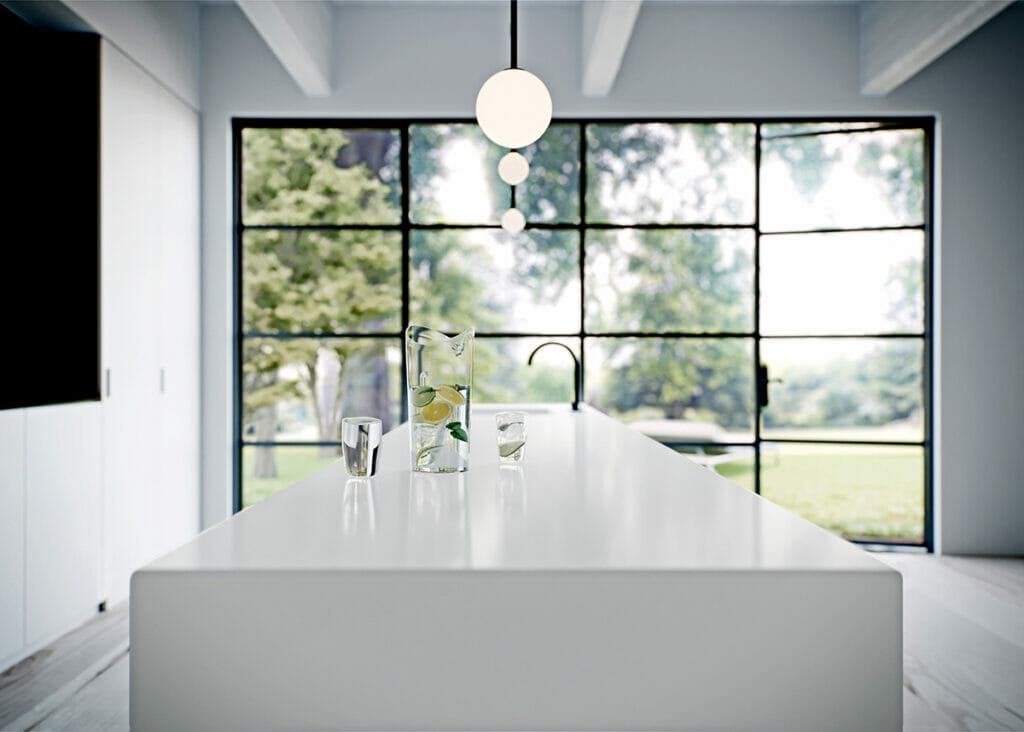 Work with a qualified fabricator
DIY installation may be tempting when trying to reduce the entire cost of quartz countertops. However, this can be an expensive mistake. Working with a qualified fabricator ensures that a homeowner gets precise measurements and eliminates the risk of poor installations.
The type of edging you select impacts the overall style of your countertops. It also affects the price. For homeowners who are looking for inexpensive quartz countertops, choosing standard edges is preferred. More intricate edges such as bullnose, pencil, or beveled can come with a higher price tag.
What are the benefits of purchasing quality quartz countertops as opposed to cheap quartz countertops?
Installation of high-end quartz countertops ultimately increases the value of a home. This is the same case for bathroom or kitchen countertops. However, installing cheap quartz countertops means that a buyer may need to replace the countertops, which is an added cost that reduces the value of a home.
Quartz is a very durable material. However, low-quality quartz is not as durable as high-quality quartz. It would be pointless to save on initial costs and spend more on constant repairs or entire replacements down the line. This is why every homeowner should invest in high-quality quartz countertops from manufacturers like Caesarstone.
Heavily discounted items sell fast. However, it is better to miss a sale than buy cheap quartz countertops and replace them after a couple of years. As such, homeowners should take their time and even have a qualified fabricator check the slab quality. You are better off saving for a given period to purchase quality quartz countertops as opposed to purchasing low-quality and discounted quartz countertops and replacing them after a short period.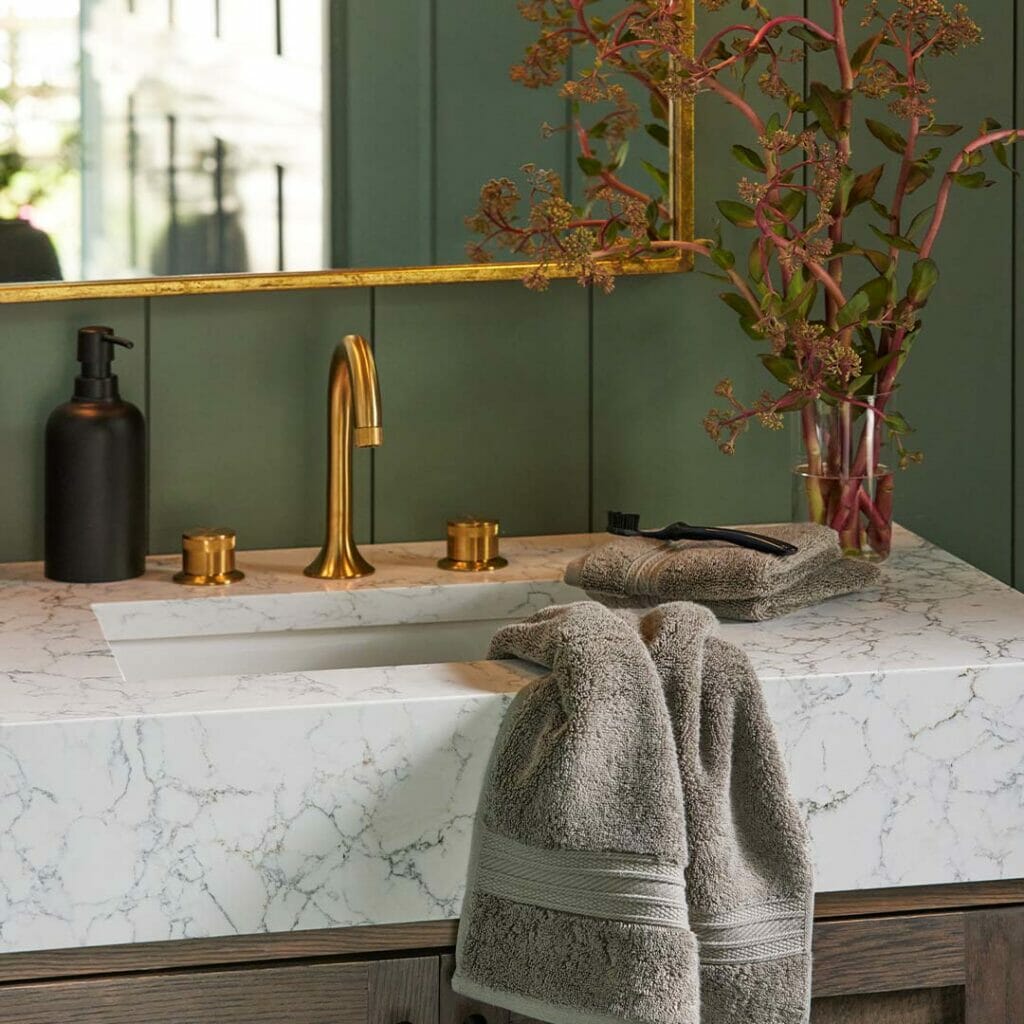 Always purchase quartz countertops from reputable manufacturers
This is the best safety measure when shopping for quartz countertops, and we cannot insist on this enough. Reputable quartz manufacturers such as Caesarstone offer a wide variety of quality quartz countertops. To find a Caesarstone supplier nearest you, visit https://www.caesarstoneus.com/where-to-buy/.