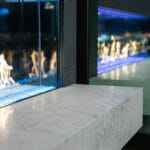 The sixth annual Design + Construction Week was held in Las Vegas Feb. 19-21, 2019. Caesarstone is proud to have had the opportunity to display our versatile quartz material in a variety of applications in The New American Home (TNAH) and The New American Remodel (NAHR). Each year, these state-of-the-art homes showcase innovation and design while exhibiting the latest trends in the home-building industry. Caesarstone is at the center of interest in both homes, driving design and architecture in unexpected and exciting ways.
The New American Home
The flagship exhibit of Design + Construction Week 2019 was The New American Home, a five-bedroom, five-bath home featuring fantastic views, a large expanse of indoor/outdoor living spaces, single-sloped rooflines, a glass-enclosed garage, optimized energy efficiency, and Caesarstone surfaces elevating every room. The 8,226 sq. ft. showhome was designed and constructed by Sun West Custom Homes and was contemporary in design with an abundance of glass, flat rooflines, minimal decoration and an infinity pool that overlooked the Las Vegas strip.
One of the highlights of the home was the seamlessly integrated kitchen from indoor to covered outdoor space. Caesarstone surfaces helped in the transition in several ways. Montblanc was the most prevalent design in the space as the kitchen island, backsplash, waterfall counters, pantry counter, dining room table, living room sofa table and bench seating featured this popular surface. Noble Grey went from the indoor to the outdoor fireplace seating helping the designers achieve the indoor/outdoor concept. Jet Black anchored the hanging wet bar and flowed to the outdoor covered patio counter. Raven covered patio bar top rounded out the outdoor applications.
The master dressing room was a real showstopper as a slab of amber-colored precious stone, Sfumato in the Concetto collection, was backlit along the back wall of the closet and was seen through the transparent shower enclosure – a stunning visual when entering the master bedroom. Vanilla Noir was featured on the fireplace surround, coffee bar, vanity and shower.
Other notable uses of Caesarstone throughout TNAH:
Study – Georgian Bluffs (desk, vertical wall cladding, console table)
Laundry – Montblanc (counters)
Guest bathrooms – Raven, Nougat and Statuario Maximus (vanity surfaces, showers)
Man cave – Rugged Concrete (countertops, island bar)
The New American Home allowed designers to show the many forms that Caesarstone surfaces can take in a real-world setting, proving that it goes beyond the surface as a design tool in all aspects of a home. It's not just for kitchen countertops.
Watch Daniel Coletti, Sun West Custom Homes Owner & President, and Suzanne Czar, Sunwest Custom Homes Senior Interior Designer reveal the reasons behind choosing Caesarstone surfaces for every room in this incredible home in
The New American Remodel
The New American Remodel was engineered and designed by Luxus Design Build, LLC, and showcases new products and the latest in sustainable building techniques.
A true example of innovation in today's home, The New American Remodel home at the popular Las Vegas kitchen and bath show featured thoughtfully selected designs that celebrate a harmonious, rustic aesthetic. Studio G Architecture selected Caesarstone surfaces for the wonderful variation of color and the durability of the quartz material.
Caesarstone designs including Cloudburst Concrete, Fresh Concrete, Frozen Terra and Rugged Concrete were featured as countertops in the kitchen, pantry, laundry, powder room, guest baths, master bath, outdoor covered kitchen and RV garage.
Watch Michael Gardener, Studio G Architecture & Luxus Design Build Principal, and Elma Gardener, Luxus Design Build Interior Designer describe why and how Caesarstone fit perfectly into their vision in
Each year, both of these show houses demonstrate innovative building concepts, materials, designs and construction techniques.
For a visual tour of the homes, visit Caesarstone Beyond the Surface and #CSbeyondthesurface on Instagram.
University of Nevada, Las Vegas Partnership
Along with the successful and visible experiences of TNAH and NAHR, a new and exciting collaboration with the University of Nevada, Las Vegas, School of Architecture had students reimagine the many forms a surface can take using Caesarstone designs.
Throughout 2019, we will continue to look for ways to partner with the next generation of architecture and design students to support future innovation within our industry.
Partner Booths
Show attendees also experienced an array of Caesarstone designs in our distinguished partner booths at Design + Construction Week. Some highlights include:
Bosch Home Appliances/Thermador: Intense White, Raven, Rugged Concrete and Statuario Maximus (Honed) and more.
Liebherr: Cloudburst Concrete, Excava, Frozen Terra and Statuario Nuvo.
Elkay: Airy Concrete, Dreamy Marfil, Georgian Bluffs, White Attica, Noble Grey and more.
Wellborn Cabinet, Inc.: Topus Concrete, Ginger, Himalayan Moon, Moorland Fog and more.
Model Homes
Caesarstone was also shown at the Professional Builder Show Village at KBIS/IBS 2019 in both the Stuga and Crosland home models, highlighting Sleek Concrete and Airy Concrete, respectively.
Design + Construction Week is a must-attend industry show is the largest annual gathering of design and construction professionals seeing upwards of 80,000 attendees over the three-day event. Both the 75th annual International Builders Show (IBS) and the Kitchen and Bath Industry Show (KBIS) shared the exhibit floors where design enthusiasts, builders, designers, brand reps, and more explored over 2,000 exhibitors in over 1 million square feet of exhibit space.
"As the International Builders' Show celebrates 75 years, it remains the premier event for the housing industry," said Geoff Cassidy, NAHB senior vice president of exhibitions and meetings. "With the largest attendance in 10 years, we're proving once again that IBS is the only place to experience such a diverse collection of innovative products, education sessions and networking opportunities all in one place."
For further inspiration, visit the Caesarstone Pinterest board.
For readers interested in attending next year's Design + Construction Week, you can travel to Las Vegas January 21-23, 2020. Look for more innovative building products including new Caesarstone products. See you there!