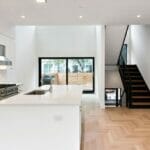 Nestseekers real estate agent and star of hit series Million Dollar Listing New York, Ryan Serhant, has experienced immense success in 2016. Caesarstone has not only had the pleasure of watching his journey, but was also featured in multiple listings represented by Serhant in New York City.
"The most important rooms of any home are the kitchens and the baths – so the stone choices, the material choices, are make or break," says Serhant. We couldn't agree more!
Townhouse listing of Ryan Serhant, featuring 5131 Calacatta Nuvo
Serhant brought Caesarstone into a luxury condo project in 2015 called The Gibraltar at 160 West St, Brooklyn, NY 11222. He chose 5131 Calacatta Nuvo for the contemporary kitchen.
So pleased with the Gibraltar's look, he selected Calacatta Nuvo for multiple projects since, including this gorgeous new model at 566 Carroll St, Brooklyn, NY 11215."I always push for Caesarstone when working with developers, in multi-family, in new condo projects because I can use Caesarstone as a brand name to enhance the sale value of the units," explains Serhant.
You've sold us, Ryan!