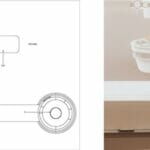 The Future Kitchen is an experiment in how nature and technology work in unison to create a self-sustaining space that operates through aquaponics, hydroponics, 3D printing, water filtration, indoor farming, composting and food storage.
Pratt students pushed the boundaries of the kitchen and deeply explored food waste, appliance engagement, compact space, kitchen technology and how Caesarstone plays an important role in transforming the kitchen in aesthetic appeal and functionality.
"We have found that Caesarstone will stand the test of time, and we look forward to showcasing the students' final design at WantedDesign," said Marc Thorpe, Visiting Assistant Professor of Industrial Design at PRATT and Founder of Marc Thorpe Design.
The 2017 Future Kitchen debuts at WantedDesign on May 20, 2017 and features Statuario Nuvo, Raven and Concrete Caesarstone surfaces.
Future Kitchen
(a Caesarstone and Pratt Institute collaboration)
NYCxDesign
WantedDesign Manhattan
269 11th Avenue
New York, NY 10001