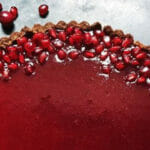 By Julie Resnick, FeedFeed co-founder
My kitchen, like most kitchens, is where Dan, the kids and I spend nearly all of our time when we are at home. When we made the decision to move to Amagansett, NY 10 years ago, we decided that when you leave the city to move to a coastal town, you should live on a beach. And we do, live on a beach on a small harbor. The compromise we made in order to be able to afford a house on a beach was size and so the five us, for the past 8 years have lived in a 900 square foot house, with oysters, clams, bay scallops and fish in our backyard, paddleboards and kayaks lining the beach and a small boat moored outside in the water 100 feet from the house.
But back to the kitchen…our kitchen island is the centerpiece of the main room of the house. I remember working with the architects trying to figure out where to fit a dining table only to realize it would not be possible and so instead, we went with one massive kitchen island that seats 8 comfortably and it was the best decision we ever made. The Caesarstone surface is beautiful and durable, seemingly indestructible. Putting the induction cooktop in the island was such a good move. The kids have grown up watching me cook while sitting at the island, tasting and helping me sitting right there at their counter stools.
During the holidays, when their grandma and great-grandma come to visit we roll-out cookies, pies, and yeasted doughs directly on the surface.
Since it's the holiday time, I wanted to share a few of my family's favorite recipes with the Caesarstone community. One of our favorite holiday desserts is this Squash Cranberry Tart, a recipe by my friend Susan Spungen. And then there is this Cinnamon Pecan Sweet Potato Casserole, another holiday dish I love to make with my kids as they love to arrange the pecans in concentric circles. And our holiday table always includes steamed artichokes, like these Steamed Artichokes with Herby Aioli. It's such a communal dish, with everyone reaching in and pulling off the tender leaves to dip into a perfect creamy aioli, usually made by my daughter Mae.
In addition to our home, both of our offices have Caesarstone countertops, my favorite of which is our Los Angeles Feedfeed location where we chose the new Empira White Caesarstone surface seen below and it's gorgeous!
Thanks to Caesarstone for being the central gathering space we crowd around at home and at the office!
Butternut Squash Tart with Pomegranate and Cranberry Glaze
Prep time: 30 min.
Cook Time 1 hour 30 min.
Yield: 1 Pie serves (10-12)
Pie crust ingredients
13 whole graham crackers, (to yield scant 2 cups crumbs; 6 3/8 ounces), broken into pieces
1/4 cup sugar
1/4 teaspoon salt
6 tablespoons unsalted butter, melted
4 ounces bittersweet chocolate, or semisweet, melted
Filling ingredients
1 pound cubed, peeled butternut squash
1 tablespoon unsalted butter, melted
6 tablespoons whole milk
2 large eggs
2/3 cup pure maple syrup
1/2 teaspoon salt
1 teaspoon vanilla extract
1 teaspoon ground cinnamon
1/2 teaspoon ground ginger
1/8 teaspoon ground cloves
1/4 teaspoon freshly grated nutmeg
Glaze ingredients
1 cup pomegranate juice
1 tablespoon cornstarch
1 cup fresh or frozen cranberries
1/4 cup sugar
To Finish
2/3 cup pomegranate seeds
Instructions
STEP 1
Preheat the oven to 375°F.
STEP 2
To make the crust: In the bowl of a food processor, pulse the graham crackers, sugar, and salt until fine crumbs form. Add the melted butter and pulse to combine. The mixture should feel like wet sand. Spread out in a 10-inch tart pan with a removable bottom and press the crust in, taking care to build up the sides so you'll have a nice top edge. Bake for 8 to 10 minutes, until the crust is golden. Set aside to cool for 10 minutes, then spread evenly with the melted chocolate. Set aside to cool completely while you make the filling. Briefly freeze to harden the chocolate if it hasn't firmed up by the time you're ready to fill it.
STEP 3
To make the filling: Toss the butternut squash with the melted butter, spread out on a baking sheet, and roast until tender and golden, turning occasionally, 35 to 40 minutes. The tip of a paring knife should slide in easily when the squash is done. Let cool slightly.
STEP 4
Reduce the oven temperature to 350°F and line a baking sheet with parchment paper.
STEP 5
Transfer the squash to a blender and add the milk, eggs, maple syrup, salt, vanilla, cinnamon, ginger, cloves, and nutmeg. Blend until smooth. Pour into the cooled crust, place on the prepared baking sheet, and bake until slightly puffed at the edges and the surface looks dry and set in the center, 35 to 40 minutes. Transfer to a cooling rack; when it is cool enough to handle, gently loosen the tart from the ring to make sure it doesn't stick. Leave the ring on and cool completely. Once cooled, put a few toothpicks in the tart to keep the plastic wrap off of the surface and wrap securely in plastic wrap. If not serving right away, you can refrigerate for up to 2 days. I prefer to glaze the tart a few hours before serving no matter what. Once you glaze it, it's better if you don't have to wrap it again.
STEP 6
To make the glaze: In a small bowl, slowly whisk the pomegranate juice into the cornstarch until smooth. Place in a small saucepan and add the cranberries and sugar. Bring to a boil over medium heat and cook, stirring occasionally, for 5 to 10 minutes, until the cranberries have all burst and are very soft. Let cool slightly, then pass through a sieve set over a bowl, using a rubber spatula to squeeze out all of the liquid. Scrape the back side of the strainer to get any excess and stir the glaze. If it looks too thick to pour smoothly, add a few drops of water. Pour the glaze over the tart (it can be chilled or just cool enough to handle) and tip it around so the glaze is even. Decorate the edge with a wide band of pomegranate seeds. Chill until ready to serve.
Timing tips:
Up to 2 days ahead: Bake the tart shell, line with chocolate, and wrap tightly when cooled. Make the filling and glaze and refrigerate.
Up to 1 day ahead: Fill the tart with squash mixture, bake, and cool. Seed the pomegranate.
Up to 3 hours ahead: Glaze the tart and garnish with the pomegranate seeds.
Cinnamon Pecan Sweet Potato Casserole
Prep Time: 30 min.
Cook Time: 40 min.
Yield: 8-9 servings
Sweet potato mash ingredients
2lbs sweet potatoes (about 3 medium potatoes), peeled and diced
1/3c milk (I use unsweetened almond, cashew, or coconut milk)
3 Tbsp butter, ghee, vegan butter, or coconut oil (melted)
1/4c pure maple syrup
1 tsp salt
1 tsp vanilla
2 eggs or 2 Tbsp egg substitute
Pecan topping ingredients
1 1/2 cups pecans, roughly chopped
2 Tbsp butter, ghee, vegan butter, or coconut oil (melted)
3 Tbsp pure maple syrup
1/2 tsp cinnamon
pinch salt
Instructions
FOR THE SWEET POTATO MASH:
Place sweet potatoes in a large pot and cover by at least 2-3 inches of water. Bring to a boil over medium-high heat. Boil until completely tender (potatoes will pierce easily with a fork). Drain sweet potatoes.
Transfer potatoes to a large mixing bowl. Add milk, butter/oil, syrup, salt, vanilla, and egg/egg sub. Mash until no lumps remain. If needed, add 2-3 Tbsp additional milk if your mixture seems too thick.
Pour mash into an 8×8 or 2-quart baking dish and smooth the surface. (You can make the sweet potato casserole up to this point the day before Thanksgiving if desired. Simple cover the baking dish and refrigerate)
FOR THE TOPPING:
When ready to bake the sweet potatoes, preheat the oven to 375 degrees and make the topping. In a medium bowl, combine pecans, butter/oil, syrup, cinnamon, and salt. Sprinkle over the sweet potato mash.
Cover the dish with foil and bake 20 minutes at 375 degrees.
Remove foil and bake another 20-25 minutes. If pecans begin to brown too quickly, simply cover with foil again.
**If you've got multiple things in the oven (like on Thanksgiving), allow yourself some extra time. If your oven is set to a lower temperature or full of other dishes, you'll need to bake this closer to an hour. Be sure to watch your pecans (I only remove the foil when there are about 20 minutes to go).
Steamed Artichokes with Herb Aioli
Prep Time: 20 min.
Cook Time: 20 min.
Yield: Serves or Makes 4
Steamed artichokes ingredients
3 Ocean Mist Farms Artichokes
2 lemons
2 bay leaves
1/4 cup white wine
2 cloves garlic, smashed
Kosher salt, as needed
Black pepper, freshly ground, as needed
Herb aioli ingredients
2 cloves garlic
Kosher salt, as needed
1 tablespoon lemon juice
1 teaspoon dijon mustard
Pinch of cayenne pepper
2 large egg, yolks
1 cup olive oil
1/4 cup fresh thyme, parsley, and chives, minced
Instructions
STEP 1
Prep the artichokes. Wash artichokes and let dry. Cut about an inch from top (non-stem end) with a serrated knife. Rub cut surface with half of one lemon to prevent from browning. Trim any leaves with thorns with kitchen shears.
STEP 2
Cut a bit off the stem (about ¼-inch) and peel the rest with a vegetable peeler. Rub all over with lemon.
STEP 3
Fill a large dutch oven or pot with water, so it comes about an inch up the side. Add the juice from the leftover lemon half to the water, along with the remaining lemon (in slices). Add bay leaves, wine, garlic and a pinch of salt and pepper.
STEP 4
Set a steamer insert into the pan and bring to a boil. Reduce heat to a simmer, then add the artichokes stem side up to the pot. Cover and steam for about 20 minutes. If the leaves can be easily pulled from the base and the stem is fork-tender, remove from heat. If not, cook for an additional 10-15 minutes.
STEP 5
While the artichokes cool, make the aioli: Mash the garlic with a pinch of salt in a mortar and pestle. Add the lemon juice, mustard, cayenne pepper and egg yolks to the mashed garlic. Slowly stir in half the oil. Once you have created an emulsion, add the remaining oil. If the mixture is too thick, thin it with a bit of lemon juice or water, one teaspoon at a time. Stir in chopped herbs and adjust seasoning with salt.
STEP 6
Cut the stems from the cooked artichokes so they can sit flat on a platter. Add artichokes and reserved stems to a platter with the prepared herb aioli. Dip the artichoke leaves, stem and heart into the aioli and enjoy!
To order samples of Caesarstone's Empira White or other design you have your eye on, visit our Samples page.