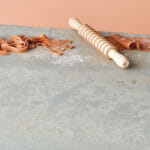 Due to their exceptional style, quartz counters with gold veins are in demand. They are durable, low-maintenance, and come in various colors and styles. But it can be hard to know which product to get for your specific needs and style.
Quartz countertops with gold veins are a popular choice for homeowners who want to add a touch of luxury to their homes. These countertops are made from natural quartz and have swirls of gold running through them.
These gorgeous products enhance the look of any home kitchen.
Here is some information about quartz with gold veins that will help you make your decision.
Benefits of quartz
In addition to its aesthetic appeal, quartz is also one of the most durable countertop materials on the market. It is scratch, stain, crack and heat-resistant, making it ideal for busy kitchens.
Quartz countertops are quickly becoming popular with homeowners looking for a durable and attractive surface in their kitchens. Made from a mix of natural stone and resin, quartz is one of the hardest materials available; it is also an environmentally friendly and sustainable option.
Furthermore, these countertops are non-porous, meaning they will not absorb spills and are less likely to harbor bacteria. It is a low-maintenance material that doesn't require sealing and can be cleaned with a simple damp cloth.
In addition, quartz countertops come in an endless possibility of colors and patterns, making it easy to find a style that fits a variety of different tastes. Given all of these advantages, it is clear why quartz countertops are becoming the preferred choice for many homeowners.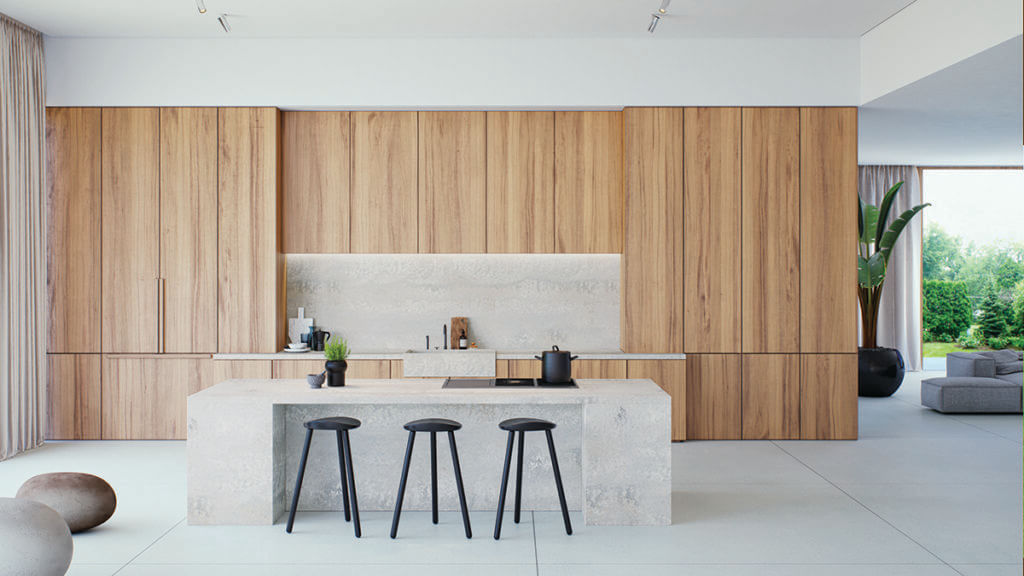 Choosing the right quartz products for countertops
Since there are various options out there for quartz countertops with gold veins, it can be challenging to find a unique pattern that appeals to your style. Caesarstone, one of the pioneers of quartz surfaces, combines innovative engineering with elegant design, and offers a high-quality selection of quartz with gold veins.
6611 Himalayan Moon
From Caesarstone's Classico Collection, 6611 Himalayan Moon presents a balanced contrast by darker veins on soft grays.
Combining 6611 Himalayan Moon with matte-finished, natural wooden cabinets can create a warm and rustic vibe in the kitchen. Pairing this product with vintage-looking cabinetry grips can complement the Mediterranean style.
6338 Woodlands
6338 Woodlands from the Supernatural collection, with graceful veining, offers sumptuous elegance in a brown base. This appetizing quartz stone resembles chocolate when used with a matching backsplash. If used in these areas, it can create a sense of flow through the kitchen with its earthy presentation.
Accessorizing this beauty with other natural and earthy materials and colors can characterize elegance while spreading serenity through the kitchen.
5212 Taj Royale
5212 Taj Royale, with its lighter and golden drippy color, promises absolute luxurious moments in silky hues. These prestigious creamy white quartz with gold veins countertops complement both classical and contemporary kitchens with its versatile style. 5212 Taj Royale is one of the most luxurious quartz products in the Supernatural collection and melds perfectly with classic, French-inspired designs.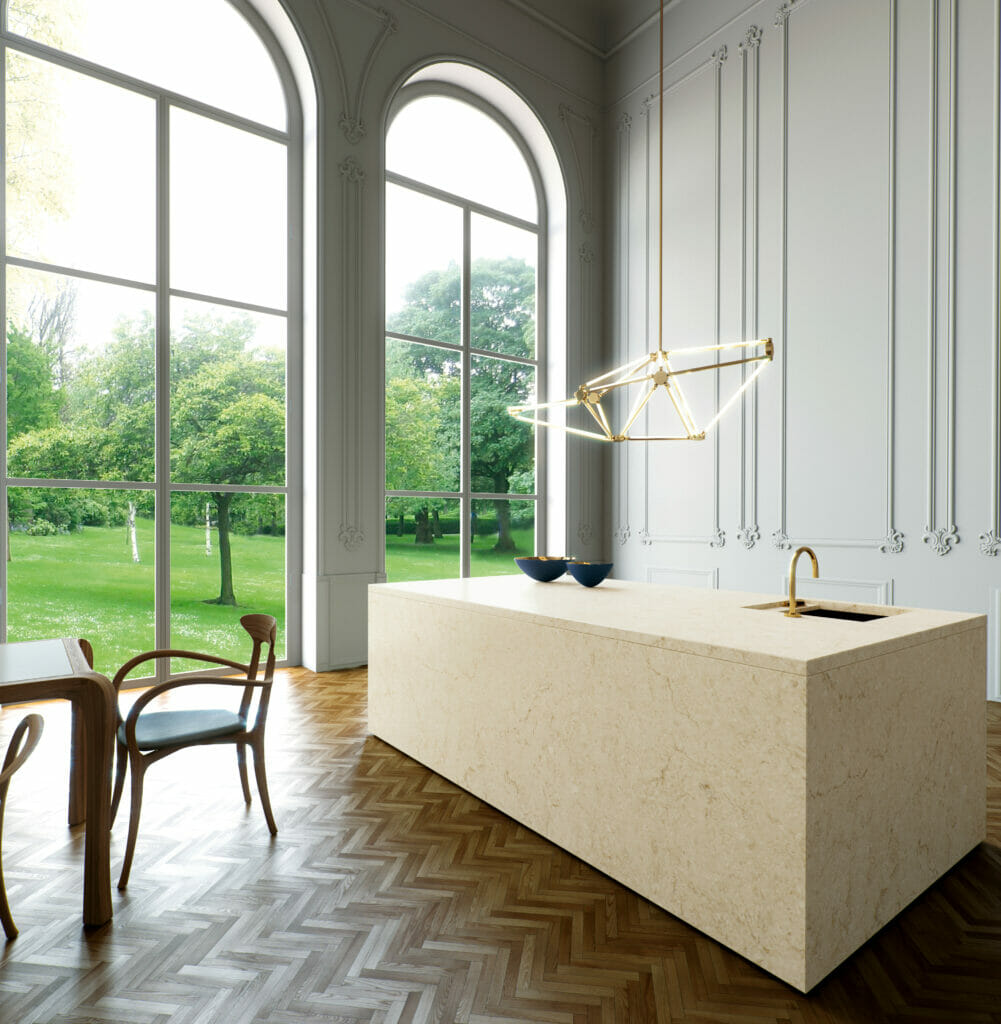 How does quartz get gold veins in the first place?
Homeowners always look for details that add value to their homes and express their unique tastes. For many, this means renovating kitchens and bathrooms with high-end materials, like quartz with gold veins.
These veins are created by tiny specks of iron oxide suspended in the stone. These specks reflect light, giving the countertop a warm, golden hue. The process is similar to the formation of gemstones, and the resulting material is just as beautiful.
This luxurious material can instantly transform the look of a room and is also very long-lasting.
It shows itself best in large areas and adds an accent to the room when used in countertops, backsplashes and kitchen islands. It can also be used in bathroom vanities to create a focal point or surrounding a fireplace completing a high-end look.
This natural imbalance creates a beautiful contrast effect that is both stylish and sophisticated. Quartz countertops with gold veins can be combined with both gold and silver. If gold is used to express its luxurious quality, it can create a classical look; but if it is matched with silver elements, it can create a modern style.
For example, a kitchen with golden chandeliers and steel appliances matching with gold vein quartz countertop states a modernist and minimalist style. Whether you are looking for a unique piece or a practical kitchen work surface, quartz with gold veins could be the perfect material for your next countertop project.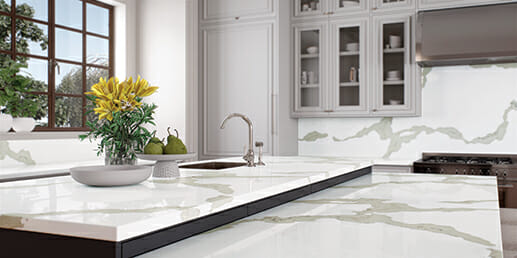 Quartz Countertops with Gold Veins — Conclusion
Quartz countertops steal homeowners' hearts with their durability, low maintenance, and various colors and styles.
Especially quartz with gold veins adds elegant detail to the kitchens and elevates the style. Quartz countertops with gold veins can have different patterns and colors. One can even brighten up smaller areas using white quartz countertops with gold veins to create exceptional balance and avoid overwhelming the countertops.
With such a wide range of colors and vein patterns available, it is easy to find something that will match the aura of the kitchen while presenting functionality.
FAQ
How can homeowners take care of their gold vein quartz countertops?
Quartz is naturally a low-maintenance material; even though it looks delicate with gold veins, routine cleaning with water and mild soap will keep it clean.
Homeowners should avoid using oil-based soaps on white quartz countertops with gold veins, and clean right away after the spills. Also, it is better to rinse and dry with a damp cloth.
Can homeowners use harsh cleaners on their quartz countertops?
There is no need to use heavy duty chemical cleaners on the countertops because they are very easy to clean. Homeowners can use vinegar as an environmentally friendly option. Using vinegar and water in half-and-half portions would be enough to maintain the beauty of your quartz surface.
How can I find the Caesarstone products?
Homeowners can find which showrooms, fabricators and retailers carry Caesarstone products by clicking here. By choosing your city and region, homeowners can find the closest provider to them and start comparing samples.