Looking for countertops in Denver, CO? Quartz is one of the top countertop materials that has risen in popularity over the past years for its sought after qualities. In this post, we'll explore what that means and why quartz is trending to overtake other traditional countertop materials in Denver.
But first, it's important to note that homeowners looking to purchase a quartz countertop should opt for a top quartz manufacturer like Caesarstone to guarantee the quality of their countertop material for years to come.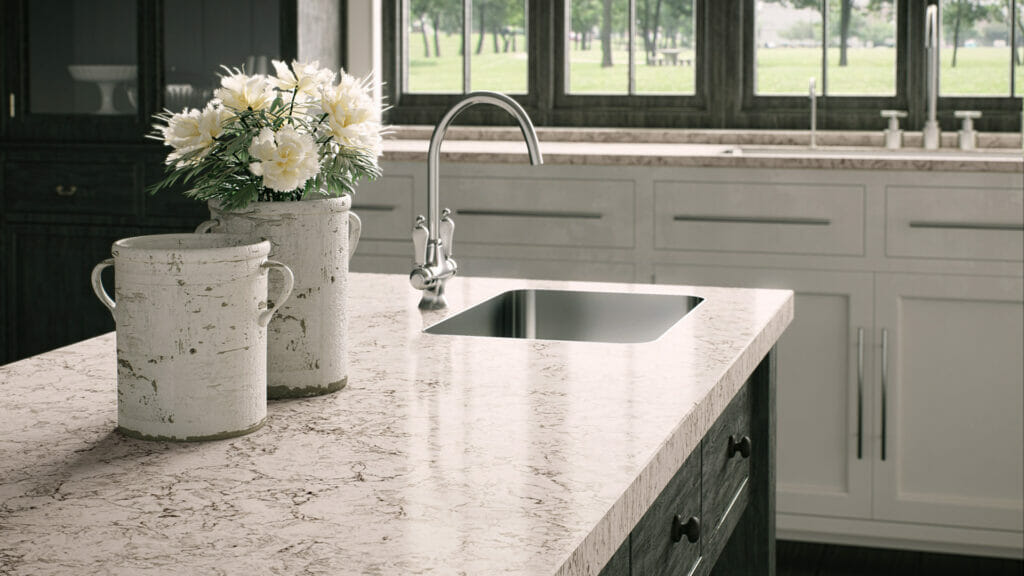 What is Quartz?
Before we get into why quartz is a perfect countertop choice, it's essential to understand what quartz is and how it's manufactured.
Quartz is a hard natural mineral consisting of silicon and oxygen and is the second most abundant mineral on earth, behind feldspar. While quartz is a natural resource, the countertops made of this material are man-made.
Quartz countertops are made by grinding naturally occurring quartz and combining it with other natural and synthetic materials, including resins, polymers, and pigments. About 90% natural quartz is used to make quartz countertops, the other 10% comprises of these other components.
The resins and polymers bind the ground quartz firmly together to make a hard, durable final product. The pigments add the countertop color, while in other instances metallic flecks and recycled glass are used to spice the design. Quartz comes in different varieties, which brings in uniqueness in the numerous quartz countertops.
Why Buy Quartz Countertops in Denver, CO?
If you're thinking of picking quartz countertops in Denver and need an extra nudge, here's a comprehensive list of why quartz is always a great choice: 
Quartz Countertops are Ultra-durable
Need a countertop material to last for many years? Quartz countertop won't disappoint. One of the top reasons why most homeowners are choosing quartz countertops is because of their durability. The material won't crack, chip, or scratch easily. 
But how hard could quartz countertops be? The scale geologists use to measure hardness or scratch-resistance in minerals ranges from 1 to 10 (1 being the least scratch resistant and 10 being the most). On this scale, quartz rates at 7.  
Quartz Countertops Offer Unlimited Variety of Designs
Quartz countertops provide a one-of-a-kind advantage to homeowners. They come in multiple patterns, colors, and finishes. Since they're man-made, it's also possible to add flecks, swirls, and random patterning creating multi-colored slabs. Quartz countertops are not limited to the patterns they come in. Homeowners can choose a style like 6046 Moorland Fog for a creamy countertop swirling with browns and greys, or 5151 Empira White for a luxurious and timeless marble-inspired look. 
Quartz countertops can be customized to nearly any color matching any cabinets, backsplash, or flooring. The result of this is a variety of designs that are easy to please. Simply put, quartz countertops are beyond elegant, sleek, and a perfect fit for any space.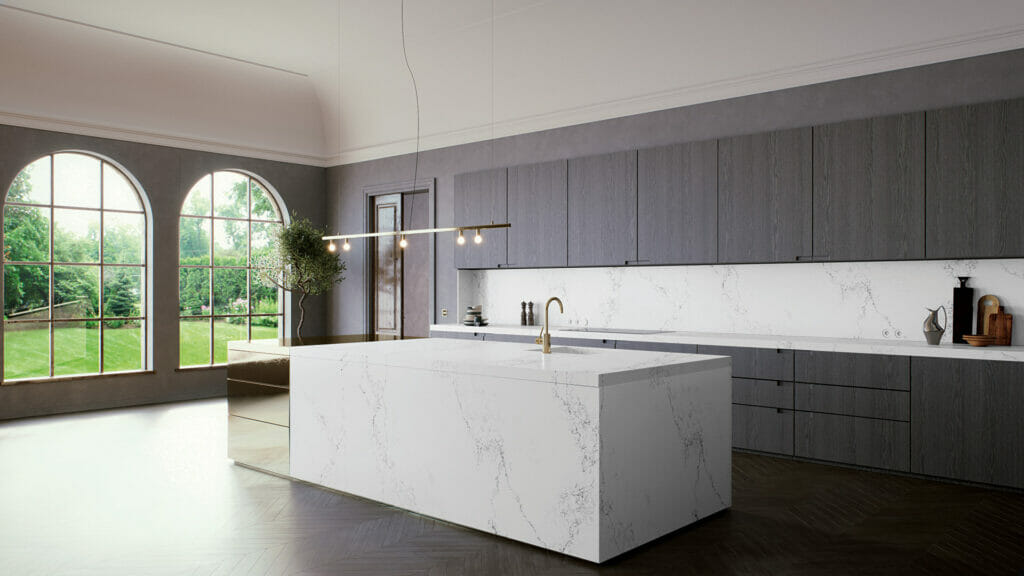 Quartz Countertops Offer Consistent Patterns
Since quartz countertops are engineered, they achieve a better pattern consistency between slabs — a bonus for homeowners who require more than one.  
Quartz Countertops are Non-porous
One of the best advantages of quartz countertops is that they are firmly bound and resist liquid  from seeping in and settling beneath the surface.
With quartz, there's less to worry about when it comes to staining. There's less concern with liquids penetrating the surface, causing stains, or bacteria build up. As such, it's less likely to see quartz countertops that are filled with spots, faded, or discolored. This is a major reason why homeowners with young children in Denver have made quartz countertops their preferred surface material.
Quartz countertops are low maintenance
Because of their non-porous nature, quartz countertops need no sealing and waxing to maintain their beauty. Not to mention, cleaning quartz countertops is a breeze, requiring no special materials and cleaners for everyday clean up. Simply wipe the surface using a soft cloth, water, and soap.  
What's the Best Thing about Denver Quartz Countertops?
Quartz countertops in Denver, CO provide you with the best countertop surfaces you need. They are highly durable, long-lasting and have a unique outstanding appeal that you'll not find with other countertop materials in today's market.
Quartz Countertops Denver: Price
Knowing the quartz countertop Denver price is essential before starting a quartz countertop remodel. Quartz countertops in Denver cost $40 to $85 per square foot on average. This doesn't include any factors that affect the final quartz countertop installation price such as labor costs or costs for other materials and equipment.
While quartz countertops from a premium manufacturer like Caesarstone will initially cost you more, they will last longer than other countertop materials, making them a worthwhile investment. The beautiful quartz colors and finishes will give any Denver, CO home a premium appeal.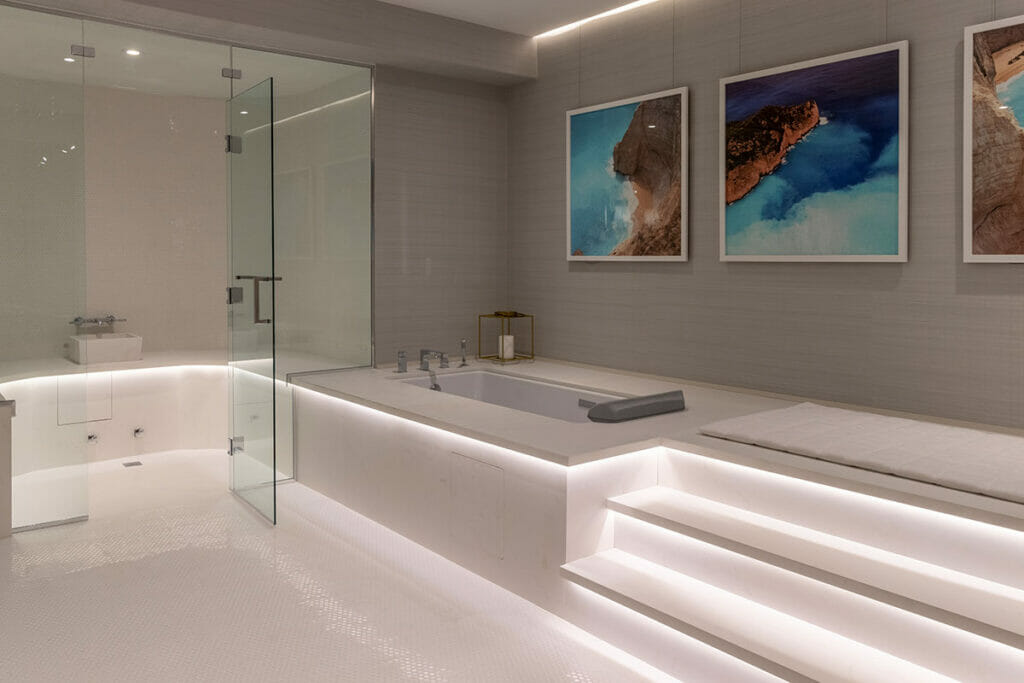 Where to Get Quartz Countertops in Denver, Colorado?
Whether you want a Denver quartz kitchen countertop, quartz bathroom countertop, or anything with a quartz surface finish, you can find just what you're looking for at any Caesarstone quartz dealer in Denver, Colorado.
Getting quartz countertops in Denver is easy. Just navigate here to customize your location, and find the best quartz countertop dealer near you.