Brooke and Henry Jones live in Kingsport, Tennessee in a modern farmhouse with their two children. Their love of houses has expanded into an impressive business that focuses on building, remodeling, and designing homes. In a recent partnership with Plank & Pillow, the couple did a full remodel of a home built in 1970 and used Calacatta Maximus for a bold look in the kitchen. Let's take a look at their decision process for adding a waterfall island to kitchens.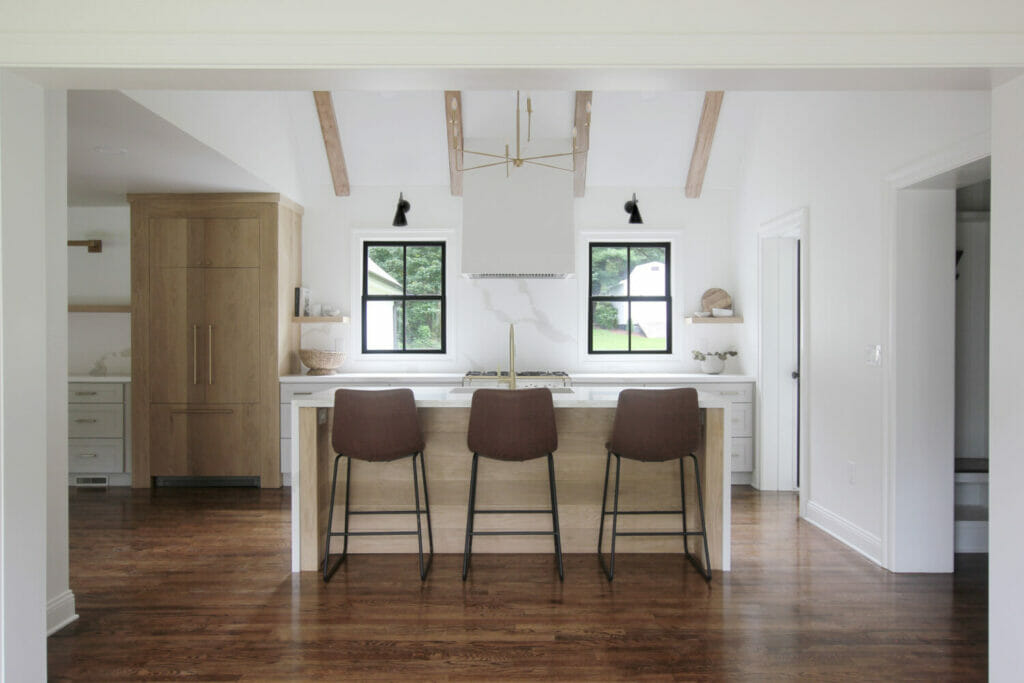 Islands have become a must in modern kitchen design. And it's easy to understand why. Kitchen islands not only look amazing when designed properly, but they also provide a lot of functionality. A kitchen island gives you an optional location for your sink or range, additional storage, more workspace, and a place to sit and eat. An island is also a great place for a microwave.
But what about the design of the island? I think many people make a mistake by just settling for a slab of countertop material sitting on a group of cabinets. With a kitchen island, you have a great opportunity to create a statement piece in the kitchen. So I think there are really only two options: custom millwork on the ends or a waterfall countertop. In our last two projects, we've opted for the waterfall island and absolutely love the look!
So in this article, I'm going to answer some of the most asked questions about a waterfall island. Hopefully, I can help you decide if one is right for your kitchen design.
What is a Waterfall Island?
On a standard island, the countertop stops where the island cabinets end. With a waterfall island, the countertop material continues down the end of the island and stops at the floor. This is where the name "waterfall" comes from. It creates a more contemporary look, but I think it can be mixed with traditional elements. In fact, I love mixing modern and traditional. I think it creates such a cool contrast.
Does a Waterfall Island Cost More?
Yes, but probably not as much as you think. You will pay more for material, fabrication, and installation. But when you factor in not having to have custom millwork for the ends of your island, the extra costs do offset some if not all depending on what you would have done for a standard island.
Where Do I Put the Electrical Outlets on a Waterfall Island?
Most building codes require that you have an electrical outlet somewhere on your kitchen island, and a lot of times you'll need to have two depending on the size of the island. On a standard island, it's common to place the outlets somewhere on the ends. But we never do this on a waterfall island. I hate the thought of having an ugly electrical outlet cover stuck right in the middle of the beautiful waterfall edge.
So where do you put them?
A good place to put electrical outlets on a waterfall island is on the inside where the bar stools go, either on the left or right side, or both. This way they are hidden from plain sight, but still easily accessible.
What is the Best Material to Use on a Waterfall Island?
Technically, you can use any material, but we prefer to use quartz with some prominent veining. For our own kitchen, we used Statuario Maximus, and in the flip house kitchen, we used Calacatta Maximus. Both of these materials are from Caesarstone and have beautiful veins that really make a statement!
If you do use a material that has veins, it's important that the veins match up where the top piece meets the side pieces. A good fabricator will know this, but it's a good idea to mention this to them just to make sure you're both on the same page.