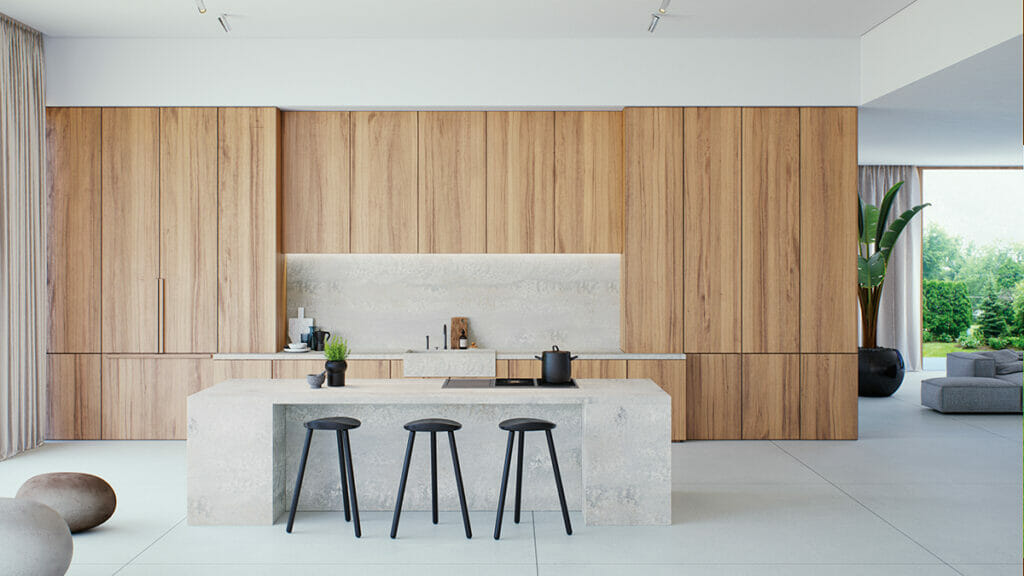 The kitchen is considered the heart of every home for a reason. It's not only a place to share meals, it is also the center of operation in the house.
Everyone gathers here most mornings and evenings, not just to eat but also to soak in the warmth of loving company.
As the center of the home, its design deserves extra attention to ensure it reflects your taste and to make it an inviting place for the whole family. One of the most impactful elements to update in the space is the kitchen countertop.
Whether building a kitchen from scratch or simply remodeling it, below are some of the trends in kitchen countertops for 2021 to give the kitchen and home that modern touch.
Contemporary Metal Kitchen Countertop Trends
Although metal has been used for kitchen countertops for a very long time, it is mostly deemed functional and not ornamental. Yet, it has the potential to give the kitchen a sleek and contemporary look if used creatively.
Stainless steel is a great countertop option because it is not only visually appealing but also tough.
Beyond stainless steel, there are many other metals such as zinc, copper, bronze, or even pewter. Each one will deliver a glowing and gleaming countertop. Copper, for example, with its rich, polished, warm glow, is a current kitchen countertop trend.
The greatest benefit of metal is that it is antibacterial, stain-resistant, and easy to clean.
Over-The-Top Waterfall Countertops
In the world of 2021 countertop trends, there are very few styles that are as popular as waterfall countertops. It's as unique as it is contemporary.
Instead of just being placed on top of base cabinets, waterfall countertops are designed to flow horizontally over the top and then vertically to the kitchen floor. This creates a seamless appearance.
Waterfall countertops raise the aesthetic appeal of the space and become the artistic focal point of the kitchen.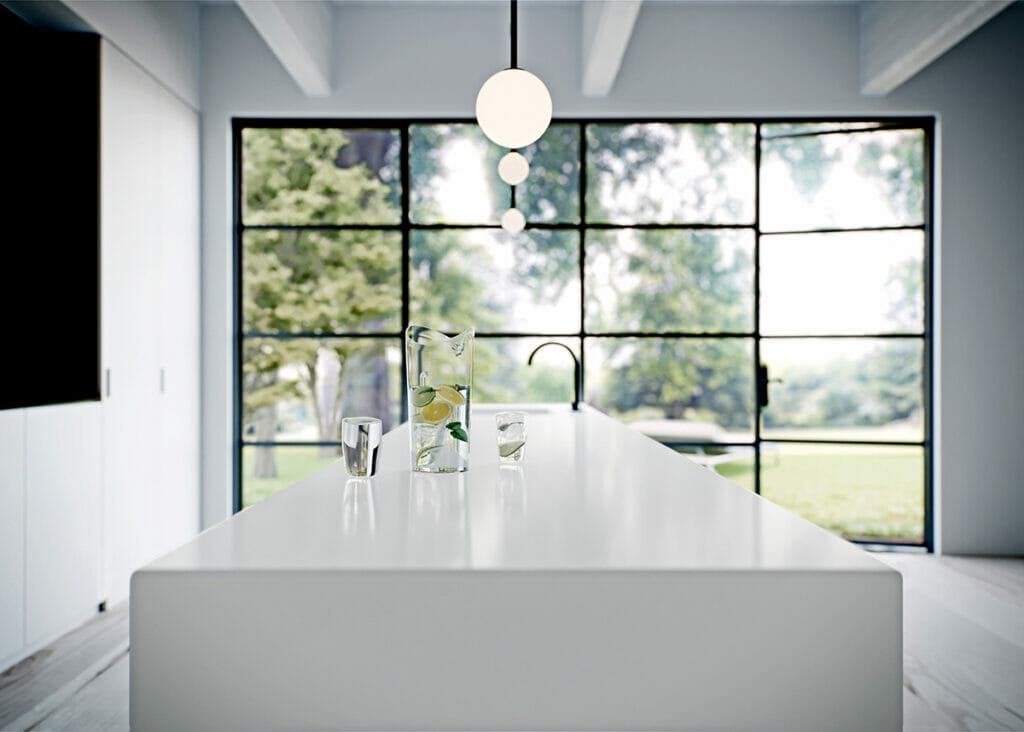 The Resurgence of Laminate Countertops
Although more popular in the 80s and 90s, laminate countertops are making a come-back in 2021. While their affordability is a key factor, they are also being sought after for different reasons.
The first of which being that they are available in a wide variety of styles and colors and can also be designed to imitate expensive materials like wood and stone.
For those who are concerned about committing to one countertop for a long time, laminate countertops are a good alternative. It's a budget-friendly way to add color and life to the kitchen.
Laminate countertops are also nonporous and anti-bacterial.
Quartz Comes Out on Top
Quartz countertops have never been out of style. They've been around for decades, but the appeal hasn't diminished.
Quartz is highly desirable for several unparalleled benefits. Firstly, it is a natural mineral that is not just beautiful but also durable. It gives an air of timeless sophistication that is unmatched by any other material.
Secondly, unlike other natural stones, quartz is available in a wide variety of designs and patterns. So it is suitable for many kitchen types.
Quartz is also nonporous and, as such, is stain-resistant and can offer solid heat resistance, unlike other countertop materials.
Considering each of these benefits, it is ideal for those in search of something trendy and of premium quality.
Unconventional Resin Countertops
For a new trend in kitchen countertops that is unique and unconventional, go for resin countertops.
Usually shipped in DIY kits, it offers the opportunity to bring unique ideas to life and create the ideal countertop for the home.
For those who are good with their hands, this is an exciting chance to create a flawless countertop that matches current kitchen trends. Where necessary, there may be a need to have someone skilled complete the project but the results will be worth it.
Resin countertops are relatively durable and also offer strong resistance to stains, burns, and scratches.
Glass Countertops
Heat-resistant glass countertops are another modern option to consider, that will last throughout years of cooking. Not only do they come in a range of transparencies, colors and styles, but they are also well-loved by chefs for their durability.
For those looking for an eco-friendly choice, recycled glass countertops are the perfect fit. Composed of crushed glass, they are also beautiful to look at, each boasting a unique blend that cannot be duplicated.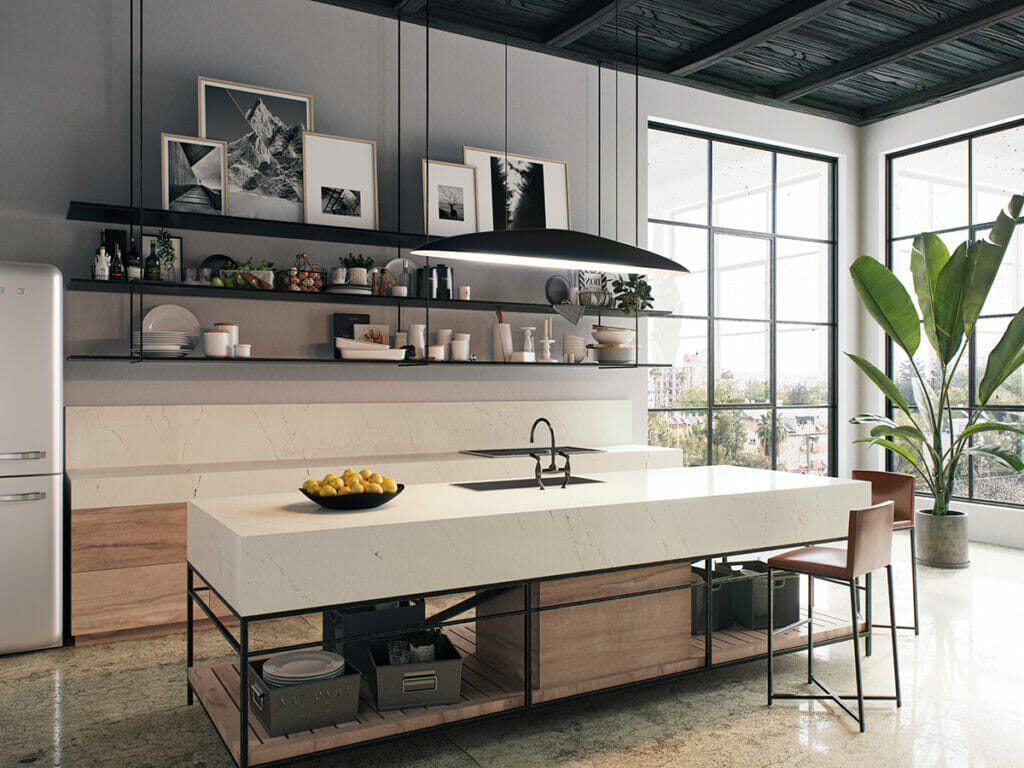 Countertops For Lovers of Color
Interested in bright shades and hues? Brighten up the kitchen with this new trend in kitchen countertops for 2021.
Colorful countertops allow homeowners to create a unique design and sense of style for the kitchen. As the kitchen is the hub of the home, many homeowners desire a space that is vibrant and fun.
Thick Countertops
Thick countertops are one of the current kitchen countertop trends that shows no sign of going out of style any time soon.
From the name, it is clear that these are thicker than traditional countertops. Regular kitchen countertops have a thickness of between 1 and 2 inches, while thick countertops can be double that size.  
Around 3 to 4 inches of countertop slab is the recommended thickness.
Thick countertops feel luxurious and contemporary and will be the first thing visitors notice when they visit the kitchen.
Although it comes with an extra cost, it is definitely a countertop trend worth exploring.