There are countless types of bathroom countertop materials to choose from and choosing the most suitable countertop material is essential.
Deciding on the right one for a bathroom requires a good understanding of each option's pros and cons.
While all options serve the same purpose, they don't all have similar qualities. Durability, style, price, and maintenance are some of the qualities to look for when selecting a material.
Durability is a quality that stands out for most homeowners. Buying a durable bathroom countertop saves money, lasts longer, and increases the overall home value.
Here are the different types of bathroom countertops ranked from the most durable:
Quartz (Engineered Stone) – The Most Durable
Caesarstone quartz is a perfect choice for homeowners focused on durability and style. This artificially engineered material is one of the hardest surfaces available.
Caesarstone quartz is made of 93% quartz minerals mixed with polymers and resins to make it strong and non-porous. The material is also scratch, chip, and stain-resistant.
Caesarstone quartz comes in a wide variety of colors and patterns. From bold hues and solid neutrals to a concrete look, quartz ensures a perfect bathroom countertop for the home. The most popular colors to choose from include black, white, grey, beige, and brown. One of the most interesting new colors is 5171 Arabetto.
Of course, all the amazing benefits of quartz come at a steeper upfront cost. But once installed, you'll never have to spend money for upkeep as the countertop can last for years without getting damaged.
Pros
Ideally maintenance-free
Does not crack or chip easily
Non-porous and very hygienic
Comes with a wide array of style options
Cons
Heavy and challenging to DIY install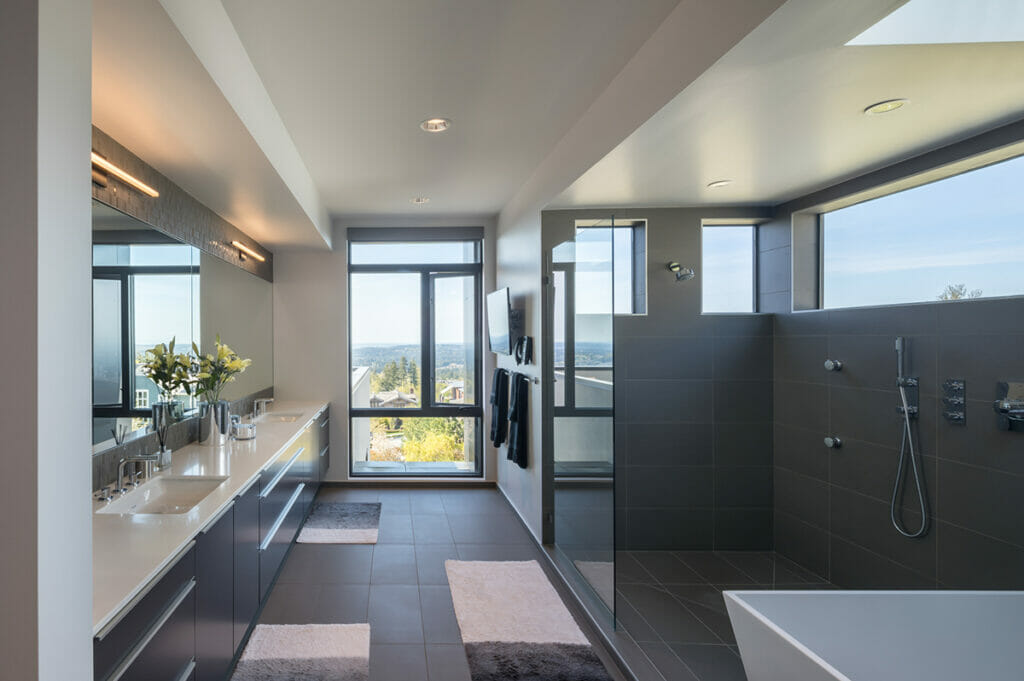 Granite – Durable but Requires Regular Sealing
To achieve a rustic, casual bathroom look, leathered granite with a slightly textured surface is a perfect choice. Go for a polished, glossy sheen, or choose a honed finish with a matte sheen.
Once known to dominate high-end home counters, granite has held the top position as one of the best options for bathroom countertop material. This material is incredibly durable and comes in a wide variety of colors and patterns. The selection can include vibrant blue, midnight black, variegated brown, deep red, mottled white, and many more.
Granite is characterized by unique thickness and can be cut into long and thick slabs. It's ideal for a surface with minimal to no seams. This material, however, requires sealing after cutting and polishing to make it stain-resistant. This treatment lasts between 5 and 10 years and must be redone after that point. When cleaning granite, one should use a stone cleaner and avoid an abrasive cleanser.
Pros
Heat and water-resistant
Wide range of prices from mid-range to luxury
Extremely durable and long-lasting
Adds to home value
Few, if any, seams
Cons
Requires sealing to resist stains, thus expensive to maintain
Professional installation is a must
May have seams
May crack if not properly sealed or installed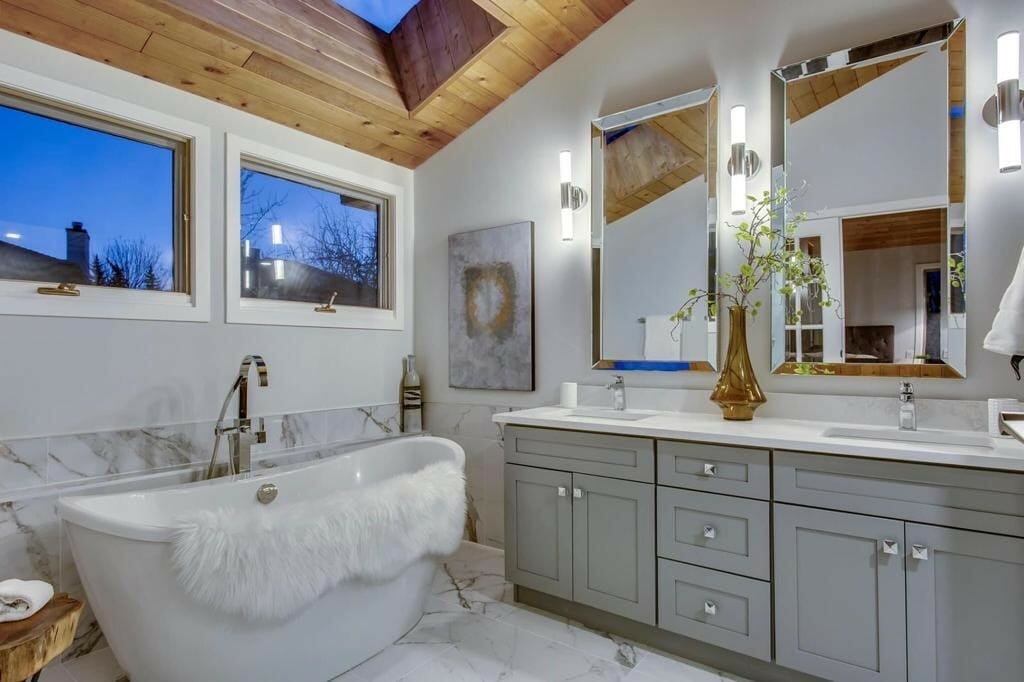 Marble – For a Lush Look
Marble is an excellent type of bathroom countertop material preferred by most homeowners due to its lush appearance. Though it comes in fewer color patterns than granite, it is available in hues such as white, gray, and green.
One downside is that marble is relatively expensive. It's also soft and porous, which makes it not the most suitable for bathroom counters. In addition, it is highly prone to scratching and staining.
Pros
Classic look and striking natural patterns
Water and heat resistant
Increases home value
Every stone is inimitable
Cons
Requires relatively high maintenance, as it needs regular sealing, which makes it expensive
Warranty may not be possible
Stains, chips and wears out easily
Must be professionally installed
Solid-Surface Material – Achieve Stone-like Look Cost-effectively
Made with resin and acrylic, solid surface material makes the look of a stone attainable within a lower price range than natural stone. This is a manufactured countertop material that can be tailored to the layout of your bathroom, meaning no unattractive seams.
This material is, however, prone to chipping, although it can be easily sanded out. It is also not heat resistant and requires professional installation. This is a cost-effective countertop material for shoppers looking to balance their budget with style.
Pros
Stone-like look at a lower cost
Seamless and can include a built-in sink
Possible to sand out chipping damage
Mid-range prices
Cons
Less premium than natural stone
Requires professional installation
Not heat resistant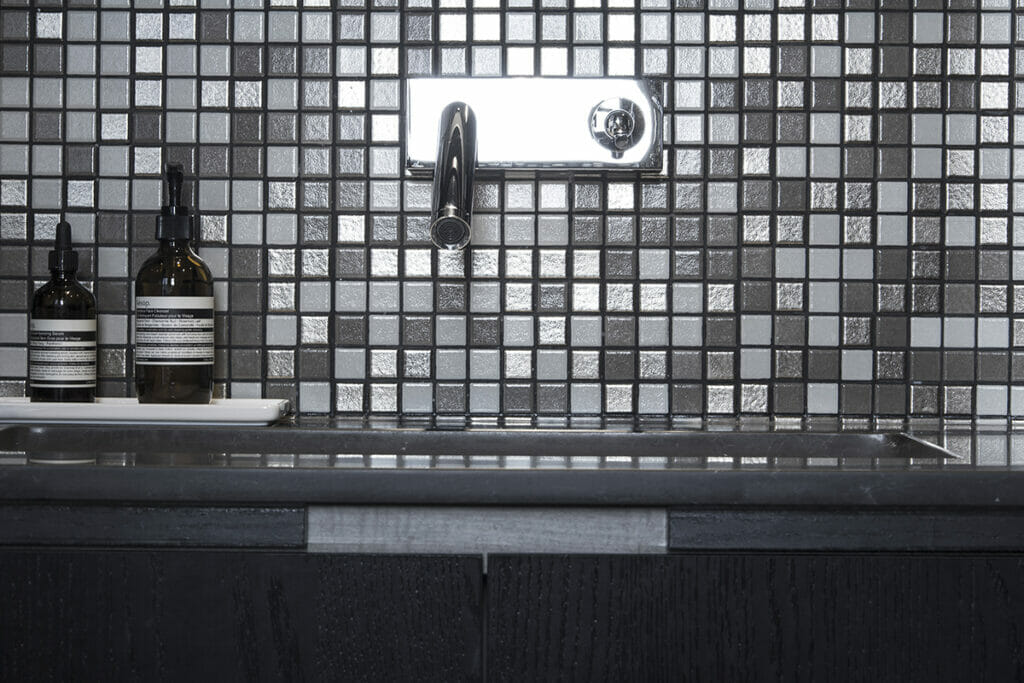 Tile – Low-cost Option
A tile is a good option for those who value uniqueness and color but don't have a huge budget. From hand-painted, porcelain tiles to more elaborate styles, the homeowner's imagination is the limit.
Granite and quartz tiles are available at a lower cost than full-sized slabs. With tiles, DIY installation is possible. Tiles are also easy to maintain and are somewhat durable.
The greatest hazard when it comes to tiles is cracking. Never slam heavy items on the bathroom counter if it is made of tiles. Another drawback is that tiles come with grout lines which can be a chore to clean.
Pros
Low-cost option
DIY installation is possible
Extensive customization options
Cracked tiles can be repaired or replaced
Cons
Cracks easily
Grout lines can be a nuisance to clean
Professional installation and custom tiles can increase the overall expense
Does little to increase home value
Laminate – Budget-friendly
When looking for a budget-friendly option, consider laminate. This material was more popular a few decades ago and is known by brand names like Formica.
Laminate is easy to maintain and is bacteria-resistant. It also comes with a variety of style options. Laminate is popularly used by budget-conscious homeowners, rental property developers, and house-flippers.
Laminates' significant drawback is that it's prone to burning and chipping.
Pros
Easy to maintain
Budget-friendly
Relatively easy to DIY install
Complements a retro look
Cons
Not heat resistant
Doesn't increase the home's value
Visible seams
Damage is impossible to repair