Creating spaces that meet your desired vision means finding durable and visually appealing materials. However, more people also value sustainable alternatives on the market. For those searching for premium countertop solutions that bring inimitable style to your space, you can now opt for the long-lasting solutions in our latest collection that marries sustainable practices with our appealing designs.
Caesarstone has launched the Time Collection, which is part of the new Caesarstone Mineral ™ Surfaces. As a pioneer in our industry, Caesarstone is pleased to introduce the next generation of Mineral Surface-premium, sustainable surface formulated with a unique blend of materials.
What is the Caesarstone Mineral™ Time Collection?
Our brand-new Time Collection is a testament to the quality we provide our business partners and consumers while prioritizing sustainability. This collection features three new designs showcasing the ancient beauty of how the markings of time are imprinted on stone. These mineral surfaces are a blend of durable materials that show off the premium quality of our pioneering technology.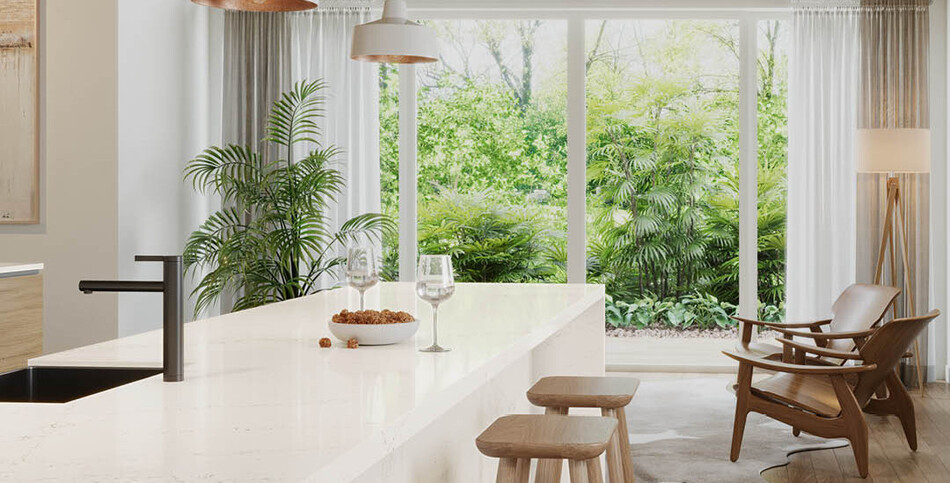 Time Collection represents the latest in our innovative technology in surfaces – offering the durability, beauty and performance of Quartz but crafted with natural and recycled materials for the next new advanced sustainable solution in countertops.
How the Time Collection Delivers Sustainable Solutions
Caesarstone Mineral™ has less crystalline silica than our other products and those on the market. Our Time Collection contains less than 40% crystalline silica, though some may see less than 10% compositions.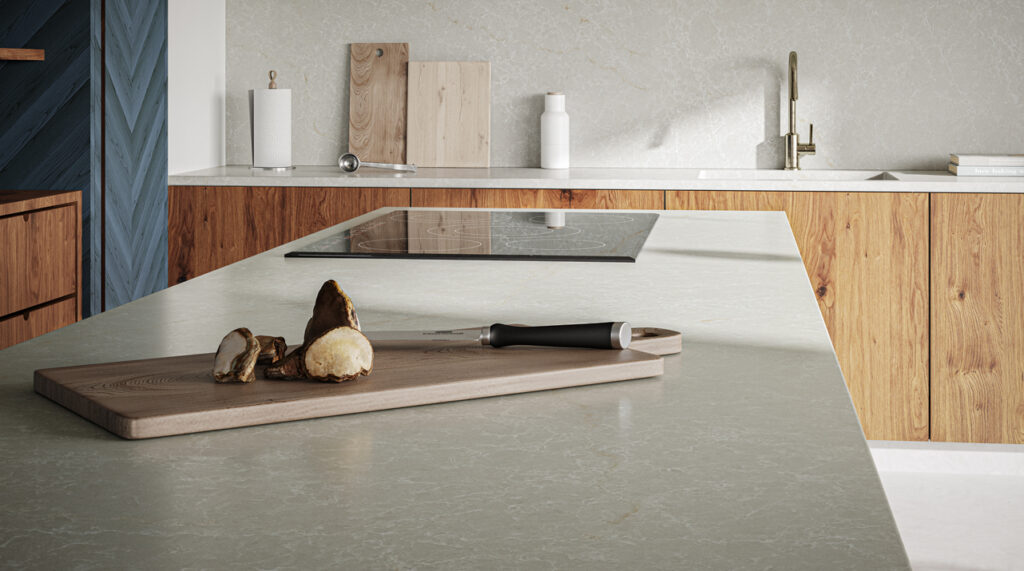 By reducing the silica content and replacing it with recycled materials, we can practice sustainability without compromising the quality our clients expect. Our new collection uses advanced technology that places longevity and durability at the forefront.
What to Expect in Our Time Collection Designs
Our premium low silica sustainable surfaces are made with a unique blend of natural and recycled materials to produce countertops with extreme resistance, pleasing aesthetics and versatility.
With the natural inspiration of quartzite and marble, the Time collection provides three versatile designs that can organically bring multiple design elements together or stand out as their own focal statement.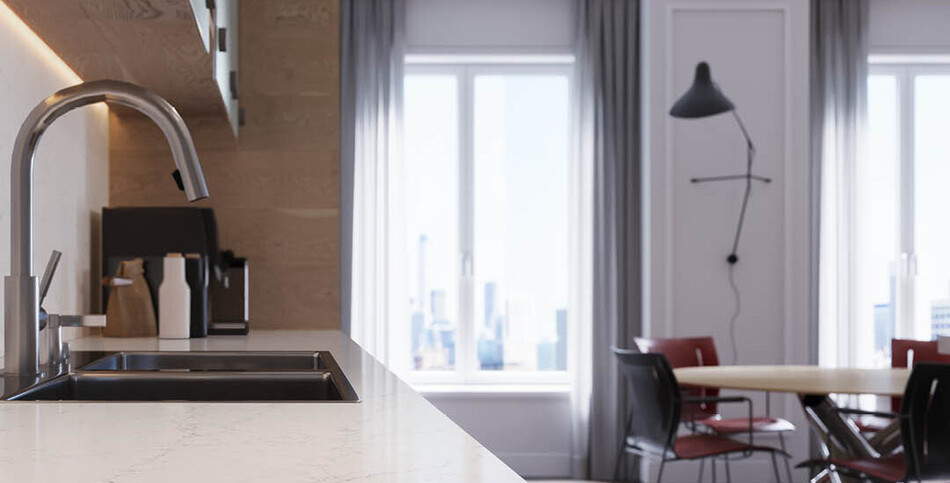 While we currently have three contemporary designs available in our Caesarstone Mineral™ Time Collection, we are soon transitioning our most popular colors to this sustainable mineral formula.
The 5113 Solenna Mineral Countertop from Caesarstone is a part of the Caesarstone Mineral™ Time Collection and boasts a polished finish. It presents a rich milky complexion that radiates warmth. This design is characterized by prominent veining that criss-crosses throughout the design, blending light soil and putty grey lines. Occasional amber veins further enhance its authentic depth.
The 5310 Brillianza Mineral Countertop from Caesarstone is a captivating addition to the Caesarstone Mineral™ Time Collection, showcasing a polished finish. This countertop is characterized by a dynamic sequence of frosty white veins that overlay its cool grey base. The design's lustrous appearance is accentuated by the play of light and shadows between its semi-transparent layers. To add a touch of warmth, powder-peach mineral accents are occasionally infused, making the Brillianza design truly transcendent.
The 5140 Dreamy Carrara Mineral Countertop from Caesarstone is a graceful addition to the Caesarstone Mineral™ Time Collection, featuring a honed finish. Its silky white base is subtly textured with whispers of off-white and light grey. The design is further enhanced by fine sedimentary veins in earthy greys with bluish undertones, some of which dissolve into the cloudy depths of the material, creating a serene and elegant appearance.
Contact Caesarstone for Sample Kit Orders and More Information
Are you interested in one of our sustainable designs to add to your space? Check out our Caesarstone Mineral™ Time Collection colors and other styles featured in our catalog, and choose designs for a personalized sample kit.