For a cohesive kitchen design, the key is making sure all the elements match. Starting with one element, be it the cabinets, flooring, or countertops, the rest of the decor will be informed by this choice. This process can be overwhelming. Let's explore several styles and different combinations.
Often, homeowners believe that the only way to achieve a timeless kitchen design is by using a light and neutral color palette. But the latest home trends are moving in another direction. For instance, light grey cabinets with dark countertops. This tonal duality creates an elegant and luxurious ambiance in any kitchen.
Balancing light and dark tones can be difficult. Read on for several inspirational ideas for your next revamp.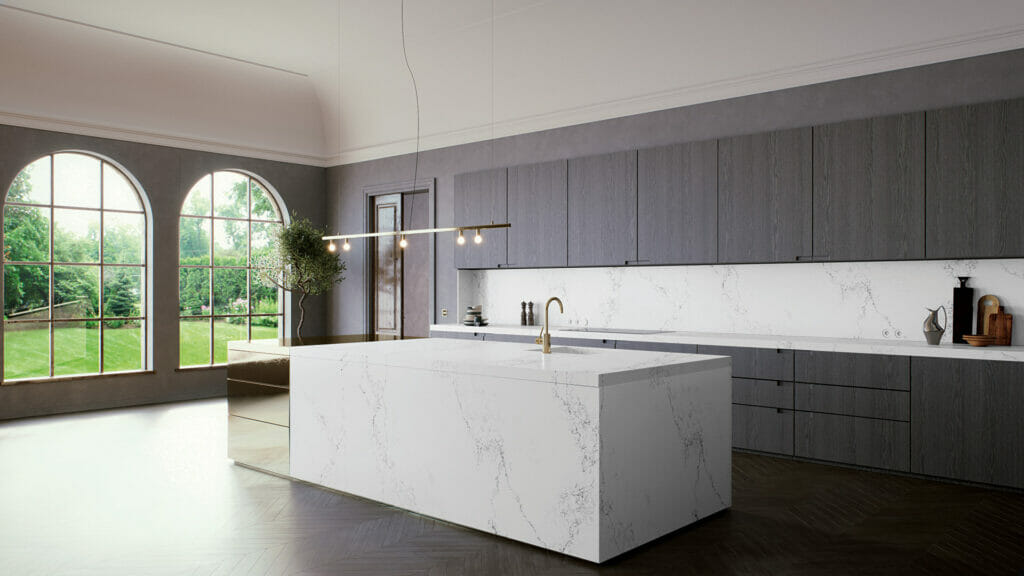 14 kitchen combination ideas for 2021
Grey cabinetry is easy to mix and match with the different elements in the kitchen and it can also warm up the room. Depending on personal style, different shades of grey may be more desirable.
Light grey shaker cabinets
A very popular option is light grey kitchen cabinets with dark countertops. To start, select shaker cabinets with silver features. Depending on the flooring, choose a grey that contrasts and complements the tones of the hardwood or tile. For the countertop, we recommend a Caesarstone quartz countertop with a veining texture (i.e. 5151 Empire White from Caesarstone). Complete the kitchen with white appliances.
Flat dark cabinetry
For an opulent look, pair dark kitchen cabinets with dark countertops. Select grey flat panel cabinetry that is very dark and appears nearly black. Add visual interest with a speckled dark grey countertop and light grey tiles on the floor. Finish the look with stainless steel appliances. The end result will be a sleek and powerful aesthetic.
Lunar grey cabinets
For those who don't prefer such a moody color palette, combine dark kitchen cabinets with light countertops. For this concept, use lunar grey cabinetry. Though the color is dark, the tonality is bright. Complement these tones with brass hardware and an off-white quartz countertop (i.e. 5112 Alterra Blanca). For the floor, the best choice is natural wood.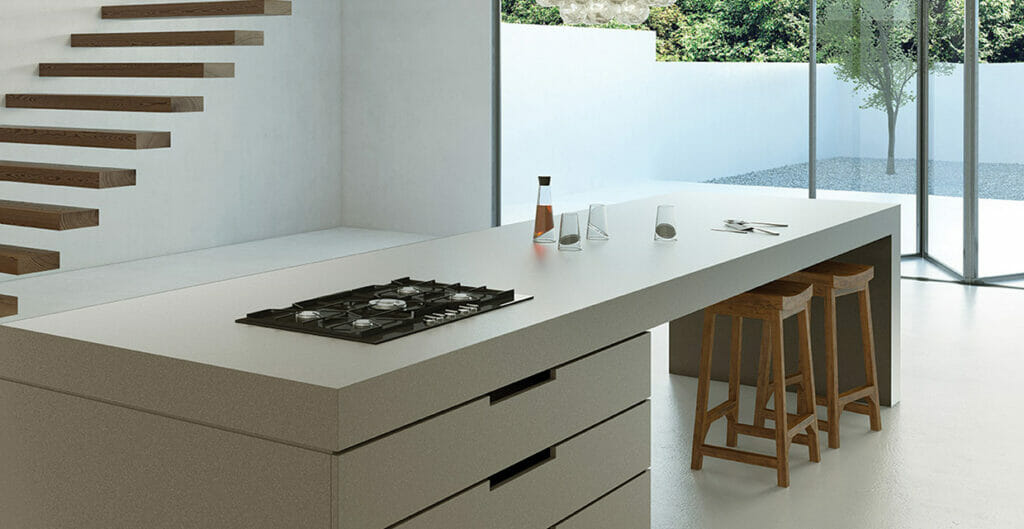 White island
Some homeowners are fortunate enough to have a kitchen large enough to accomodate an island. A kitchen island is significant in a family home where more space is required to prepare meals. It also creates more storage. For a bright and inviting space, select countertops in a white tone. Complement this design with dark flat-panel cabinetry and several natural wood elements.
Glossy finish
For a different take on dark kitchen cabinets with light countertops, try grey cabinetry with a glossy finish. Complement with white hardware and either a quartz or marble countertop. The natural stone look adds elegance to the kitchen. To create contrast, install a dark tile floor.
All dark
To make a bold statement in kitchen design, combine dark kitchen cabinets with dark countertops for a look that's very of the moment. To achieve this look, select lunar grey cabinetry with silver hardware. For the countertops, choose a design with a black base and some veining to add depth. To highlight all the unique features of the kitchen, install small light fixtures on the ceiling.
London bar
For an exclusive and impressive kitchen design, try a black and white tiled pattern for the floor. Pair with a narrow kitchen island that resembles a bar. Add metal bar stools and mullion cabinets to complete the London bar look.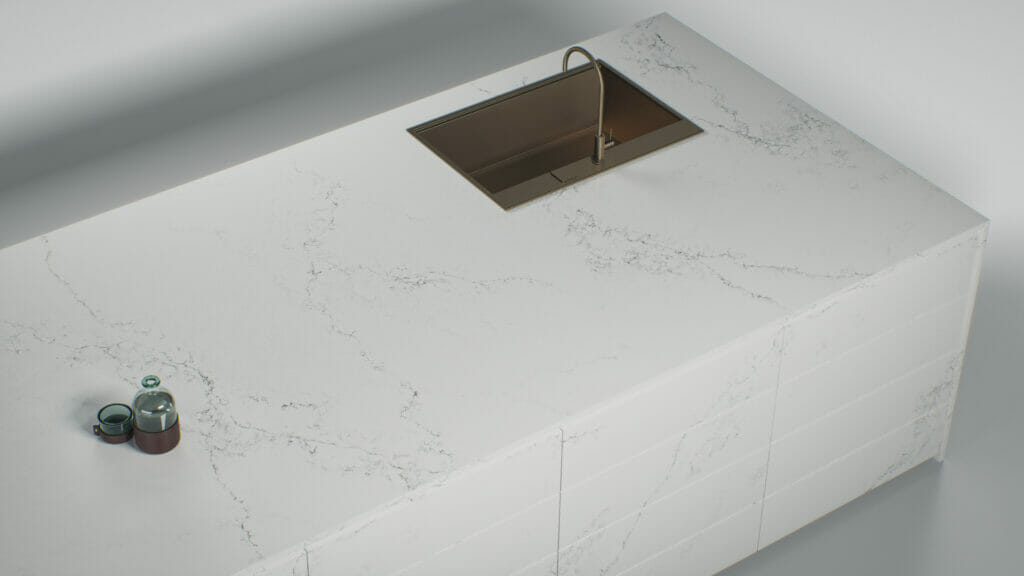 For the guests
Having a large kitchen is an excellent opportunity to try out a unique style. The enduring style of an all-white kitchen (i.e. one featuring 1111 Vivid White) makes it a very popular choice but the advantage of a large space is that there is room to combine the latest trends. The side of the kitchen used for serving and plating could feature elegant and classic cabinetry while the preparation area could exhibit a more modern and utilitarian look with stainless steel appliances.
Contemporary kitchen
Trying a new style can be nerve-wracking but this revolutionary style will add value and beauty to any home. Choose sleek grey cabinetry, a concrete countertop, and light grey tile flooring to achieve a modern and contemporary look.
Farmhouse feature
A summer cottage is an opportunity to explore different styles and select a kitchen design that transports you elsewhere. Every element should be light and bright. Glass panel cabinetry with a grey frame, white appliances and natural hardwood come together for a chic and rustic design. Elegant and simple light fixtures bring it all together and a durable and easy to clean quartz countertop allows more time to relax and enjoy the getaway.
Combine colors
A sophisticated kitchen is one that combines styles and designs to create something entirely new. First, select contrasting dark and light tones, such as grey and white and place them thoughtfully in the space. Lay the base of white tile flooring and highlight with gold or silver hardware and add green with happy and healthy plants.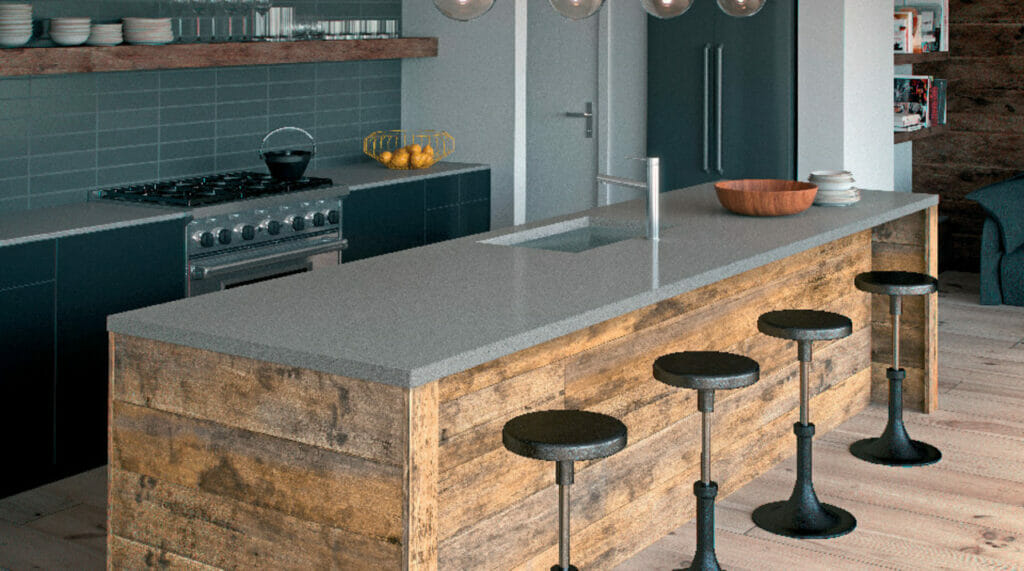 Family kitchen
The key to constructing a proper family kitchen is picking the right tones to warm up the environment. Before purchasing all the necessary elements, take into consideration what is of the highest priority and build the design around that. For instance, for more storage, add need an island. In terms of creating a warm ambiance, put together grey cabinetry with a white countertop, and inviting yellow walls for an inviting space where the whole family feels at ease.
Be minimalistic
To create a minimalistic style with an elegant contrast, combine light grey and black cabinetry. Then add silver hardware and creative light fixtures. For the countertop, select a natural wood surface.
Rustic style
For historical homes with antique styles, the best thing to do is highlight the existing features. Use soft lighting, granite countertops and a wood top for the island. Then, install light grey shaker cabinetry with golden hardware. Warm up the ambiance, with patterned rugs for the floor. A subway tile backsplash will further complement the whole style.
Final Thoughts
Whether revamping a kitchen or building it from scratch, the most important thing is deciding on a style direction. This can be a stressful and lengthy process. If unsure where to begin, start with the significant features such as cabinetry, countertops, island and appliances. A neutral color palette is always a safe and chic option but grey tones can also create a timeless design and are easy to mix and match with other colors and finishes.