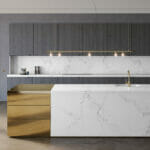 After a year spent mostly at home, it comes as no surprise that many of us are looking to switch things up. From small aesthetic changes to redesigning the entire layout, the latest kitchen trends are innovative and wholly unique. Bringing in unexpected shapes, reimagined materials, and exciting color choices, the current design trends offer intriguing new takes on old ideas.
There's no need to limit these changes to the kitchen. Read on for the latest ideas on incorporating quartz and the 2021 look into every room in your home.
Change Your Perspective
Life at home looks a little different now. So should the scenery. Though all-white kitchens will seemingly never go out of style, dark color palettes are starting to have a moment. An Art Deco-inspired kitchen with black cabinets and brass or gold hardware brings a touch of glamour into the space and pairs beautifully with a striking slab of light-toned Caesarstone quartz. 5151 Empira White lends itself to this style perfectly by adding visual interest without pulling focus. Alternatively, updating a classic white kitchen with a black countertop is an intriguing visual statement. The mineral-like layers of 5810 Black Tempal combine darkness with warm white hues and makes a huge impact against light cabinetry. Whether leaning into the darkness or searching for a bit of light, find the surface you're looking for in our Dark Collection or Whitelight Collection. Explore how this captivating look comes together with the help of our 3D Visualizer.
While open concept has been the most desirable floor plan for years, trends are shifting towards a more concealed kitchen. Though entertaining at home is slowly returning, many of us will continue to work from home at least some of the time and as such, an easily disguised kitchen may be preferable.
With the addition of a half or full wall around the outer edge of the countertops, hiding kitchen mess is easy in between video calls. Further improve the at-home office space with a smooth and stain-resistant Caesarstone quartz desktop.
Explore other kitchen renovation ideas.
Look to the Outdoors
While some are trying to close their kitchen off, others may be opening it up to the outdoors. With an extended kitchen on a back patio and expansive bi-fold doors, the line between indoors and out is blurred. With a natural flow between the two spaces, meals are prepared effortlessly while you take advantage of the warm weather.
For even more warm weather enjoyment, use Caesarstone around the pool or install a calming waterfall feature with clear water running over the smooth or textured stone. To enjoy the fresh air into the fall and winter, warm up by an outdoor fireplace or drop-in firepit surrounded by heat-resistant quartz.
For a quartz countertop, outdoor dining or coffee table designed to withstand the elements, explore Caesarstone's Outdoor Collection.
The Shape of Things to Come
Clean, straight lines will always be in style, but bringing new shapes into the kitchen can quickly freshen the space up. Introduce a softer side to strong quartz countertops with curves and rounded edges. Beyond being a beautiful and modern take on mid-century design, the soft shapes are an optimal choice for a family home.
Mirror these curves throughout the space with hand blown glass vases, natural wicker storage baskets, and rounded back bar stools.
Open the Door to New Ideas
Caesarstone quartz has always been appreciated for its timeless style and unmatched durability, but its versatility is often overlooked. This incredible material is ideal for more than just countertops. Add drama to interior doorways by using quartz for the trim. For a subtle contrast against warm white walls, line the entrance to the living space with 5222 Adamina. Alternatively, add depth around the open doorway into a dark-toned room with the shadowy hues of 4735 Oxidian. A striking home deserves entrances to match.
Go Into Detail
Backsplashes don't have to blend in and be purely functional, they can make a statement. Bring color into the kitchen with a bright, artful tile backsplash, or hire an experienced fabricator and contractor to create an intricate design using contrasting slabs of quartz. Pairing 5100 Vanilla Noir with 1111 Vivid White, the backsplash comes to life with various shapes and imaginative designs. Expand this idea to the rest of the home by bringing these details to a sophisticated built-in bookshelf or the walls of your shower and fireplace.
See the Vision
After expanding your horizons and becoming captivated by new design trends, explore the Caesarstone catalog, browse our Inspiration Gallery, create Visualizer scenes, and read more on the Written in Stone blog. Save your Caesarstone favorites from any of these pages when you create an account. More than a place to save your preferred colors, your Favorites can help bring the whole vision together. With your ideas compiled, visit one of our locations or order samples of your top selections and evaluate how they work within the home.
Disclaimer: *Although beautiful, not all applications and installations are covered under our Caesarstone warranty. Be sure to follow installation guidelines and review the Caesarstone warranty on our website before finalizing any design or application.