Grey countertops are a fantastic neutral option. Depending on the mood you want to set, Caesarstone offers several sophisticated greys in many different tones, including solid, light, and dark grey.
Whether you prefer a sleek or rugged look, you'll find a design that speaks to you among the grey quartz countertops we're about to show you. Alongside these countertops, you'll find tips for incorporating grey's various tones into your kitchen successfully.
Grey Countertops: Why Quartz is Best
Years ago, granite was the most popular of all countertop materials – particularly for grey surfaces. Granite has a number of weaknesses, however. Most concerning is how porous it is, which makes stains very commonplace and maintenance very costly. You also have a limited range of colors and patterns with granite.
Quartz (engineered stone) overcomes both of these challenges, which is partially why it has become the most popular material for grey countertops (and surfaces of any hue, for that matter). To learn more about its other strengths, check out our quartz countertop benefits article.
Grey Countertope Ideas
Dark Grey Countertops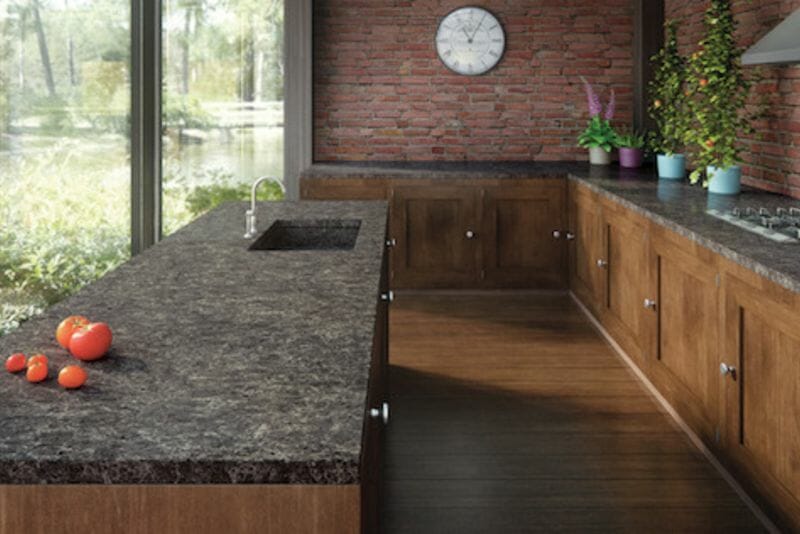 Dark grey countertops work especially well if you're going for an industrial look in your kitchen. Colors like Rugged Concrete, Sleek Concrete, and Raw Concrete are prime examples of this. That doesn't mean you can't dress dark grey countertops up, though. Take a look at how we paired the Coastal Grey model with wood cabinets and brick walls to create an industrial yet refined kitchen.
Dark grey countertops work well in both lighter and darker kitchens. In the former case, they can provide contrast without going too overboard, as one might with solid black countertops. In the latter case, they provide yet another intriguing dark texture to pair with the other dark elements of your kitchen.
Light Grey Quartz Countertops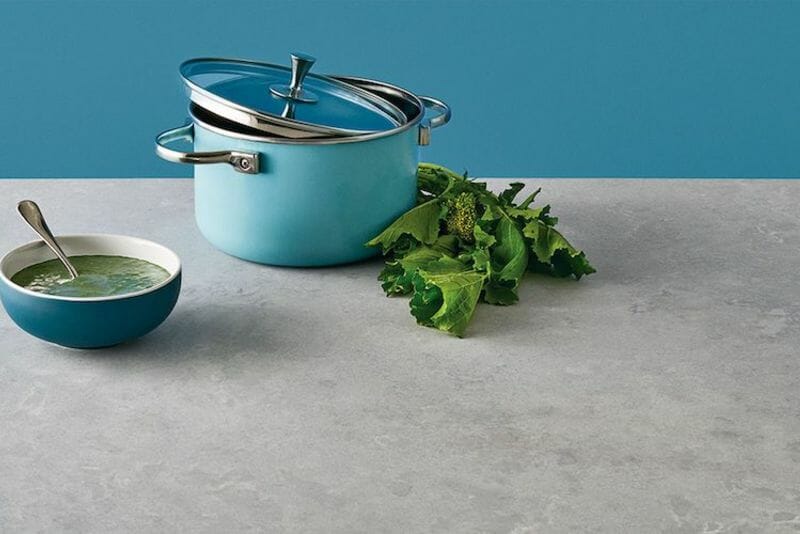 If you're looking for something that is a bit more chic, light grey quartz countertops might just do the trick. Even within this subset of grey, you have a wide range of choices. Airy Concrete (pictured above) offers a very intriguing texture and is the quintessential light grey quartz countertop. Fresh Concrete is a slightly less obvious choice. It still contains shades of grey but the surface's true power lies in its ability to enhance the overall feeling of a grey kitchen. Fresh Concrete pairs beautifully with brushed stainless steel cabinetry and hardware.
If you'd like more of a classic, marble-style look, consider London Grey.
White Kitchen with Grey Countertops
To give you an idea of how versatile this hue can be, let's take a look at two examples of a white kitchen with grey countertops.
In a classic space, countertops made from Coastal Grey provide stunning contrast, especially when you pair them with a nice Pure White for the backsplash.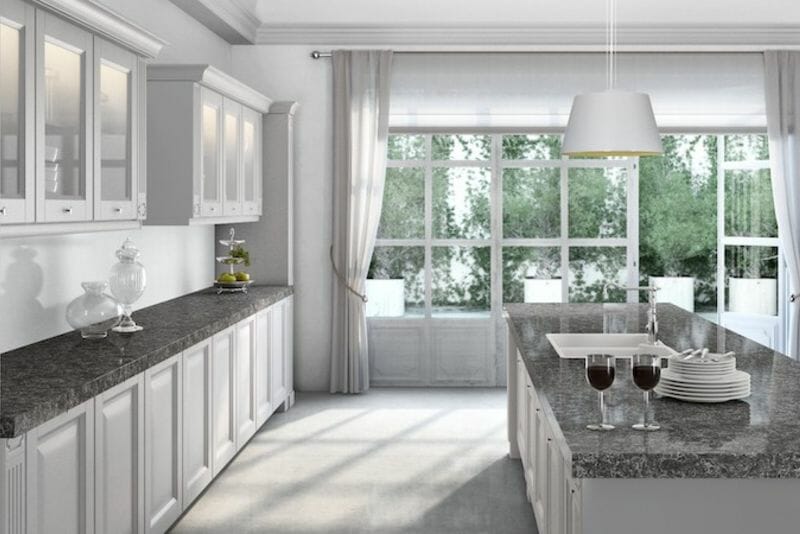 In a more modern white kitchen, Flannel Grey pairs well with stainless steel surfaces while still keeping the space feeling light and airy.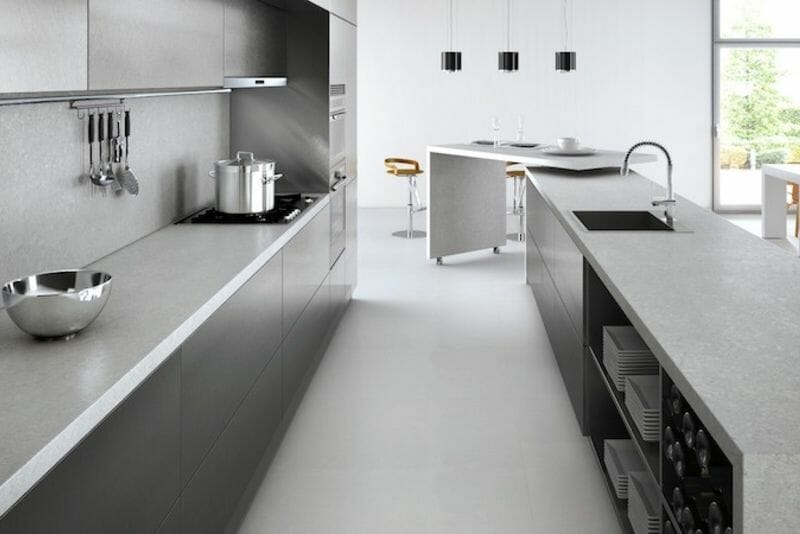 Tips for Choosing the Right Grey Kitchen Countertops
Now that you have a few ideas for both light and dark gray quartz countertops, let's explore some tips for selecting the right hue and model.
1. Think Bold
Quartz is a designer's dream come true. Grey kitchen countertops made from the material are incredibly flexible from a design standpoint. As such, don't be afraid to get creative with your kitchen design. Creative countertop edge types, such as the waterfall, can look stunning in a modern space, as can even-more adventurous designs, like the one pictured above.
2. Choose a Finish Wisely
As we mentioned earlier, quartz countertops don't require as much maintenance as a material like granite. You still need to take care of them, though. Finishes like our Concrete, Honed, and Rough products require more care than our Polished products.
It's still not too stringent, mind you. You'll just need to clean the surface with Soft Scrub Liquid Gel containing Bleach weekly. Still, if you'd rather not deal with that extra task, consider our Polished finish for your grey surface.
#3. Check Out The Countertop In Person (And In Your Home) Before Committing
Colors can be very deceiving on-screen. That's especially true for more nuanced shades and patterns of grey. As such, make sure you actually visit one of our Caesarstone locations to get a good understanding of how the surface looks in person.
You should also request a sample so that you can bring the material home and observe how it interacts with the light in your kitchen. Make sure you also get samples of your flooring, cabinetry, and backsplash if those aren't already installed.
This is not to say tools like our virtual kitchen designer aren't valuable. Just make sure you see the surface for yourself as well, to avoid disappointment.
In Summary
Grey is one of the most popular countertop colors, and for good reason. Whether you're designing a lighter space or a darker one, your choice of grey's many different shades can complete the room and offer a very intriguing texture.
Check out our Metropolitan Collection to see some of the popular light and dark grey quartz countertops we've mentioned in this post.
Frequently Asked Questions
What color wall matches grey countertops?
Grey is such a versatile and neutral color that it works well with virtually any wall color. What will influence your wall color decision most is the overall aesthetic you're going for. If you want to create a lighter kitchen (common among those trying to make a small space feel larger), it's hard to go wrong with white walls. For a darker space, black or burgundy works well.
If you want to create a modern space, you can even consider bolder colors like blue, as seen in the photo in our 'Light Grey Quartz Countertops' section.
What flooring goes best with grey quartz countertops?
Wood flooring is a classic that looks beautiful alongside grey quartz surfaces. You can choose a lighter or darker hue based on the tone of the quartz surface you've chosen.
What backsplash goes well with a white kitchen and grey granite countertops?
One popular choice is to pair grey quartz countertops resembling granite with a neutral-colored tile backsplash. The tile's uniform nature complements the less uniform veining of quartz surfaces.
What countertop color goes well with white cabinets and a grey floor?
When choosing a grey surface to fit within this combination, you'd be wise to avoid a hue resembling that of your flooring. Go either darker or lighter to maintain enough visual separation between the two.