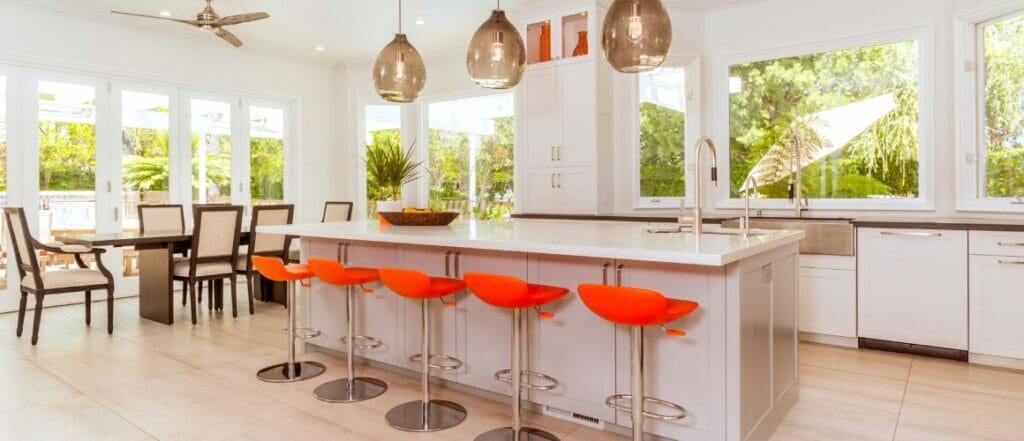 At Caesarstone, we're committed to the growing needs of homeowners. Larger islands, wider countertops, and other special home interior projects often require a larger slab size to minimize or eliminate seams. Caesarstone jumbo slabs are 64.5" x 131.5" and come in an assortment of 17 colors to help make your dream kitchen come to life. Looking to feature Caesarstone in multiple areas of your home? Jumbo slab sizes often provide additional surface material to use in other spaces of the home in a cost-effective manner.
How Big is a Jumbo Slab of Quartz?
Sometimes size does matter, and Caesarstone Jumbo slabs are the perfect example. Ideal for surfaces like islands and wall panels, the oversized slabs beautifully fill grand spaces and do so with minimal seaming. The classically durable, nonporous, heat/stain/scratch resistant Caesarstone quartz surface is available in impressive 64½" x 131½" slabs and several edge profile choices. With the trend toward large countertops and islands, the jumbo slab size adds elegance to any contemporary space and yield an additional 20% surface area over standard slabs. The Jumbo slab options also have been shown to reduce waste and lower overall costs with the same unique and breathtaking design and surface options that have always been synonymous with the Caesarstone name.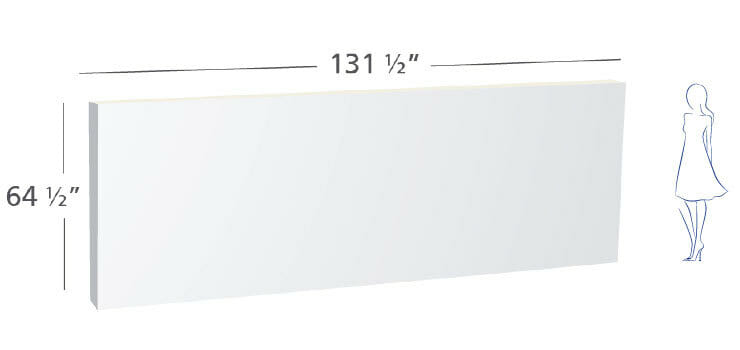 Caesarstone Jumbo Slab Colors
Along with needing Jumbo slabs for the growing trends of larger islands and wider countertops, larger-sized slabs often provide additional surface material to use in other areas of the home in a cost-effective manner. Caesarstone Jumbo slabs are available in 17 colors. One can never go wrong with Pure White, the classic color that never goes out of style. For those who prefer a similar cool shade with a hint of depth, Frosty Carrina or Blizzard offer a sharp, clean, minimalistic look as well. For dramatic veining, consider White Attica or Statuario Maximus. For a more industrial edge where texture is at the forefront, go with Raw Concrete. And for those who want to go warmer, Pebble is an excellent backdrop to earthy tones. In addition, jumbo slabs also come in Adamina, Cloudburst Concrete, Organic White, Calacatta Nuvo, Fresh Concrete, Rugged Concrete, Bianco Drift, London Grey, Alpine Mist, Sleek Concrete, Himalayan Moon, and Vivid White.
Available in a beautiful array of finishes and colors, Caesarstone's line of large slab surfaces keep pace with trending kitchen design to enrich the way you live. We invite you to order a sample or visit a nearby retail location to ensure you find the perfect color, finish, and care needs to fit your lifestyle.
Caesarstone Commitment
Caesarstone manufactures premium quartz surfaces, aesthetically pleasing yet versatile enough for use as countertops, vanities, wall cladding, floors, and other interior surfaces. Here, elegance meets performance, and the design options are limited only by your imagination. With manufacturing processes that meet exacting standards of excellence, every surface by Caesarstone is of the highest quality possible. From natural raw materials to the blending of up to 93% natural quartz with pigments and polymer resins, only superior materials are used, and only the most exceptional final products are passed on to customers for use in their living spaces. Every slab undergoes rigorous quality testing to ensure it meets our exceptionally high standards of color, hue, and consistency. The Caesarstone product line offers various slab dimensions, widths and thickness options, and edge shapes to choose from to customize your personal space.