In dramatic contrast to the all-white or mostly white aesthetic, today's forward-looking designers and homeowners are embracing a new dark age, with a movement towards darker, more luxurious tones. Minimalist designs are incorporating materials of high quality and character, with natural finishes enhancing texture and depth. Quartz continues to lead the way as the material of choice, including composite sinks made from the same material as the countertop for a cleaner, more uniform look. Explore the latest colors and trends for the kitchen and beyond.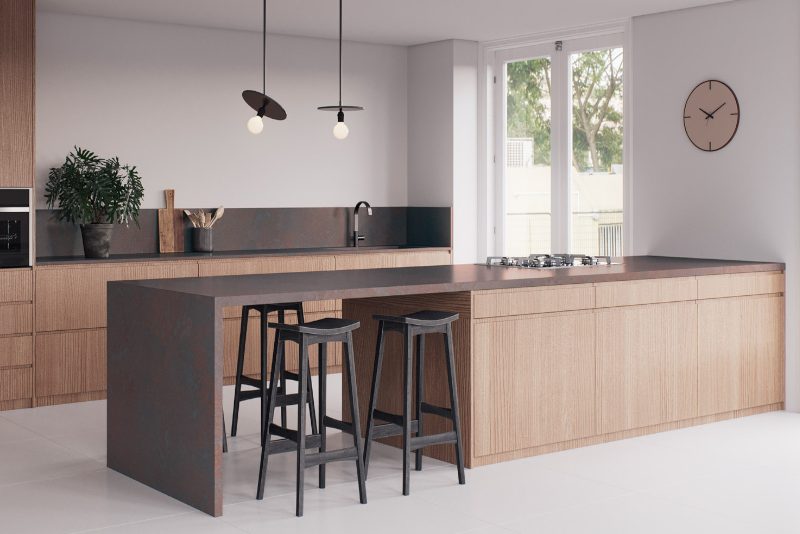 Don't be Afraid of the Dark
While white kitchens and cabinets ruled the past decade, 2020 and beyond sees the rise of darker tones. No longer considered an accent color, black and gray walls, cabinets and countertops are having their day in the sun, giving the kitchen a serious elegance and luxurious ambience. If you don't want to go all in on dark hues or are concerned about the lighting in your kitchen, you can simply add some drama with black tiles, hardware and fixtures.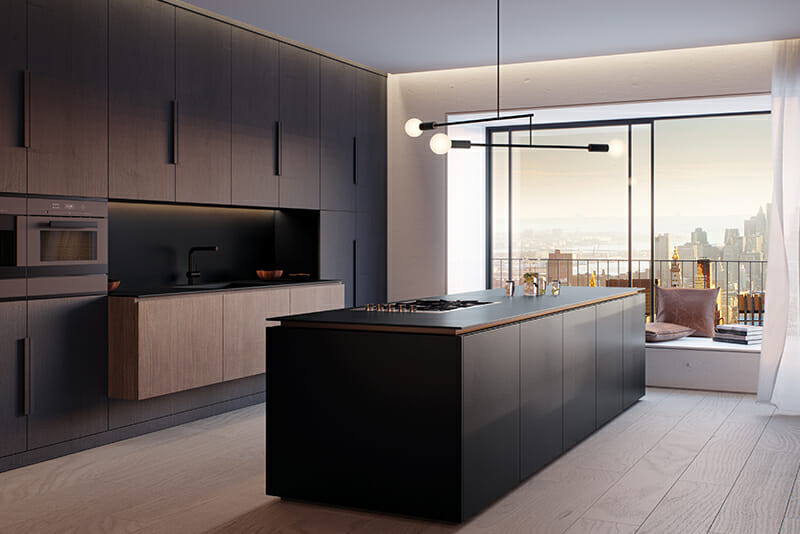 All dark and handsome
Our newest colors beautifully reflect the embrace of darker shades with dramatic effect. A deeper, more intense black, 3101 Piatto Black has a fine, granular appearance that's enhanced by a textured finish. With its rich black base and fine white veins, 5101 Empira Black lends any space a timeless sophistication, and all the mystery of dark stone. Layered with emotion and depth, 5810 Black Tempal features soft mineral deposits that contrast with its black charcoal base. Creating the look of a pleasingly aged surface, 4735 Oxidian has a dark gray metal base with an oxidized russet effect distributed unevenly like real rust.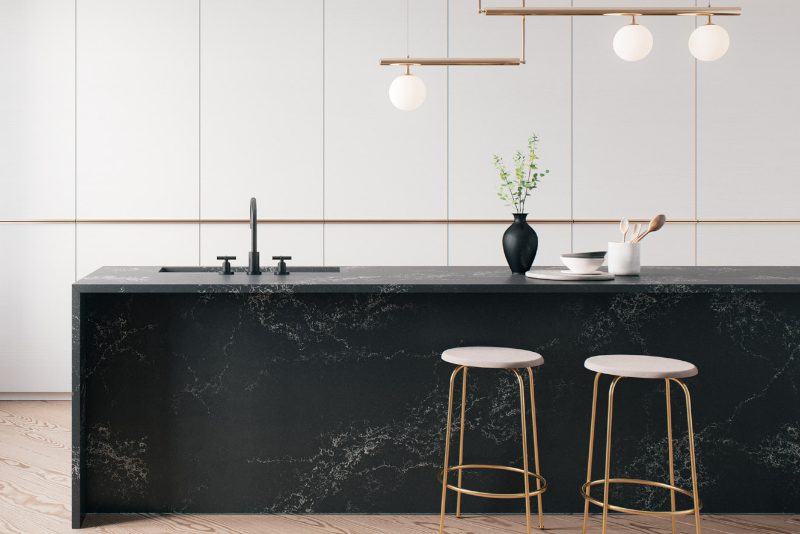 Keep it natural
When it comes to kitchen surfaces, texture is as important as tone. Designers and homeowners alike are looking to materials that combine quality and character, with a natural, tactile appeal. Matte finishes are increasingly preferred over high-gloss ones. The first four new colors in our 2020 palette are available in a textured, natural finish that contributes to a more dramatic look. This finish highlights the stone and enhances its depth of color. Natural materials like textured woods help warm up dark spaces and give them a sophisticated yet rustic charm. You can contrast black or gray countertops with lighter cabinets and flooring, balancing the predominantly dark tones.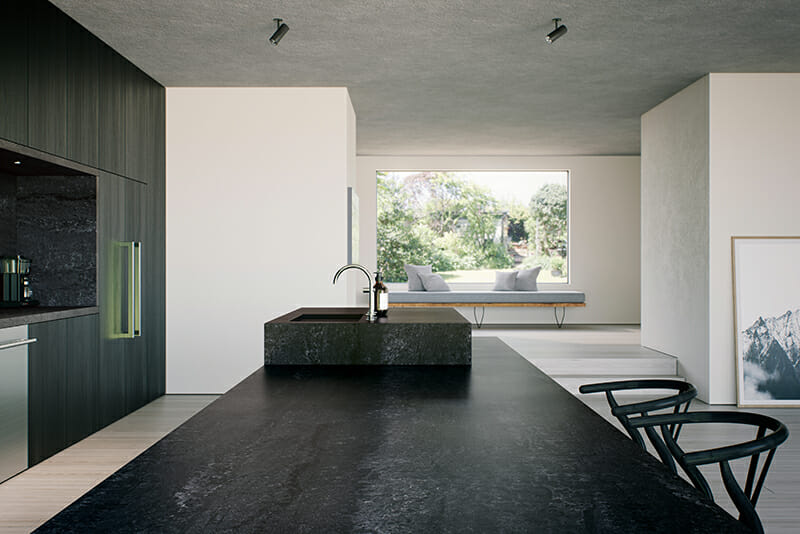 Quartz of course
Not surprisingly, quartz remains the top choice for high-end kitchen and bathroom surfaces. Extremely durable and non-porous, it's easy to clean and made to last. Unlike materials like granite that require frequent sealing, black quartz countertops are virtually maintenance-free. With our wide range of colors and designs that beautifully replicate natural stone, you can skip the sealing and scrubbing, and simply sit back, relax and enjoy it. Composite sinks in the same color quartz as the countertop are becoming increasingly popular, creating a uniform look and making cleaning and maintenance even easier.
Finishing touch
Add the perfect finishing touch to our new dark colors. Learn more about our new, textured natural finish.
View our Dark Colors Catalog for more inspiration or view our new videos – 2020 Dark Collection and 2020 Dark Collection Experience Movie. Also, check out this video below, of our VP of Marketing, Elizabeth Margles, passionately speaking about these new colors!