The kitchen is generally regarded as the heart of the home, which is why plenty of people love to keep their kitchens updated with stunning aesthetics and modern conveniences. As many are finding different ways to revamp their kitchen spaces, you might be thinking of unique ways to spice up your kitchen or look for unconventional ways to add your personal touches to this busy space.
This leads many homeowners to ask: can you paint quartz countertops instead of replacing them? When your countertops show signs of wear and tear, it can affect the rest of your kitchen's aesthetic. But can you positively transform your kitchen spaces by painting your countertops to give them a fresh look?
The Allure of Quartz Countertops
Quartz countertops have been a popular timeless choice for home kitchens. Their durability ensures it can withstand the regular wear and tear of those who love to cook at home without worrying about scratches and stains. It's a low-maintenance surface, so a simple wipe-down with soap and water is enough to keep it looking its best at the end of the day.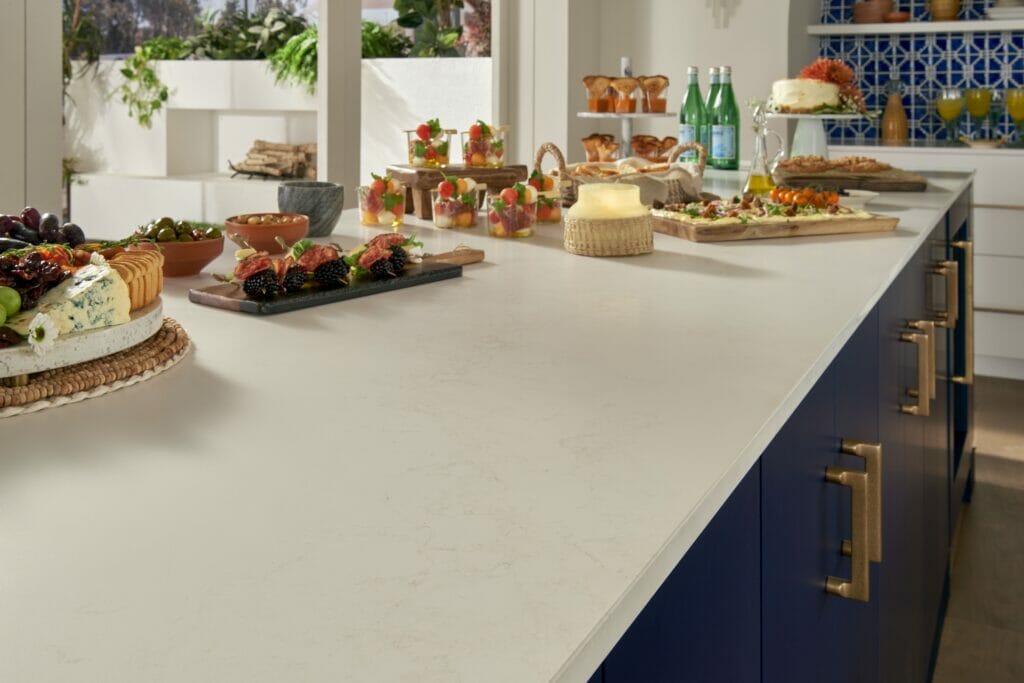 Additionally, quartz countertops provide versatility for any kitchen aesthetic. Its understated appeal goes well with any color palette. When cared for properly, it can be a long-lasting investment for innovative and eco-conscious homeowners.
Caesarstone has supplied premium quartz countertops to countless homes. As a leading provider of quartz surfaces, we understand how the versatility and durability of quartz countertops have made it a popular choice for those choosing countertop surfaces for their kitchen.
The Big Question: Can You Paint Quartz Countertops?
You technically can paint your quartz countertops with any color or finish. However, just because you can doesn't mean you should. We can narrow down why painting on your quartz may not be the best option:
Poor Paint Adherence: Quartz countertops have a slick texture, so paint can't adhere to it effectively. They are also non-porous, so unlike porous countertop materials such as granite, marble, and limestone, they won't absorb the paint to retain color.

Long Sanding Process: If you want paint to adhere better on quartz countertops, you must sand your surfaces. However, because of the hardness of quartz, this can be a long process and is not recommended.

Time-Consuming Process: Getting the best possible result will require sanding, priming, and adding multiple coats of paint – each of which can take time to dry and cure with every layer. Overall, the total time might not be worth the output.

Lifespan and Maintenance: Because paint isn't absorbed into your countertop, it will eventually chip away. To keep your painted countertops looking their best, you must paint them regularly, which isn't the most practical solution if you use your kitchen counters often.

Voided Warranty: Quartz countertops often come with a manufacturer's warranty that is voided when you sand or paint your countertops. At Caesarstone, we take pride in our surfaces and offer a lifetime warranty on our products, as they're designed to last with proper care.
Other countertop surface materials may be aesthetically improved through paint. However, with quartz's properties, painting your countertop may not give you the fresh look you want to revamp your kitchen.
The Pros and Cons of Painting Countertops
You might be considering painting your countertops for several reasons. This may be a good move if you have a different surface type. However, consider these pros and cons of painting your quartz countertops.
These are some of the key advantages and disadvantages of painting your countertops compared to finding alternative solutions to revamping your kitchen:
Pros
Cons
Cost-Effective: Compared to replacing your countertops, painting can be seen as a more affordable option for homeowners to revamp their kitchen and hide minor imperfections or outdated designs.
Customizable: You can choose from various colors and finishes, providing plenty of opportunities to transform your countertops and your overall kitchen aesthetic.
DIY-Friendly: You can save on professional labor as painting countertops is a relatively simple painting project that doesn't need special equipment.
Not All Surfaces Are Suitable for Painting: Not all countertop materials are suitable for painting and can degrade the overall aesthetic.
Maintenance Challenges: Some painted surfaces will require regular maintenance to keep them in good condition. Busy kitchens can lead to paint fading or discoloration.
Amateurish Results: While it can be a DIY project, improper painting techniques can result in streaks, missed spots, and other signs of poor craftsmanship.
Special Considerations for Quartz Countertops: What Can I Do Instead of Painting?
Knowing the challenges, risks, and regular maintenance required for painting, you might be second-guessing painting your countertops. Replacing your countertops is a suitable alternative, as it can completely change the look of your kitchen without a complete remodel. If you choose a quality quartz surface with a neutral or earthy color, you'll find that your countertops will still complement your kitchen design when you want to redesign your kitchen again in the future for a timeless look.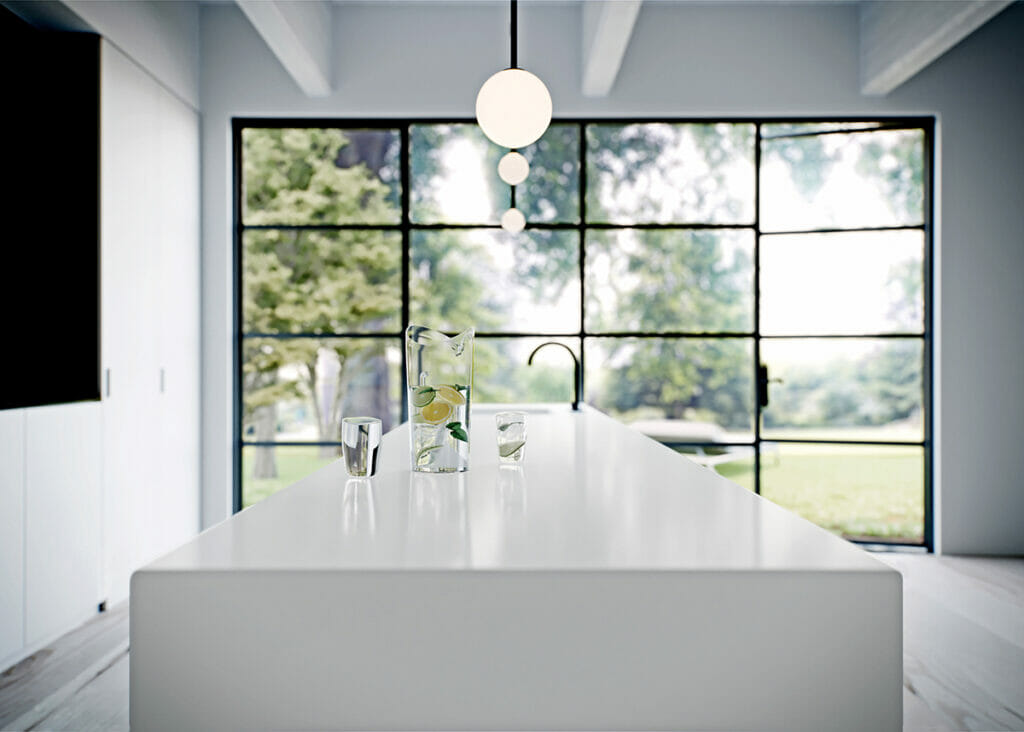 Alternatively, if you want to keep your countertops, you could focus on other features of your kitchen that you can revamp. Quartz surfaces may not achieve your desired results when painted, but wood, concrete, and other surfaces can look good with different stains and paint finishes. Consider redirecting your renovation efforts on your walls, cabinets, and kitchen furniture.
Consider the other features of your kitchen that you can easily paint. Quartz countertops feature timeless designs that blend well with various styles. Instead of painting your countertops, paint your walls, cabinets, and cupboards with an attractive color that complements your existing quartz color.

Quartz countertops are low-maintenance, requiring no sealing or regular reapplication of any protective coating. Painted quartz countertops, on the other hand, may require regular touch-ups as paint can wear off with time and usage. This will only increase your maintenance efforts down the road.
Browse Caesarstone's Online Catalog for Quartz Countertops Designed To Last
Quartz countertops are renowned for their durability and non-porous nature, so you don't need to paint them to achieve a fresh look. With their versatility, quality quartz countertops only need maintenance to have them look their best and complement your new kitchen. Ultimately, choosing durable countertops and exploring other ways to refresh your kitchen spaces might be the more practical solution that promises stunning spaces for different aesthetics.
At Caesarstone, we deliver quartz countertops that deliver on visual appeal for as long as possible. Whether you want a more modern kitchen with minimalist interiors or a busy home kitchen that rivals professional kitchens, our countertops suit your kitchen with ease and low maintenance.

Explore The Caesarstone Quartz Countertops Collection for naturally beautiful and durable kitchen surfaces. Order our sample kits with up to four slab samples to see the quality and craftsmanship Caesarstone can bring to your kitchens.