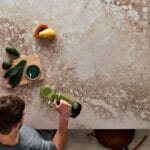 Rich, robust, expressive, multisensorial … these are but a few characteristics of one of our most beloved industrial-inspired designs in the Metropolitan Collection – Excava. There is inherent beauty found in the rawness of its surface as deep auburns, chestnuts and coppers come alive as they sweep across an unpolished canvas. Energized by the intriguing manufacturing patinas of casting and oxidizing, Excava features industrial elements in a more mature and renewed way, reaching a more sophisticated audience. This sturdy surface has been a favorite among architects and designers as the union of rust and concrete features have such depth and movement that has never before been captured in quartz.
The Strength of Urban Industrial
While urban inspiration is growing in popularity, especially in kitchen design, its accession in quartz development has also evolved. Following this industrial drift and inspired by factories and lofts that translate into residential and commercial interiors of all styles, weathered patinas have finally been achieved in quartz via Caesarstone's proprietary, cutting-edge technology. As such, Excava along with Primordia, Topus Concrete, Airy Concrete, Fresh Concrete, Raw Concrete, Rugged Concrete, Sleek Concrete, Cloudburst Concrete and Frozen Terra have thrived in the Metropolitan Collection, further fleshing out the beauty reflective of the layers found in industrial art and architecture. Capturing depth and movement that can be both felt and experienced while echoing the authentic textures of manufacturing, such as oxidized steel, poured plaster and raw concrete, the influence of the Metropolitan Collection delivers a ruggedly organic, sleek and powerful impact in modern design.
Excava is an awe-inspiring yet wistful and daring aesthetic with distinctive textures. Complementing the tarnished metals, untreated wood and raw concrete prevalent in design today, the rust tones add warmth to a wild or urban aesthetic; but when paired with matte finishes, taupe or mahogany tones, a bold yet elegant ambiance is achieved.
Pushing Boundaries, Fostering Innovation
In looking back over the years, collaborating with leading world designers and architects has garnered much praise for the Caesarstone brand. But design collaborations require pushing boundaries and fostering innovation to create new colors like Excava. Boasting a wide variety of styles, designs and textures that require lower maintenance than other surface materials, we have a passion for sophisticated, groundbreaking design that stretches the notions of traditional interior spaces. Excava's is part of that passion and we're excited to see how you will incorporate it into your designs.
Consistently at the forefront of innovation in our industry, all of our stunning, durable and unique surfaces come with a comprehensive warranty* as well as unparalleled customer service. Visit a Caesarstone kitchen and bath retailer or order a sample today to experience the earthy but industrial allure of Excava [VIDEO]!
Caesarstone surfaces are nonporous, durable, mold and mildew resistant, and scratch, stain and heat resistant.
*Terms and conditions apply