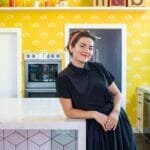 The self-proclaimed "Apron Squad" is alive and well—or, one might say, alive and cooking—at its headquarters in Vernon, California, only five miles south of downtown Los Angeles.
Founded in 2012, Hedley & Bennett designs top-grade, handcrafted aprons and kitchen workwear for industry specialists, master chefs, as well as those that master the helm in their own home's galley. And now, with their new LA factory, the sky is the limit for this culinary lifestyle brand that sits at the crossroads of food, culture, and fashion.
An Unprecedented Entrepreneurial Transition
"It was a simple idea of helping people feel more confident in the kitchen," said Hedley & Bennett's Founder and CEO Ellen Bennett, who transitioned her expertise as a professional chef into the design and manufacturing of superior culinary clothing and gear.
Having already established a factory in the immediate vicinity of L.A., Bennett and her colleagues stretched the bounds of their ambition, opting to build their own culinary space inside filled with unique touches, kaleidoscopic colors, and a community-inspired configuration that enables the brand to celebrate the people who wear their products.
At the Forefront, A Welcoming Atmosphere
Hedley & Bennett has earned rave reviews for its service and bold initiatives. Forbes, the Los Angeles Times, the Today show, and Bon Appétit Magazine are just a few of the media outlets that have sung its praises, noting Bennett's enthusiasm and the luxurious brass and nickel texture of each handcrafted apron.
Upon expanding its real estate, collaboration and comfort were the key priorities for the company's new kitchen—a space that would embrace a multitude of events, such as cookbook launches, brunches, lunches, and more. As such, Hedley & Bennett sought not only an aesthetically pleasing countertop but one that could be used and washed repeatedly without fear of marring the surface.
"It was sort of a no-brainer to go with Caesarstone," she said. "The quality's there; the function is there; [and] the look is there."
Bennett handpicked Caesarstone's polished 5143 White Attica, a brilliant white surface with rich black veining. To add even more eye-popping effect, she adorned the walls with a bright sunshine-yellow Clare V wallpaper, resulting in an inviting, elegant yet eclectic feel that welcomes in guests and fellow chefs.
Masters of Interior Surface Manufacturing
Bennett said longevity, form, function, and appearance were all pivotal factors that contributed to their choosing a Caesarstone countertop. Priding itself on product leadership, constant innovation, and premium pricing, Caesarstone offers a plethora of surface options to fit any design vision. In fact, the company routinely collaborates with lead designers to craft stunning, enduring gastronomic spaces for both community-building and endless savoring.
Two Peas In a Pod
Ultimately, Caesarstone's vast array of exceptional countertop collections were the perfect match for Ellen Bennett's whimsical passion and relentless pursuit of the ideal culinary space.
A top-of-the-line designer and former chef necessitate a top-of-the-line work environment, and Caesarstone has provided just that.