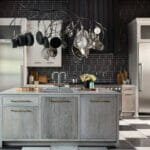 Caesarstone is proud to continue its 10-year partnership with House Beautiful for the 2017 Kitchen of the Year, which features a sophisticated, functional, inspiring and artful conception by renowned designer, Jon de la Cruz of De La Cruz Interior Architecture + Design.
This year's kitchen took place at a home in the Pacific Heights neighborhood of San Francisco, CA.
Each Kitchen of the Year is celebrated for its design innovation, clever kitchen hacks and range of capabilities. De la Cruz sought to make the classic motif fresher and more modern. The amazing space focused on five important elements that are central to the ever-evolving kitchen:
Function: De la Cruz's first challenge was to take an oddly-shaped room and make it functional.
Zones: Another focus was to organize the kitchen into zones so the entire family has their own space when together in the kitchen.
Space: Because the house has taller ceilings than many homes in the Bay area, de la Cruz was able to fill the extra space with cabinetry, big pantry doors and storage.
Storage: One of the most important features in a functional kitchen is its storage capabilities. De la Cruz maximized the 625 sq. foot space to allow for multiple coolers, refrigerators, ovens and sinks.
Beauty: And, of course, sophistication and beauty are often a top priority for Kitchen of the Year designers, including de la Cruz.
This year's dream space was inspired by the two essential kitchen ingredients—salt and pepper—as reflected by the black, white and grey color palette.
The home's kitchen countertops feature Caesarstone's 4004 Raw Concrete, a natural, soft grey base with speckles of black and flecks of white. Raw Concrete, with its neutral color and distinctive texture, delivers a classic industrial concrete presence anywhere it goes. A matte finish brings an authentic patina look giving the kitchen a cool, urban feel.
Caesarstone provides premium quality countertops that are highly functional and design forward. The nonporous surfaces aid in the functionality of the design making meal prep and cleanup faster and easier.
"We are proud to be a brand partner of House Beautiful's iconic Kitchen of the Year for the last ten years, and hope to continue for the next ten," said Nick Harris, VP of Marketing for Caesarstone US. "The designers we have worked with over the years have become a part of the Caesarstone family, and it has been a true highlight for us to see the stunning work that is unveiled each year."