Designers love the beauty of marble, the natural aspect of stone, and the color variety of laminate, yet, the quartz surface has fast become the sweetheart of the design world. The luster of quartz with its seamless surface and nearly 3D visual appeal lends sophistication to any room it inhabits. Quartz is also easy to maintain and durable, merging form and function beautifully with nearly unlimited color options.
In residential and commercial design, color matters. While bright and bold may alternately trend with earthy and rugged, one color never goes out of style: white. The collection of stunning white and white-complementary shades of quartz surfaces offered by Caesarstone exude charm unlike any other surface available.
Soft, refined ebony veining traverses a pure white base, creating an interplay between color, movement and emotion. The uplifting surface is an interpretation of authentic Calacatta marble and its timeless, yet urban look. Reliable and versatile for either residential or hospitality settings, Empira White is inherently elegant. This reinvigorated classic for bars, counters and islands purveys sustainable style with guaranteed longevity. Learn more about Empira White here.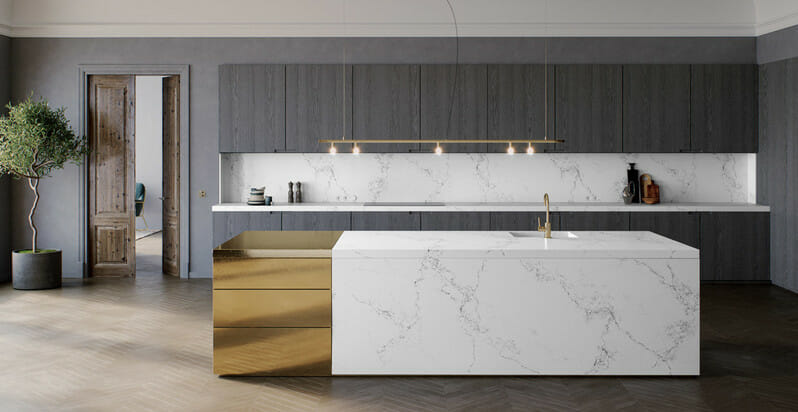 Soft swells of pure white veil a creamy white base as rich tones and an innovative texture further define its captivating, infinite beauty. Cloudburst's sophisticated surface delivers a tactile effect of a concrete-like feel. It is the calm before the storm and will elevate a space to new heights. The white on white tonal cloud-like patina, with its low-reflective surface, provides design flexibility by lightening up a space and evoking a refined, urban aesthetic. This Caesarstone color is the romantic interpretation of the industrial interior trend. Learn more here.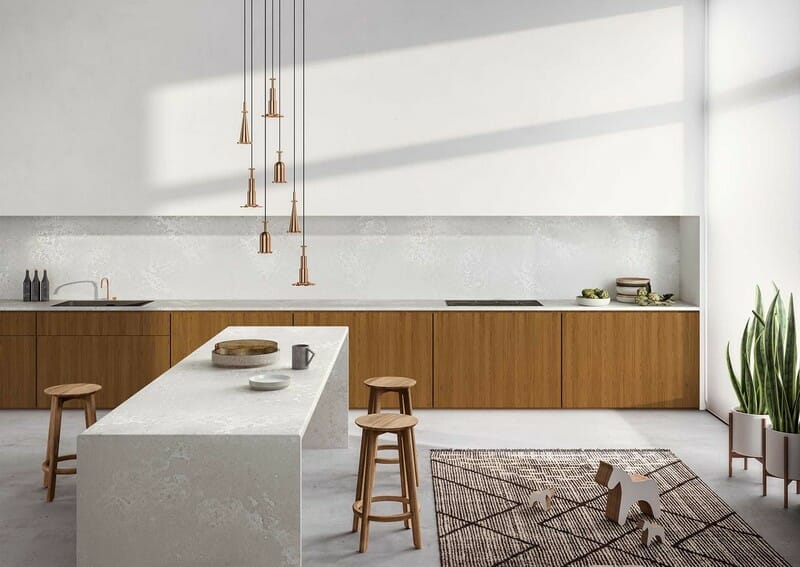 A classic, neutral-colored white base is embellished by glimmers of black basalt and translucent grey quartz. Frozen Terra fuses the playfulness of terrazzo with the robustness of concrete translating a sophisticated, worldly vibe. The textured finish further enhances the surface adding another layer of allure. This Caesarstone color compliments both light cabinetry for a casual feel and dark hardware for a chic vibe. Learn more about Frozen Terra here.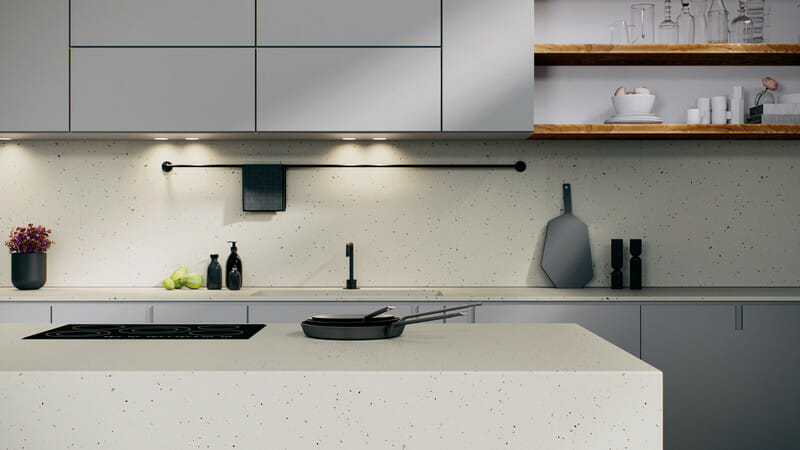 Petite crystallines softly embellish a bright white base welcoming light into a room, setting the tone for a sophisticated space with a radiant atmosphere.The mosaic-inspired pattern gleams across the expanse of the surface bringing fresh optimism to interiors. Its versatility invites freedom of design complimentary to a variety of cabinet colors. Intense White is further elevated by a 'lightly textured' concrete finish that adds depth and interest. Learn more about Intense White here.
An alluring combination of dense, dark and mild grey veins that ebb and flow across a clean, flawless white base. Inspired by the classic natural marble of architecture from the ancient world.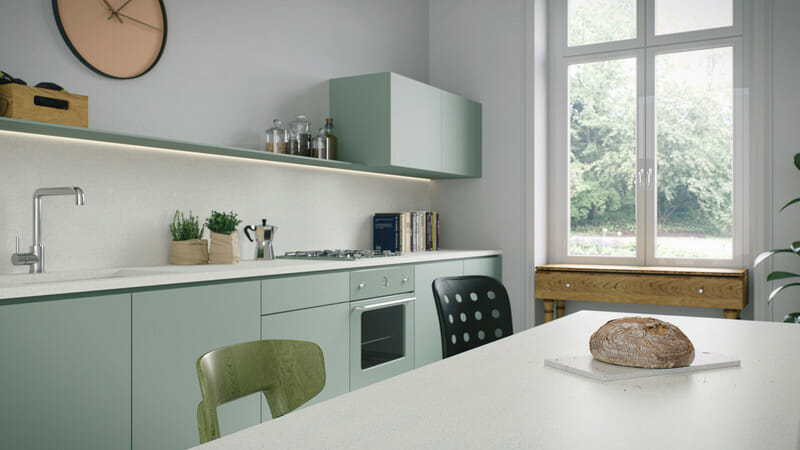 Wide, elegant, cascading grey veins on an opaque creamy white base, this color emulates the rich beauty of natural Italian Calacatta marble. A classic look in contemporary culture, Calacatta Nuvo quartz adds a timeless quality that pairs well with other white or grey tones. As part of the Supernatural collection, it combines the beauty of nature with a touch of high-end indulgence.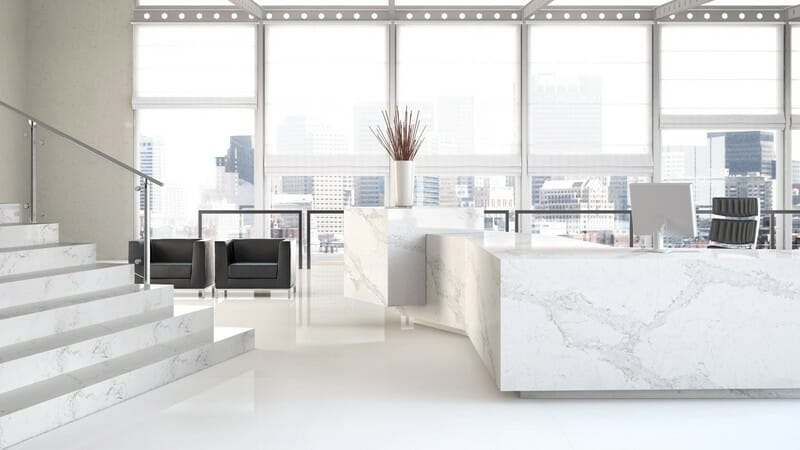 Pure white embodies the purest, cleanest, densest white with a fleck-free silky-smooth finish. Versatile and easily blended with other colors, this choice can take on the mood of any room for a personalized experience. A staple among Caesarstone colors, Pure White is the ideal white canvas for food preparation and presentation. Pure White countertops meet the demands of modern style by pairing well with mixed metals or a colorful island or cabinetry.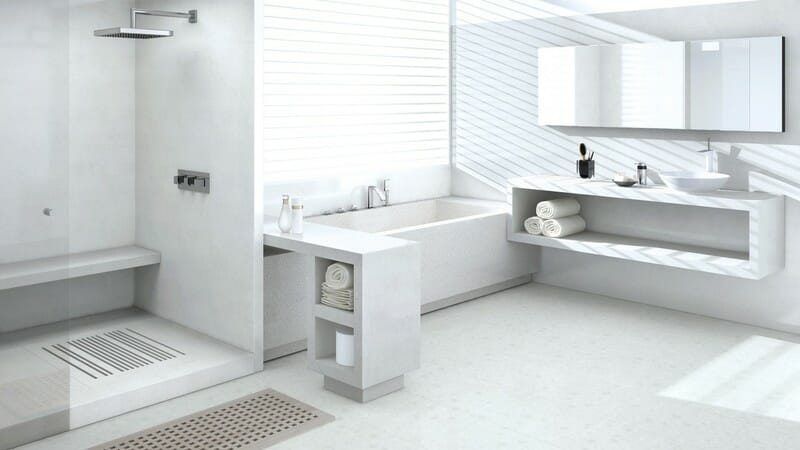 A background of creamy white with inlays of distinctive, dark veins on both the surface and subsurface levels, Statuario Nuvo's design creates spectacular depth and richness. Statuario marble from the Roman Empire is the origin of this modern-day pattern featuring the opulence and luminosity of its historical era. This Caesarstone color works well in a dark or neutral color scheme and lends warmth to both.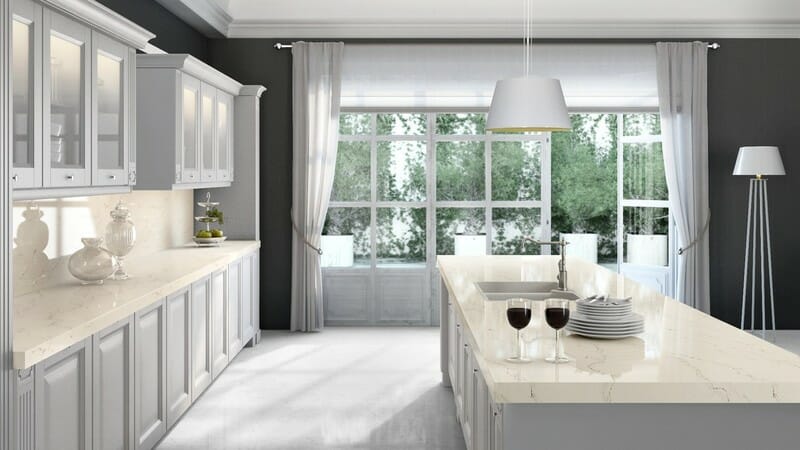 Powdery grey veins delicately woven into a soft ivory white foundation, Frosty Carrina is the essence of timeless beauty. The gentle yet sophisticated demeanor is the key ingredient in a peaceful haven. For those who crave a safe space with heightened elegance, the Frosty Carrina surface creates a gentle and soft ambiance that complements soft shades of grey and light wood in its surrounding décor, adding to the quiet classic feel of this Caesarstone countertop color.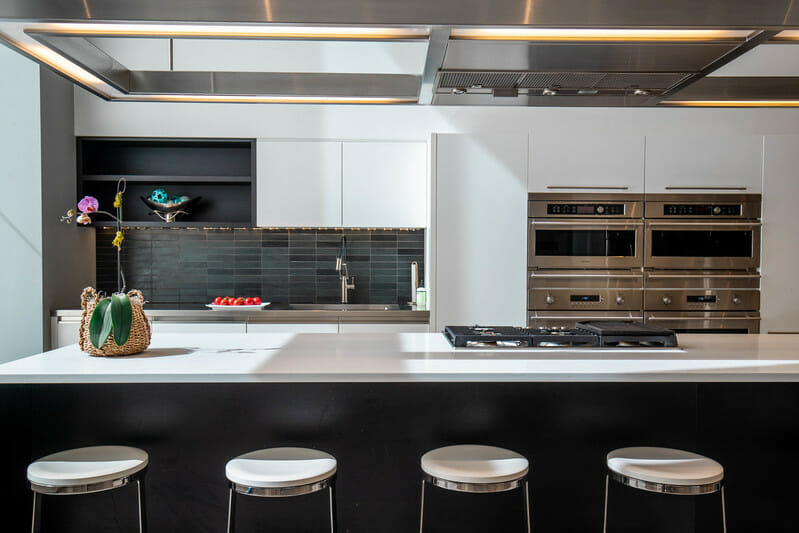 Check out our Gallery and Visualizer for more inspiration or order a sample of your favorite colors.
And for more information on our white designs, visit our blog.