When it comes to the kitchen, every homeowner wants it to look as beautiful and aesthetically pleasing as possible. Some homeowners also want their kitchens to look expensive in order to represent their lavish lifestyle.
Now the question arises, "how to make your kitchen look expensive?". The answer is surprisingly simple.
Just by paying attention to small details, a homeowner can turn their food prep room into a space with an expensive appearance. A new space that anyone would be happy to spend time even if it's while performing their daily chores.
Let's discuss some tips that can make the kitchen look expensive.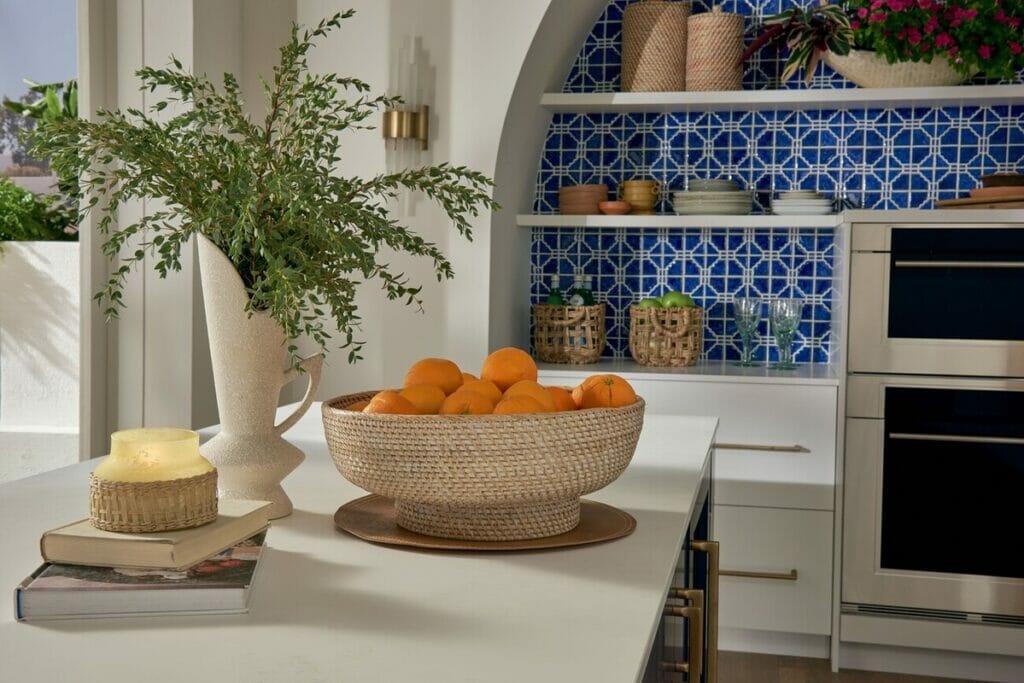 1. Replace cabinet doors
Replacing old worn out cabinet doors is the best way to upgrade existing storage. But on a tight budget, a simple fresh coat of paint improves the overall aesthetic in any kitchen easily; a simple answer to the question: "how to make cheap kitchen cabinets look expensive?".
Bringing in high-gloss or glass doors does the job perfectly. Apart from that, homeowners can also skip adding doors to some cabinets and create open shelving to display their nicest pieces of dishware.
2. Use of artwork
Wondering how to make your kitchen look expensive on a budget? Well, artwork might be the answer. Artwork is a great way to enhance the aesthetics of any room and will have the same effect in the kitchen.
Homeowners should not limit themselves to small and simple artworks; one can even go big and bold. Large works of art create the illusion of a grander kitchen space. Art is a great option for homeowners who are short on budget and cannot afford to change integral kitchen elements.
That being said, even a modest piece of artwork can be heavy on a homeowner's pocket. To counter this situation, homeowners can simply go with digital downloads, which they can reprint and put on display.
Confused about what type of artwork to go with? How about artwork that has a food and drink theme? These pieces of artwork are best suited to a kitchen, as they beautifully represent its aura.
However, it is not recommended to go with artwork that is too showy. A vintage food-themed piece of art could be a great choice. Still life art pieces could also be considered, and if homeowners are not satisfied with either option, they can go to a framed menu of a vintage bar or restaurant.
These simple additions are highly effective in putting a smile on the face of the owner, even while performing tasks in the kitchen.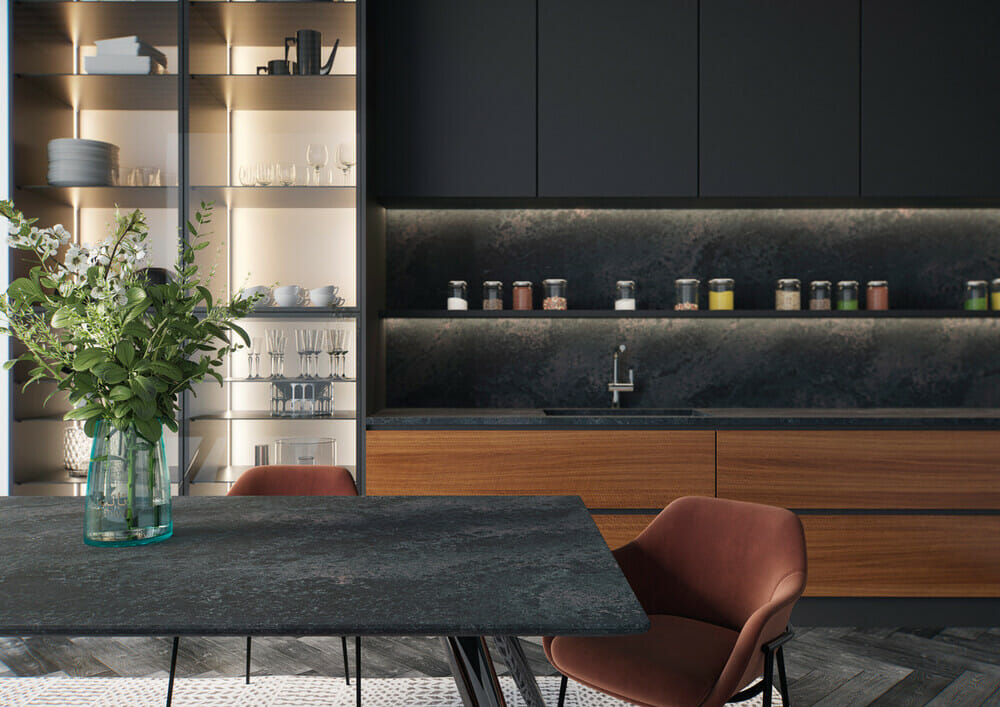 3. Addition of lighting
Kitchen lighting is one of the most overlooked elements by homeowners. Something as simple as upgrading light fixtures can significantly enhance the kitchen's overall presentation. For the best results, homeowners should install lighting that complements the other aspects of the kitchen.
One such factor is the kitchen countertop. For example: if a kitchen consists of a reflective surface countertop like Caesarstone's 9141 Ice Snow, installing dark lights will make the countertop look reflective.
Apart from the basic lights, homeowners can also add up some decorative lighting fixtures like:
Chandeliers
Lantern pendants
Miniature lamps
Earthen lamps
Among these, lamps are gaining a lot of popularity as they provide a vintage look to the kitchen. Place them beside the cookbooks and watch the kitchen transform.
4. A bar station
Placing all the household beverages on top of the refrigerator isn't the best way to make a kitchen look expensive. Instead, add a minibar in the area to greatly enhance and upscale the look and feel of the kitchen.
For those homeowners who frequently organize parties at their house, a bar area can do wonders to kitchen interiors. Arranging some wine bottles, even if the owner does not consume them, can further enhance the look and feel of the kitchen and add a hint of extravagance.
A sitting area with Caesarstone's 5000 London Grey countertop near the bar could also be arranged and decorated with fancy napkins, coasters, paper straws, etc. A festive touch to the kitchen will give even the most sudden plans a hint of luxury.
5. Use jars to store household items and food
Bring some glass jars to replace unsightly cereal and coffee packages. This setup won't just be pleasing to the eyes but will also help prevent mites, insects, and moisture from making their way into edibles.
Homeowners who are willing to go the extra mile can also place labels on each jar to keep track of what is stored in each of them. Remember, cheap kitchens that look expensive are organized and designed to support efficiency.
6. How to make your kitchen look expensive by adding colors
"How to make a kitchen look expensive?", is a question countless homeowners ask themselves. Consider applying a fresh layer of paint to the entire kitchen. Colors like beiges and creams and a high-quality quartz countertop like Caesarstone's 1111 Vivid White can make practically any kitchen look expensive and elegant.
In a modern kitchen, dark colors like gray and black could be included, which make the kitchen look extravagant and lavish. White is a reflective color that helps to create an illusion of a bigger space and is greatly complemented by metallic and white highlights.
Homeowners that don't have the time, energy or experience required to paint the entire kitchen can opt to paint their cabinets instead. Painting just the cabinets reinvigorates the space and gives the kitchen a visible facelift.
6 ways to make your kitchen look more expensive — Conclusion
Many homeowners dream of having an expensive-looking kitchen; however, sometimes, budget becomes the biggest obstacle between the house owner and the kitchen of their dreams.
When homeowners do not have the expense to spend on an expensive kitchen, the question arises: "how to make your kitchen look expensive?". Making just a few changes to the kitchen can give the kitchen an expensive look and feel.
A homeowner doesn't have to spend thousands of dollars to have a kitchen with a lavish appearance; introducing small details can do wonders. It's not always about the homeowner's budget; sometimes, it's just about how well the homeowner decorates their place.