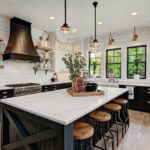 The Dream Home Giveaway and Annual Walk/Run
Caesarstone has partnered with St. Jude Children's Research Hospital to sponsor its mission: Finding Cures. Saving Children ®.
The St. Jude Dream Home Giveaway and the annual St. Jude Walk/Run are two ways that Caesarstone supports this mission. These activities allow Caesarstone to support St. Jude at a regional level as well as a local level.
One of Caesarstone's core values is People First. This means that we strive to provide opportunities for personal growth and development while putting our employees, suppliers, partners, and communities first. These two opportunities with St Jude Hospital offer us a chance to lean into the values that drive us in a way that bolsters support and charitable action for a tremendous cause.
"The St. Jude Dream Home Giveaway is proud to partner with Caesarstone in multiple St. Jude Dream Home Giveaways across the nation. Caesarstone's leading industry quartz surfaces are proudly donated and displayed in many St. Jude Dream Homes this year," said Russ Laney, Director of the St. Jude Dream Home Project.
He went on to say: "Because of the partnership with Caesarstone and the housing industry's generous laborers and suppliers, the St. Jude Dream Home Giveaway raises over $50 million annually toward childhood cancer research and treatment and has helped raise over $600 million since its inception in 1991. It's going to take all of us uniting across industries to support the fight against childhood cancer, and with strong partnerships like Caesarstone the future is bright and ever hopeful."
Caesarstone's First Year
This is the first year of many to come that Caesarstone has sponsored these fundraising activities. In the Dream Homes that Caesarstone supported, each home was outfitted with quartz surfaces in kitchens and bathrooms.
Builders from across the nation were able to choose any design from our catalog to use in their Dream Homes. The most popular designs chosen were Statuario Maximus, Arabetto, Darcrest, and one of our Outdoor Collection designs Palm Shade.
"At Caesarstone, we believe that our products can make a difference in people's lives. We are proud to be working with St. Jude, builder partners, and fabrication professionals across the nation. It is a great chance to aid St. Jude in their mission," said Ken Williams, Caesarstone The Americas – President and CEO.
There is no better chance to get Caesarstone and our team members involved in community outreach. Becoming a sponsor and a participant in both events has given us great pride in the work we do. Through this sponsorship, we have a chance to reflect on our values and brand pillars. Caesarstone constantly tries to go beyond the product to create relationships within our communities and make valuable contributions to inspiring missions.
Contributing to the St. Jude donation is the most significant impact that Caesarstone can have on fundraising for St. Jude. Providing high-quality quartz countertops to these homes aids the value and desirability. With each Dream Home lottery ticket purchased, St. Jude can help one more family. The support of St. Jude Hospital helps families to pay for treatment, travel, housing, or food. Giving back to St. Jude Hospital is a highlight for Caesarstone.  
Dream Home Giveaway
St. Jude Dream Home in Nashville, TN

St. Jude Dream Home in Peoria, IL

St. Jude Dream Home in Bakersfield, CA

From the start of this project, we led with our company values: Teamwork & Collaboration. We find success through working with different teams, companies, and communities. When we started this sponsorship with St. Jude Hospital, we had the opportunity to meet with all the builders for the St. Jude Dream Home project and share our reason for supporting this cause. We believe in prioritizing our partners and communities by bringing them all together for a celebration of life. Celebrate with us… Join us on a journey to set your dream in stone.
Have a piece of the Dream Home Giveaway. Order samples of these highly favored surfaces today!