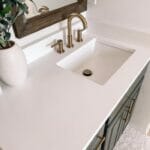 When we moved into our Asheville house we knew there were several updates we were going to want to make.  One of the most glaring needs was the primary bathroom in our room.  It was very dated and just not well taken care of by the previous owners on top of that.  We saw it as a great opportunity to put our touch on the room since it has a great layout and plenty of space to work with.  We decided to do the improvements in segments, and we started with the vanity area since it mainly just needed cosmetic updates.  Today I'm going to share the details of our primary bathroom vanity makeover with you as step one of the complete bathroom renovation!
Primary Bathroom Vanity Makeover
The Before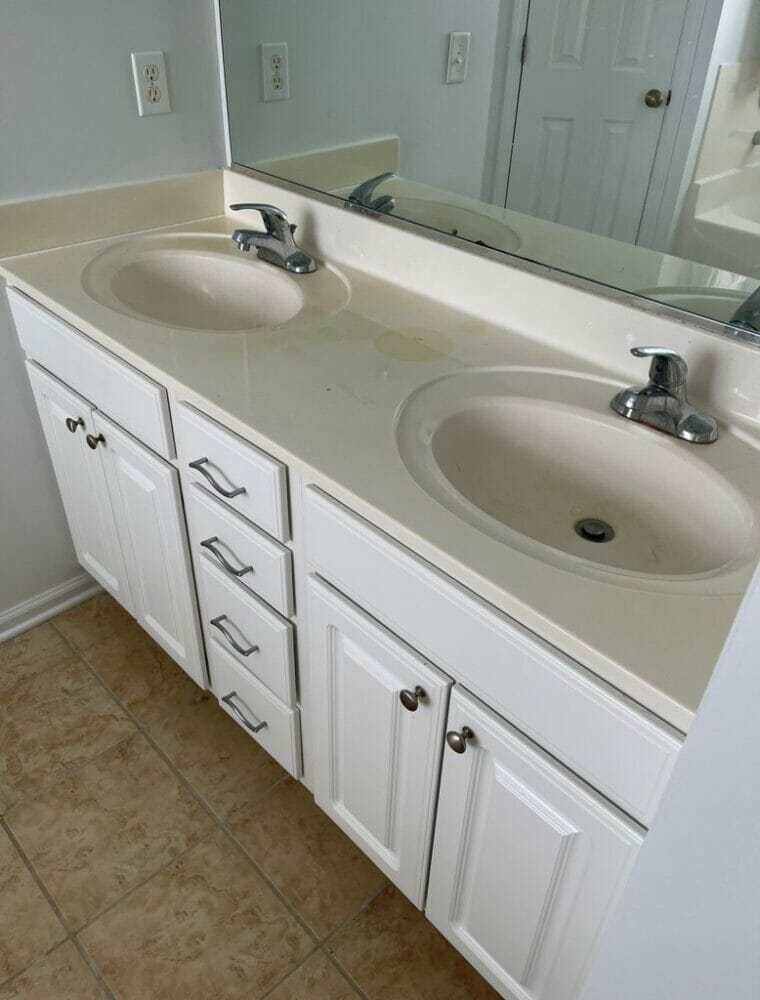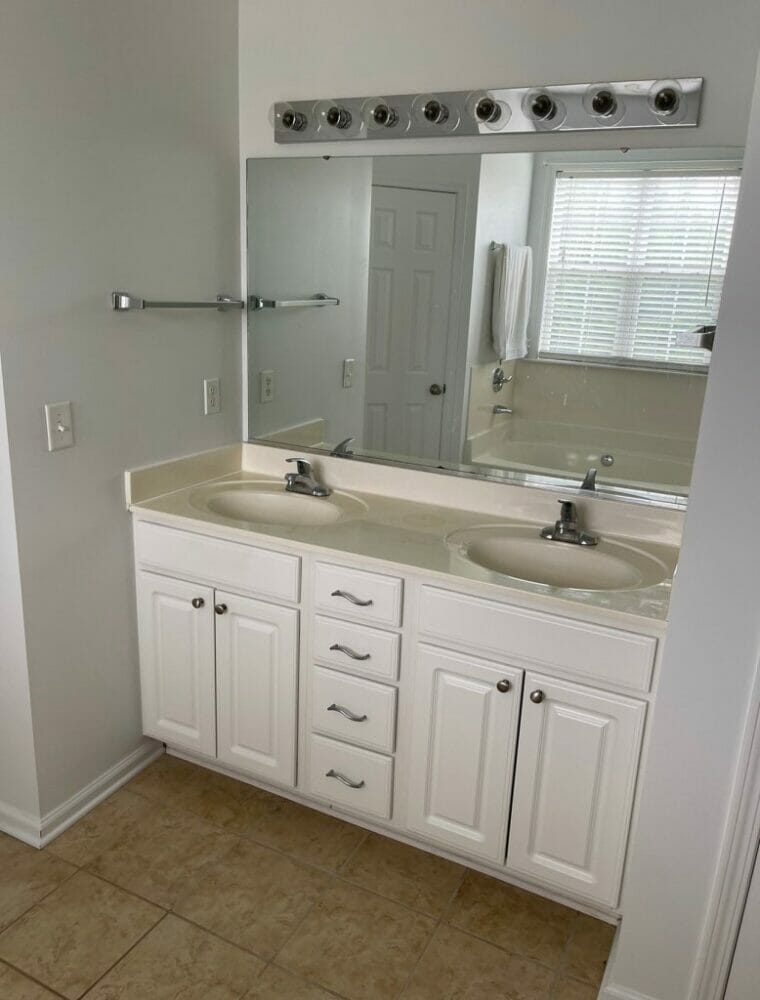 For the vanity, we knew we were going to keep the existing cabinet that was already there, but we decided to paint it to give it a little facelift. Not only that, but we changed out the hardware to really complete that transformation. Paint & hardware alone makes such a big difference! We painted it ourselves and used Valpar Cabinet & Furniture oil-enriched enamel paint in Grizzle Grey, satin finish.
The countertops, however, were going to be a huge eyesore and they absolutely had to be replaced. The previous owners stained them really badly and they just were not in great shape. We replaced them with Caesarstone quartz in "Pure White" in the polished finish and it made the BIGGEST difference. I am so obsessed with how clean & pretty the countertops are. Caesarstone quartz surfaces are heat, scratch, & stain resistant and they also provide a lifetime warranty. They have so many beautiful color options, too, so it's easy to find a surface to match all your Pinterest-worthy dreams. (We also replaced our kitchen counters with Caesarstone quartz…I'll be writing another post on that space soon!). We've been super happy with the counters and I definitely recommend them.
For the sinks, we opted for a square sink shape instead of the oval to give it a more modern look. I was kind of going for a modern farmhouse with a touch of contemporary rustic type of vibe for the bathroom – it will come more together with the rest of the renovation – and the single vanity mirrors & light fixtures instead of the one big one like it had previously helped with that. I opted for gold hardware and light fixtures, and then wood mirrors to give that more rustic/farmhouse feel.
Just a note: it was a lot harder than I expected to be able to match the golds.  Especially because it seems like so many different retailers call golds different names like "brushed bronze" or "champagne gold" and there's such variety.  I had to send back several light fixtures until I got one relatively close (and to be honest, it's still not a *perfect* match but since it's separated by the mirror it's not very obvious and therefore I was okay with it.)
The After