Reading:
Caesarstone x GROHE SPA collaborate on bespoke bathroom collection
Caesarstone x GROHE SPA collaborate on bespoke bathroom collection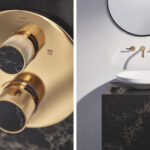 Caesarstone, the global leader in premium quartz and porcelain surfaces, has been selected as a class-leading partner for GROHE SPA – GROHE's revitalized premium sub-brand.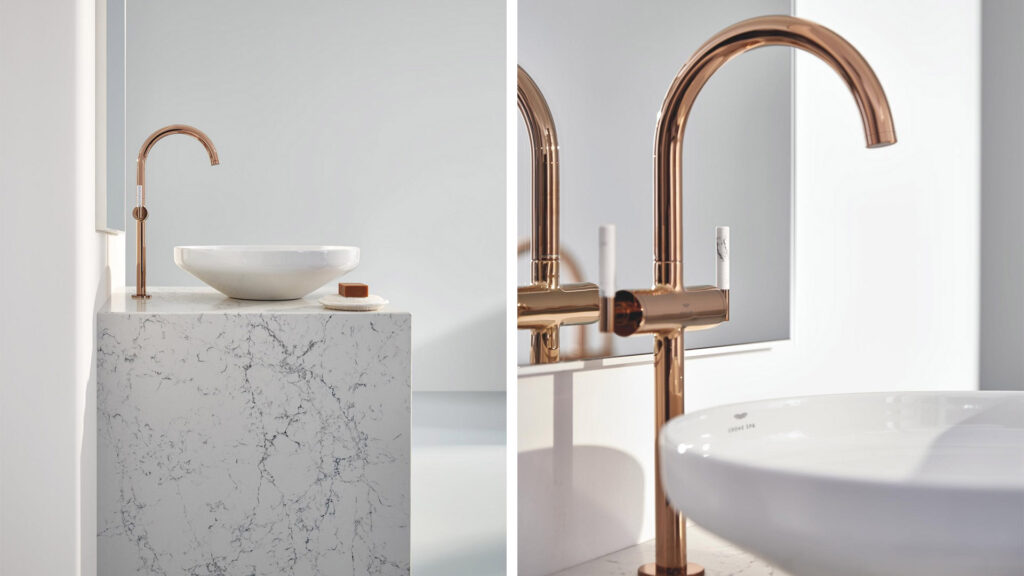 Allowing architects and designers to choose from a carefully curated range of colors, materials, finishes, and handle designs, GROHE SPA chose Caesarstone to craft faucet handles, inlaying the brand's timeless and durable quartz designs. Caesarstone has a long-standing reputation for designing and producing the finest engineered surfaces, which are used throughout notable residential and commercial buildings around the world. The luxurious faucets of the GROHE SPA Atrio and Allure Brilliant Private Collections can be paired with Caesarstone countertops in the same design and finish to create a perfect, cohesive scheme between the sink countertop or bathroom vanity and faucet.
Caesarstone's organic and sustainable surfaces draw on the inspirational beauty of nature and are created with a design-first mentality which has ensured Caesarstone's position as a global leader in surface design. 5143 White Attica and 5100 Vanilla Noir, the two colors chosen by GROHE for its SPA collection, were selected for their strikingly elegant designs. White Attica invokes the luxury of an opulent white marble through its white base and the alluring combination of dark and light blue-grey veins which ebb across the surface. Vanilla Noir, on the other hand, has a rich, dark base that is awash with expanding creamy vanilla veins, exuding a moody, sophisticated feeling.
"Thanks to the Private Collections of our famous Allure Brilliant and Atrio product lines, these special water moments can be experienced in a unique and personalized environment. We allow our professional partners and their clients to design their own faucets based on their favorite color, finish, lever, or material variant. This lets us achieve an unprecedented level of customization", explains Patrick Speck, Leader of LIXIL Global Design, EMENA.
Caesarstone Global Head of Design, Mor Krisher, says, "We are used to seeing Caesarstone designs on a large scale in bathroom and spa environments. What is delightful about this partnership is the clever intricacy and precision that GROHE has used to design their new Atrio and Allure Brilliant Private Collections. A highly thoughtful approach sees Caesarstone surfaces successfully translate to a smaller scale, bringing a wonderful unity between faucet and countertop when combined with Caesarstone of the same design. The result is a complete look of singular harmony."
Krisher continues, "GROHE are absolute experts within their field, and we're very excited to be part of this innovative collection showcase, particularly back in the familiar surroundings of Milan".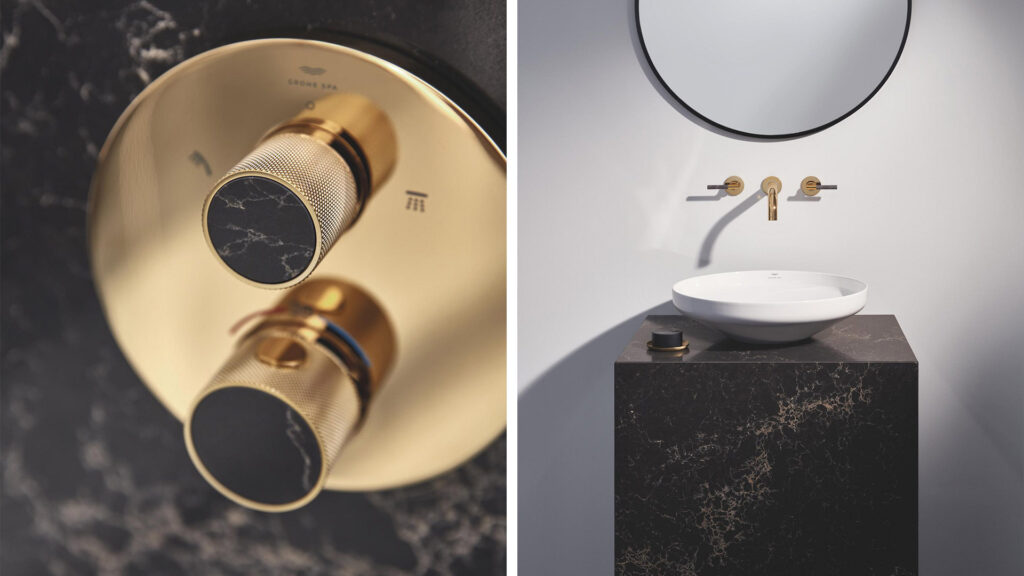 GROHE SPA encourages customers to take advantage of the regenerative effects of water. The word 'spa' is taken from the Latin 'salus per aquam' means 'health through water'. The bathroom is a private space – a sanctuary within our homes. As such, the GROHE SPA collection has been designed to help create a holistic space within this environment – a bathroom that appeals to all the senses and allows the user to absorb the positive effects of water on the body and mind. The new GROHE SPA range encompasses elaborate faucet collections, customizable ceiling showers, and intricate ceramics to complement accessories and in doing so, redefines what is possible through design and technology.
Firmly established within the global design industry, Caesarstone's quartz and porcelain worktops are among the hardest stone surfaces on the market and promise to stand the test of time. Incredibly non-absorbent, dense, and resilient, the surfaces are heat-resistant, and both stain and scratch resistant, making them an excellent solution for the highest-traffic areas of the home. Caesarstone's quality, durability, and beauty make it an ideal choice.
To explore our full portfolio and source inspiration for incorporating Caesarstone into your next project, please visit our catalog.
About Caesarstone
Established in 1987, Caesarstone is a global leader in premium surfaces specializing in worktops that create dynamic and inspiring spaces for the heart of the home. An award-winning multi-material portfolio of over 100 colors combines the company's innovative technology and powerful design passion. Spearheading the market for high-quality, sustainable surfaces, Caesarstone delivers timeless beauty with functional resilience, designing surfaces for a vast range of indoor and outdoor applications, including kitchen worktops and bathroom vanities.
Since pioneering quartz countertops more than thirty-five years ago, Caesarstone has expanded into porcelain and natural stone and is now present in more than 50 countries worldwide, enhancing customers' surface buying experience through the expansion of ground-breaking digital platforms & services.
Caesarstone has earned ISO 14001 (environmental management standard), ISO 9001 (quality management standard), and NSF (public health and safety) certifications. The company also has third-party verified Declare label status.
About GROHE
GROHE is a leading global brand for complete bathroom solutions and kitchen fittings. Since 2014 GROHE has been part of the strong brand portfolio of LIXIL, a manufacturer of pioneering water and housing products. In order to offer "Pure Freude an Wasser", every product is based on the brand values of quality, technology, design, and sustainability. Portfolio highlights such as the GROHE Eurosmart line or the GROHE thermostat series as well as groundbreaking innovations such as the GROHE Blue water system are the perfect embodiment of these values. Focused on customer needs, GROHE creates life-enhancing and sustainable product solutions that offer added value for consumers. To make everyday work easier for its professional partners, the brand also offers a comprehensive range of services, including the GROHE + loyalty program and GIVE – a training program for the next generation of installers.
With water at the core of its business, GROHE contributes to LIXIL's corporate responsibility strategy with a resource-saving value chain: from CO2-neutral* production, water- and energy-saving product technologies, the removal of unnecessary plastic in the product packaging, all the way to the launch of Cradle to Cradle Certified® products. With the hybrid communication ecosystem GROHE X, the brand provides further impulses for the industry. Whether digitally on the brand experience hub, physically or hybrid in the GROHE X Brand & Communication Experience Center in Hemer, Germany or on the road with the GROHE X Motion Trucks, the brand connects people to enhance LIXIL's purpose to "make better homes a reality for everyone, everywhere".
About LIXIL
LIXIL (TSE Code 5938) makes pioneering water and housing products that solve everyday, real-life challenges, making better homes a reality for everyone, everywhere. Drawing on our Japanese heritage, we create world-leading technology and innovate to make high-quality products that transform homes. But the LIXIL difference is how we do this; through meaningful design, an entrepreneurial spirit, a dedication to improving accessibility for all, and responsible business growth. Our approach comes to life through industry-leading brands, including INAX, GROHE, American Standard, and TOSTEM. Approximately 55,000 colleagues operating in more than 150 countries are proud to make products that touch the lives of more than a billion people every day. Learn more at www.lixil.com