Reading:
Caesarstone Launches Boldest Line of Marble Inspired Colors to Date
Caesarstone Launches Boldest Line of Marble Inspired Colors to Date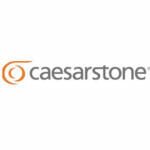 Inspired by some of the world's most beautiful natural marble, Caesarstone's newest designs represent the five new additions to the Classico™ collection, all with a unique blend of earthy tones and delicately infused veins. These new designs are all made using cutting-edge technology and are completely unique and exclusive to the Caesarstone® brand.
The five designs include:
Frosty Carrina: Beautiful soft ivory white with delicate powdery grey veins.
Dreamy Marfil: A delicate blend of creamy beiges with gentle brown veins.
London Grey: An eloquent opaque light grey with soft charcoal veins.
Piatra Grey: Smooth slate grey with chalky white veins.
Emperadoro: A rich fusion of lush, deep browns with maple colored veins.
The new colors and design options once again prove Caesarstone is a step ahead of the competition when it comes to providing artful home design combined with unyielding durability and quality. The new colors have all the stain, scratch and water resistance qualities of quartz, making them ideal for kitchen countertops, splash backs, vanities, wall linings and furniture.
Staying true to their reputation as a pioneer in color, Caesarstone is also unveiling four additional vibrant colors: Red Shimmer, Jet Black, Ginger and Ocean Foam.
To see the new color additions, visit our website.
About Caesarstone:
Caesarstone is a leading developer and manufacturer of premium quality quartz surfaces. Established in 1987, the company pioneered the quartz surfaces and continues to manufacture high-quality surfaces utilizing advanced technologies and proprietary knowhow. Caesarstone surfaces consist of up to 93% quartz, retain the cool tactile qualities of nature's strong stones while offering freedom of design with enormous application possibilities including kitchen countertops, bathroom vanities, flooring, wall paneling, furniture and more. Caesarstone offers a product that is highly functional, design forward and beautiful, all at the same time.
With four diverse collections – Classico™, Supremo™, Motivo™ and Concetto™, there is immense room for choice. The unique and rich variety of colors, patterns and textures gives each customer the ability to find their 'ultimate surface' and create their own unique space. Caesarstone's extensive designs are constantly evolving and developing to meet the latest world trends and the highest level of international quality standards.
Caesarstone is a public company (Nasdaq: CSTE) as of March 2012. The company's U.S. headquarters are located in Southern California with distribution centers across the country to serve customers nationwide.