Reading:
Caesarstone at the 2019 House Beautiful Whole Home Concept Home
Caesarstone at the 2019 House Beautiful Whole Home Concept Home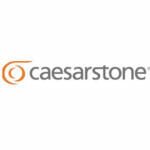 KITCHEN, designed by Matthew Quinn of Design Galleria Kitchen and Bath Studio
Its hard, nonporous surface makes Caesarstone perfect for kitchens as it is simple to clean—in most cases, soap and water or a mild detergent is all that is required to maintain its luster. Its non-porous nature provides maximum resistance to staining and fully eliminates the need for any sealing. The non-porous quality of the surface also greatly reduces the potential for bacterial growth.
Countertops & backsplashes – Excava
Deep auburns, chestnuts and coppers sweep across an unpolished canvas. The surface's excavated look and feel were inspired by the intriguing manufacturing patinas of casting and oxidizing. In Excava, authentic features of rust and concrete are achieved for the first time in quartz. The bold and dynamic visual presence has a warming effect and compliments a wild or urban aesthetic. Find sophistication when paired with matte finishes, taupe tones and mahogany.
The Caesarstone Metropolitan Collection reflects the revival of modernism, with new colors inspired by industrial architecture. Excava, one of the newest additions to the collection, highlights deep auburn, chestnut and copper colors that sweep across the unpolished canvas.
Pantry countertops – White Attica
White Attica, part of Caesarstone's Supernatural Collection, is an alluring combination of dense, dark and mild grey veins that ebb and flow across a clean flawless white base.
MEDIA ROOM, designed by Modern Remains
Caesarstone is durable. A rating of seven on the Mohs Scale of mineral hardness makes quartz one of the hardest naturally occurring minerals on earth. Making Casearstone perfect for high-traffic areas that are used daily.
Countertops, fireplace surrounds, hearth, floating shelves – Vanilla Noir
Vanilla Noir is a dramatic, black surface that carries intense, off-white veins. With a high polish finish, Vanilla Noir is perfect for creating vivid statements in commercial and residential interiors with an unforgettable, marble-inspired look.
Vanilla Noir is part of The Supernatural Collection that combines the spirit of nature with the higher performance of Caesarstone. A range that mirrors the complexity, emotion and uniqueness of natural stone while delivering superior quality and durability.
LAUNDRIES, designed by Castle Homes
Caesarstone is virtually maintenance free. Its quartz aggregate makes it hard and more scratch resistant than either granite or marble, and its high-quality binder makes it nonporous and highly resistant to stains.
Additionally, Caesarstone is resistant to common household chemicals, unlike natural stone. All useful qualities for high-traffic areas like mud rooms and laundry rooms.
MAIN LAUNDRY & MUD ROOM Countertops – Cloudburst Concrete
Soft swells of pure white veil a creamy white base as rich tones and an innovative texture further define its captivating, infinite beauty. Cloudburst's sophisticated surface delivers a tactile effect of a concrete-like feel. It is the calm before the storm and will elevate a space to new heights. The white on white tonal cloud-like patina, with its low-reflective surface, provides design flexibility by lightening up a space and evoking a refined, urban aesthetic. This Caesarstone color is the romantic interpretation of the industrial interior trend.
UPSTAIRS LAUNDRY Countertops – Frozen Terra
A classic, neutral-colored white base is embellished by glimmers of black basalt and translucent grey quartz. Frozen Terra fuses the playfulness of terrazzo with the robustness of concrete translating a sophisticated, worldly vibe. The textured finish further enhances the surface adding another layer of allure. This Caesarstone color compliments both light cabinetry for a casual feel and dark hardware for a chic vibe.
MASTER BATHROOM, designed by Richard Anuszkiewicz of Design Galleria Kitchen & Bath Studio
Because nonporous Caesarstone quartz is resistant to moisture and heat, easy to maintain, and available in many colors and textures, it's the ideal material for the bathroom. Seamless quartz slabs prevent mold and mildew buildup and eliminate the need for grout and its irritating cleanup in wet areas like bathrooms, shower walls and wet bars.
Countertops – Empira White, our latest 2019 introduction
Soft, refined ebony veining traverses a pure white base, creating an interplay between color, movement and emotion. The uplifting surface is an interpretation of authentic Calacatta marble and its timeless, yet urban look. Reliable and versatile for either residential or hospitality settings, Empira White is inherently elegant. This reinvigorated classic for bars, counters and islands purveys sustainable style with guaranteed longevity.
ADDITIONAL BATHROOMS, designed by Castle Homes
BOY'S BATHROOM Countertops – Airy Concrete
A calm grey base enriched by lively clouds of white and dark grey capture the essence of the interface between water and air pulling the gravity of waves to the surface. Its airy visual textures express depth and connect you to your surroundings. Airy Concrete meets the ongoing demand for industrial design with a softened edge.
GIRLS BATHROOM Countertops – Vivid White
What do you call something whiter than white? Caesarstone calls it Vivid. It is an obsessively clean shade for those who demand nothing short of perfection. Inspired by the whitest natural stones Athos & Thassos, Vivid White is a premium design that celebrates the timeless beauty of the color white and represents the whitest tonality of white.
UPSTAIRS POWDER ROOM Bath Countertop – Statuario Maximus
Bold and dynamic thick veining sweeps across a soft white base adding a new level of splendor and luxury to any interior space. The marble-inspired design is further enriched by delicate background veins.
Statuario Maximus quartz surface gives the look of marble in the bathroom without all of the drawbacks of marble. Like kitchens, bath vanities require an extremely durable material that is scratch-, stain- and heat resistant, nonporous, and mold and mildew resistant. Something that Caesarstone does much better than natural stones like marble and granite.
MUSIC ROOM BATHROOM Countertops – Raven
A slate grey with a slightly dappled look, adds texture and a tactile appearance. Raven is a delicately blended two tone grey, perfect for both residential and commercial applications.
UPSTAIRS WORKING SPACE BATHROOM Countertops – Fresh Concrete
Fresh Concrete is an extremely light grey surface with a neutral tone that brings a sleek, feeling to any type of room. Fresh Concrete has a creamy white background with gray. It has been adapted for situations that require a neutral color product with timeless allure as well as aesthetic flexibility. Fresh Concrete is a color that captures the spirit of the most recent coarse concrete pattern and translates into residential interiors nicely.
And like the other designs from the Metropolitan collection (which also includes Excava, Airy Concrete, Cloudburst Concrete and Frozen Terra) Fresh Concrete is inspired by factories and lofts that translate into residential and commercial interiors.
OUTDOOR OASIS, designed by Barclay Butera
Kitchen surfaces – Dark Grey Concrete
This Fall, Caesarstone introduces a new category of quartz surface: outdoor. As living spaces extend to the outdoors, Caesarstone meets demand for indoor/outdoor surface designs that can stand up to the demands of the great outdoors. Caesarstone's new line of outdoor quartz has a patent pending protective acrylic polymer surface that offers high UV stability, better water resistance, and will stand up to the heat and cold of the outdoors. This first generation of Caesarstone outdoor includes three color options.
ABOUT CAESARSTONE
Caesarstone pioneered high-quality quartz surfaces in 1987 and continues to lead the industry today with innovative, design-driven solutions.
Caesarstone is designed by nature, perfected through innovation. Our premium quartz surfaces combine natural beauty with outstanding durability.
Caesarstone is Beautifully superior.
Recognized for its design-forward surfaces, Caesarstone quartz is also a high- performance solution; Caesarstone surfaces are nonporous, durable, mold and mildew resistant, and scratch, stain and heat resistant.

With its beauty, durability and flexibility, Caesarstone quartz surfaces can be specified throughout the whole home, from indoors to outdoors.

Caesarstone's renowned beauty and durability is complemented by a lifetime warranty that is transferrable for up to 10 years..

Jumbo slabs, as well as many of our standard-sized slabs, are Made in America at Caesarstone's Richmond Hill, GA manufacturing facility, just outside of Savannah.