When looking to remodel a home kitchen, bathroom, or even outdoor areas, one of the best places to start is with the countertops. However, this can be a tedious process as there is so much to think about: the style of the material, its cost, and the advantages and disadvantages of the materials being used.
Concrete is one of the more popular countertop options that is on trend for 2021. These countertops provide a studding modern-industrial aesthetic and are customizable to suit a variety of kitchen styles. However, if you desire the aesthetic of concrete, but could do with less maintenance, Caesarstone's premium quartz countertops come in several premium styles that mimic concrete, such as 4004 Raw Concrete and 4003 Sleek Concrete.
If real concrete countertops seem like a great option for you, keep reading to learn more about its features and what needs to be considered when using a concrete countertop.
What Kind of Concrete Should I Use?
Before all else, do not use regular Quickrete for concrete countertops. Instead, make sure to choose concrete with a PSI of at least 6000. The PSI indicates how hard the concrete will be once it's been cured. Additionally, make sure to choose one that doesn't cure too slow or too fast, as this can lead to additional issues later on. Visit a local home improvement store and find concrete that is made explicitly for countertops.
Finishes for Concrete Countertops
When looking into what is the best concrete to use for countertops, appearance plays a big role, and the appearance of concrete varies greatly depending on the selected option. There are a variety of finishes to be considered, such as:
Polished
Stained concrete
Acid stain
Polished Concrete
For a more modern look in the kitchen, the best option is polished concrete. Polished concrete has a smooth surface. If looking for a high-quality finish, the countertop will need to be installed in a single slab to avoid seams.
Stained Concrete
This is a great option to create a more dynamic finish on the countertop. By nature, concrete is slate gray when it dries. However, if time is taken to stain it during installation, it's possible to control its appearance. This isn't limited to a single pigment either; varied patterns can be added to mimic the look of other materials such as granite or marble.
This capacity for staining can cause problems down the line, as spills with potent additives can potentially damage the finish and permanently stain concrete, requiring a full replacement. Alternatively, Caesarstone's quartz countertops are available in a wide range of concrete-like colors like 4033 Rugged Concrete that are also extremely stain resistant.
Acid Stain Concrete
Another option for controlling the pigment in concrete countertops is acid staining. This process doesn't use dye but metallic salts and hydrochloric acid to etch into the concrete's surface. Many homeowners choose this because the reaction is permanent; it will not fade or chip away. However, with this option, the renovator does not have as much control over pigmentation.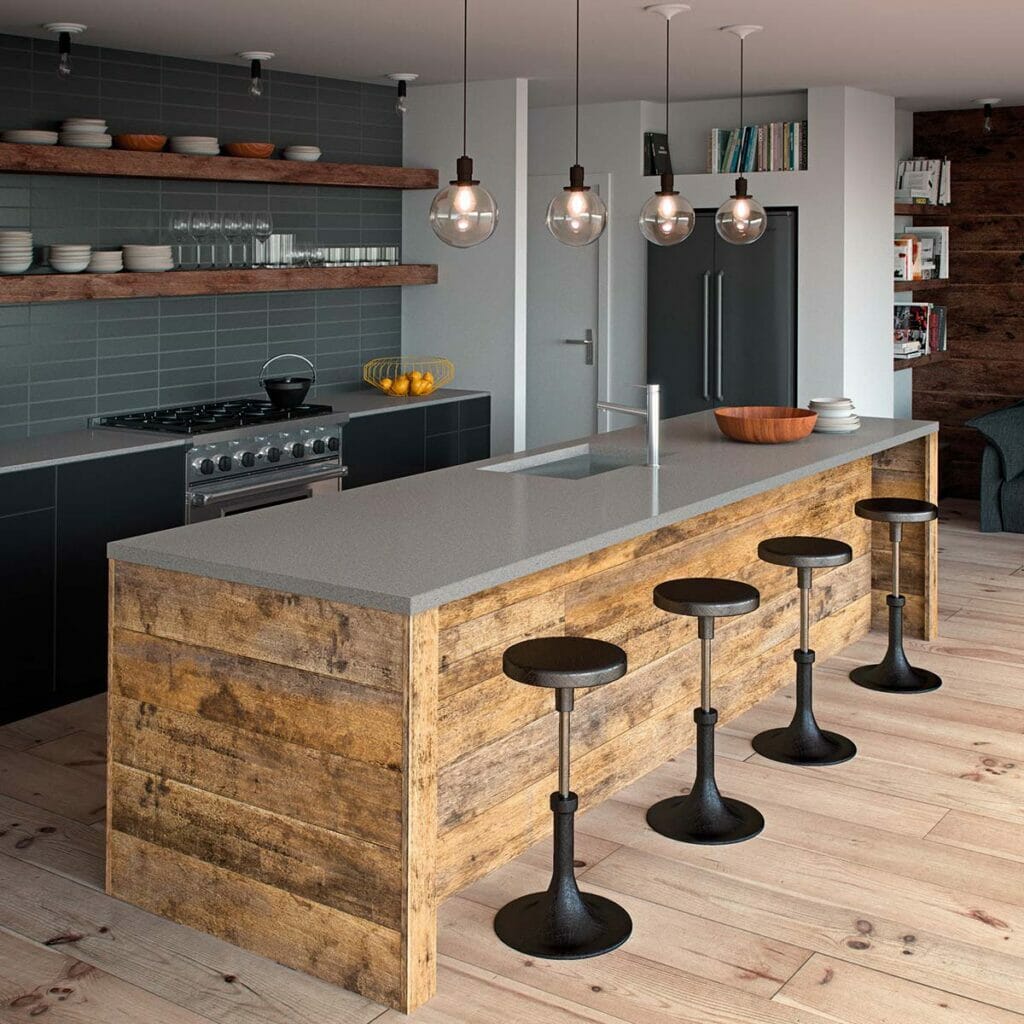 Colors for Concrete Countertops
As we mentioned, concrete is naturally slate gray once it cures. However, just like there's a variety of finishes, there are also various pigments that can be added to concrete to adapt the color. Here are a few of the color options.
Black Concrete
While black is not the most traditional choice, it works well with just about any décor style. This is an excellent option to give the kitchen a more modern look. Black concrete looks a lot like soapstone and typically should be professionally installed. Staining does not require a professional – just note that it needs to cure for at least 30 days before adding the stain. This can be quite a time-consuming process and can delay the renovation timelines quite heavily if not accounted for. Consider other materials like quartz when looking for a quick and easy installation!
White Concrete
White concrete countertops offer a tidy, clean appearance in the kitchen. The only issue with white is that stains are obvious. Also, as stated earlier, damaged finishes can cause permanent stain damage that may mean replacing the countertop completely.
Cost of Professional Concrete Countertops
Another one of the disadvantages of concrete countertops is that they are more expensive than other countertop options. They will cost around $65 per square foot on the low end and on the upper end of the spectrum, about $135. Concrete countertops are more expensive due mainly to the skill required of the individual who is crafting it.
Cost of DIY Concrete Countertops
As with any other project, it's possible to save on the cost when taken on as a DIY venture. Taking labor and expertise out of the cost equation, homeowners end up paying around $8 per square foot on the low end and $15 per square foot on the higher end.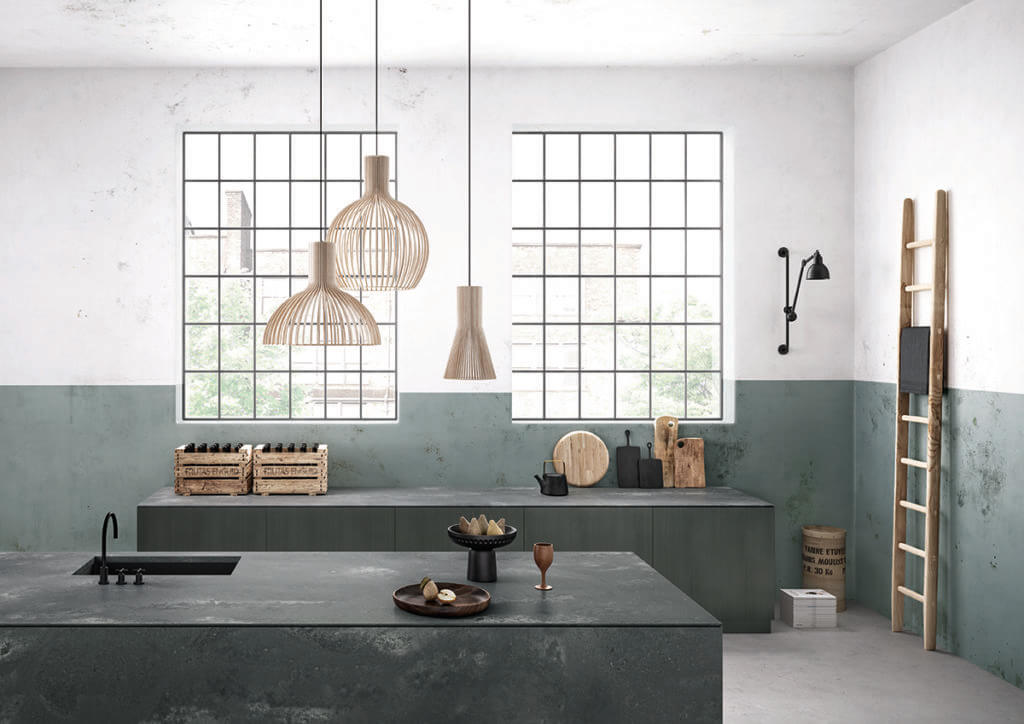 Advantages Vs. Disadvantages of Concrete Countertops
As with other home improvement projects, deciding on what type of concrete to use for countertops means considering the advantages and disadvantages of concrete countertops.
These countertops can be quite visually striking. They can be made in a variety of colors and finishes. Additionally, they can even use other added materials such as glass fragments, fiber-optic lights, shells, or stones to give it a different look.
On the other hand, this can be an expensive option, and they're hard to repair if they do begin to crack. In addition, they'll need to be sealed once a year to be kept in tip-top shape. Also, concrete is heavy and it's important to make sure that the cabinet frames and floors can support it.
By opting for a quartz countertop that looks like concrete, you can enjoy the beauty of a real concrete countertop without the added maintenance and expenses. Caesarstone's premium quartz is highly durable, low maintenance and does not require sealing. It also comes in a variety of concrete colors and finishes
Bottom Line
When renovating or remodeling a home, concrete countertops are a fair option to consider. And while concrete may not be the most visually interesting, it can be improved aesthetically with the additional investment of time and care. Consider your available budget before making a purchase, as they can be quite expensive.
Remember that concrete countertops are just one of the options to consider for kitchen and living spaces; Caesarstone's quartz countertops are an affordable and stylish alternative that can be the perfect addition to any renovation plan.