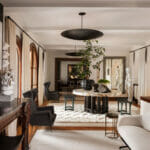 Explore a piece of Hollywood history; a classic 1908 Mission estate revived for today's contemporary style and location of the 2017 Designer Showcase.
This home originally belonged to famous financier Gurdon Wattles, who invested in early Hollywood ventures, and now serves as a platform for showcasing the latest in interior design. We're excited to take you on a journey of past and present Hollywood influence and the only remaining example of a pre-film industry Hollywood estate.
The living room, a kaleidoscope of color, texture, and rich accents honor the history of the home and Hollywood roots.
Hollywood glamor is alive and well throughout the library! The beautiful woodwork, gilded accents, and filigree painted ceiling ooze early 1900's handiwork and vision.
The kitchen blends old with new with its vintage stove and icebox (yes, that gorgeous storage unit in the back room is actually the refrigerator's early ancestor).

Photo by Izak Rappaport
The beautiful turquoise, eye-catching golden accents, and Vanilla Noir countertops make this a Hollywood hit!
The design is in the details – even the sink basin is textured to perfection.
Thanks to Jaime Rummerfield and Ron Woodson, a few of the many the talented designers of this estate. All photos by Mary E. Nichols unless otherwise stated.