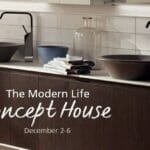 Caesarstone is partnering with ELLE DECOR to unveil the 2015 Modern Life Concept House this December in tandem with the kick-off of Design Miami and Art Basel. Featuring the work of five leading designers, this year's Concept House will be located in Miami's Wynwood Arts District at 250 Wynwood, a 6,000 square-foot, one-of-a-kind condominium home in one of the most renowned creative neighborhoods in the country. Caesarstone surfaces have been used throughout the units to follow the sleek, chic and sustainable vibe of this artistic space.
The designers-Daniele Busca, Matthew MacDonald, Elizabeth Martin, Sam Robin and Fernando Wong-were hand-selected by ELLE DECOR editor-in-chief, Michael Boodro, to design and decorate the space in a way that fits in with the artistic spirit of the Wynwood neighborhood.
250 Wynwood is Fortis Development Group's first project in a series of sustainably built, creatively designed boutique residences in the neighborhood. In keeping with Wynwood tradition, the building will be covered in original artwork curated by Wynwood gallerist and Art Basel exhibitor Anthony Spinello of Spinello Projects.
Private viewings are open to the public by request only at 10am and 2pm Wednesday 12/2 through Sunday 12/6. Call 305-243-9088 to schedule. A $35 tax-deductible admission fee will go directly to support pediatric cancer research at Sylvester Comprehensive Cancer Center. ​