When designing or renovating your kitchen, you will be faced with many different choices for your countertop. Of the many types of countertops in the market, premium engineered surfaces have become increasingly popular in modern kitchens.
The two most sought after choices are quartz and solid surface countertops, thanks to their excellent design, appearance, durability, and cost of maintenance. The two surfaces are strikingly similar but have some distinct differences. This article aims to help you narrow down the single-best countertop for your kitchen.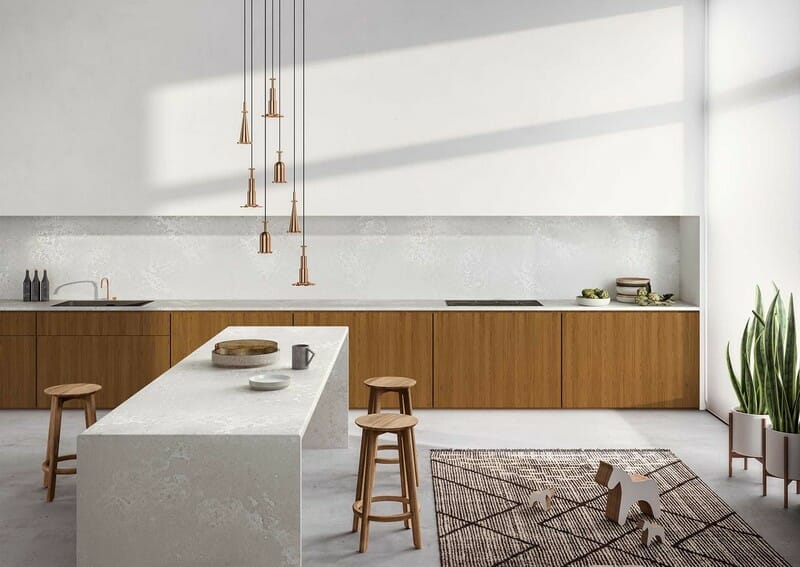 Composition
What makes quartz a strong substance?
Quartz is mainly composed of at least 90% natural quartz stone, one of the strongest materials you can use in your home. The balance consists of polymer and pigments that give quartz countertops their style, appearance, and pattern.
Solid-surface material is more of a mixture and softer
On the other hand, solid-surface material is composed of mineral dust—mostly marble mixed with different types of plastics. This mixture melts upon heating and is then put into a mold to define its shape.
The finished countertop is slightly softer than quartz and is naturally thinner, with a built-up edge to make it appear thick. The different colors and patterns are obtained by mixing different ratios of pigments and mineral dust.
Heat Resistance
Quartz countertops have a much higher heat resistance when compared to a solid surface. This makes it safe for use near heat emitting kitchen appliances like ovens and microwaves without the danger of it deforming. The use of heating pads will further prolong the lifespan of the quartz countertop.
On the other hand, the solid surface is thinner, making it less resistant to heat when compared to quartz stone. It is not advisable to put hot pans and boiling kettles directly on the solid surface countertop. The heat will cause the countertop to warp and deform. The surface will also be more susceptible to stains after being scorched.
Durability
Quartz countertops are tougher than natural stone. They edges won't chip and they are scratch-resistant and highly durable, coming second only to indestructible gems like diamond, sapphire, and topaz.
Solid surfaces have a natural finish but are not as tough as stone. If used roughly, the countertop is prone to chipping and scratches. It is advised to use a cutting board every time and not chop directly on the countertop. However, solid surfaces can be easily sanded and made smooth again without any professional help.
Maintenance
Quartz countertops are non-porous and do not need to be sealed. A simple wipe is sufficient to keep germs off the countertop. The ease of cleaning and maintaining a quartz countertop makes it popular among working professionals and families with kids.
Solid countertops are also non-porous and do not require sealing. A quick disinfectant wipe will prevent bacteria from accumulating on the surface. With minimal effort, you can maintain a hygienic surface.
However, solid surface countertops tend to lose their shine over time and demand periodic polishing by professionals. Polishing reduces the thickness of the countertop over time.
Installation
Quartz: Complex mechanism
Quartz countertop installation requires special tools which may not be available to everyone. Even with pre-cut slabs, it is very difficult to install them by yourself. Beyond placing the slabs correctly, any seams must be filled and covered with epoxy.
Solid Surface: Convenient to install
The solid surface countertops materials can be cut by ordinary power saws. The seaming kits needed to join two pieces together are easy to use, making it possible for self-installation. Solid surfaces are usually thinner with a thickened edge. There are no visible seams since the substance is soft and melted to combine pieces together.
Aesthetics
Quartz countertops are smooth and have a glossy finish. They look rich and multi-dimensional but with a uniform pattern. These countertops give your kitchen the look of natural stone, without the maintenance that comes with it.
Solid surface countertops are uniform in appearance and durable. The material can be curved using the thermoforming process, enabling it to be customized as per your specifications. The seams, if any, are almost invisible to the naked eye and solid surface countertops are available in a wide variety of colors.
Cost
The prices of quartz and solid surface countertops vary depending upon factors like the style and color which makes it difficult to compare the two under this category. Generally, however, quartz countertops are more expensive than solid surfaces due to the premium quality of materials in their composition.
Solid surface countertops are relatively cheaper when compared to premium stone countertops like granite, marble, and quartz. This option is worth consideration for those on a tight budget.
When considering the price, you cannot ignore the cost of maintenance that comes with it. Even though solid surface countertops are more affordable initially, they require polishing and fabrication from time to time. Maintaining a quartz countertop is more cost-effective as it comes with minimal maintenance costs.
Hygiene For Food Safety
Being non-porous, quartz countertops do not absorb water or other microbes. These countertops are certified by the National Sanitation Foundation (NSF) to be safe and hygienic for food preparation.
Solid surface countertops are non-porous and stain-resistant as well, making them conducive to food preparation. However, if the surface develops wear, the scratches and chips retain water and stains. This may trap dirt and moisture on the countertop, making it vulnerable to the growth of bacteria.
Conclusion
Both quartz and solid surface countertops will look beautiful in your kitchen. However, if you are looking for a long-lasting viable option, a quartz countertop is worth the investment. It is more hygienic for food preparation, durable, and has a higher heat resistance when compared to solid surfaces.
At Caesarstone, we use up to 90% natural quartz minerals in our quartz countertops. We combine our passion for design with expert craftsmanship and high quality stone engineering. Explore our catalog and find your perfect Caesarstone countertop today.