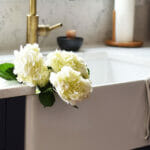 Kasey and Matthew Hickey love food and music—and believe they go hand in hand. This married couple with three young children work from their home, specifically their kitchen, and they are passionate about what they do.
The Hickey's run a business called Turntable Kitchen, where the fusion of food and music reign supreme. Their self-proclaimed aim is "to introduce food lovers to music and vice versa." Their website features food photography with recipes utilizing fresh local ingredients and "musical pairings" by way of their record-of-the-month club, which even has a vinyl option. Moreover, their blog keeps readers abreast of all the goings-on in the Hickey home.
The Turntable Kitchen Blog
Blogging is a popular way for businesses, and especially creative businesses, to connect with potential clients. The Hickeys understand that offering regular fresh content in an online culture also allows companies to connect with one another and easily forge partnerships. In addition, a blog sets the tone for a business, and the tone of Turntable Kitchen is fun, creative and professional.
Interior design-related blogs are also a great place for homeowners to visit for inspiration. Maintaining an active blog gives the public a chance to glimpse behind-the-scenes activities in any given business. So, when Kasey and Matthew chose to renovate their kitchen, of course, they posted updates via their blog, as featured in Architectural Digest.
Heading up a family of five and running a thriving business from their home, this power couple had plenty to juggle when they decided to renovate their kitchen, which is not only the heart of their home but also the soul of their business. Having lived in their 1930s brick Tudor in Seattle for two years, it had become clear that the kitchen wasn't cutting it. They knew that a redesign was a massive undertaking but a necessity in order to see their family and business goals come to fruition.
They chronicled the transition in the Turntable Kitchen's renovation blog, which gave clients and fans an inside look at the transformation, including the day-to-day minutiae (and meltdowns) along the way. The taskmasters first had to hire contractors, and they learned that small was best for their residential space. Kasey advised readers to trust the process when taking on a renovation because, while plan As are great, plan Bs are terrific.
Over the course of six weeks, the kitchen received beautiful rich navy cabinetry, a new and updated stove, a plus-size fridge and hardwood floors. One of their favorite features? An archway entrance that matches the other arches in the house, making the new kitchen feel as if it had been there all along. Ultimately, having no kitchen for over a month, moving out for three days, and having a U-Haul full of their furniture in their driveway was totally worth it.
The Hickeys are a fan of Caesarstone and consider our quartz surfaces ideal for cooking, living and for their food photography. It was a natural choice for them when searching for surfaces for their new kitchen. They love the durability, easy clean-up and artistic appeal for creating perfect photos.
The couple opted for White Attica for the countertops and backsplash, and they couldn't be happier with the decision. Caesarstone's White Attica has been an excellent addition to the classic and enduring look they craved.
Caesarstone is more than pleased to have been part of the journey for Turntable Kitchen and the Hickey five. Learn more here about how our elegant and durable engineered quartz countertops can become part of your next remodel.