Season 22: Caesarstone Joins Military Makeover to Help Local NC Veterans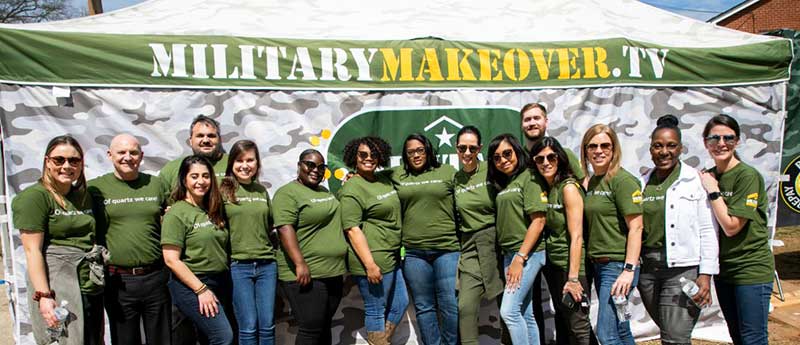 Caesarstone is proud to partner with Military Makeover to honor and repay those who have sacrificed for our country. Navy veteran and military advocate Montel Williams hosts this inspirational home improvement series on Lifetime TV. Each season, a crew of renowned designers and TV personalities travel to cities across the country to deserving veterans' homes to offer a helping hand. The series enlists conscientious companies like Caesarstone to renovate military families' homes to help give back to those who could use extra help around the house.
For season 22, which premiered on May 15th, HGTV Design Star winner, Jennifer Bertrand, head of construction Ryan Stanley, and member of their crew traveled to Lincolnton, NC, to supervise the complete home makeover of the Harvey-Woodruff home. In the kitchen, designers chose Black Tempal, a complex composition of dark grey mineral-like layers expanding across a black charcoal base capturing the attributes of natural stones like travertine and slate. For the bathrooms, Raw Concrete was chosen due to its neutral color and distinctive texture.
Lastly, Caesarstone's newest product line, outdoor quartz, was used for an outdoor workstation. Designers selected Clearskies for the outdoor table due to its rugged yet refined contemporary design. Caesarstone's Solaris Outdoor Collection takes the luxury of quartz to the outdoors. The collection provides the convenience of stain-resistant, easy-to-clean surfaces while innovating a highly durable material proven to withstand all the elements – rain, snow or shine.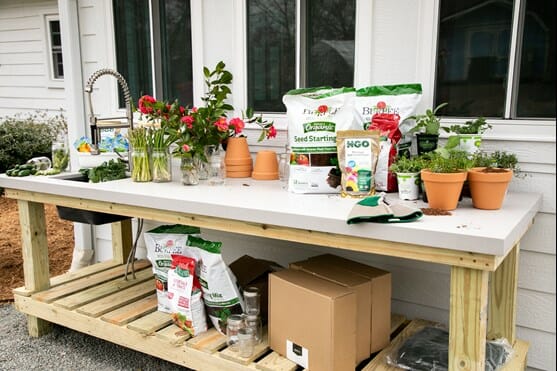 About Operation Harvey-Woodruff: Luke Harvey is a 100% medically retired disabled combat veteran. He served 6 years in the United States Army as an Infantryman. In 2008, he was deployed to Iraq, where his convoy was hit by multiple IEDs. Luke suffered a severe head injury caused by a piece of rebar, which penetrated through his helmet and into his skull from the explosion. He also suffered nerve damage from the many pieces of shrapnel that were lodged throughout his body. In 2014, Luke was medically retired from the military for combat PTSD, chronic pain, and TBI and was awarded with a Purple Heart, and an Army Commendation with Valor device.
Luke met his partner, Natasha Woodruff, while he was recovering from his injuries in 2013. Natasha is a medically retired disable veteran. She served as a Geospatial Engineer in the United States Army. During her service Natasha was sexually assaulted, which left her with permanent injuries and PTSD. When retiring in 2014, Natasha was awarded the Women of Courage award by the Pentagon.
As a Veteran Parent Team, they are still on duty with an active family life. Luke and Natasha have 3 children: Coen, who is 1; Xylee, who is 3; and Luke, who is 14 years old.
Major national brands, local companies, and volunteers got together to donate their products, time, and hard work to this deserving family.
Watch Lifetime Network at 7:30 am EST on the air dates below or tune-in to your favorite streaming service to watch Season 22 of Military Makeover and to see how Caesarstone updated the Harvey-Woodruff family home.
Episode 1 – May 15th & May 28th
Episode 2 – May 21st & June 11th (Featuring Caesarstone and World Stone)
Episode 3 – May 29th & June 18th
Episode 4 – June 5th & July 1st (Featuring Caesarstone)
Episode 5 – June 12th & July 2nd
Episode 6 – June 19th & July 9th
Episode 7 – June 25th & July 10th
Episode 8 – June 26th & July 16th