When considering the best countertop materials, concrete has always been high on that list. For many years, most people preferred concrete slabs over other materials for many reasons. From its modern industrial appeal to its minimalist beauty and versatility, it seems to be a perfect option.
However, in recent years, things have taken a turn. Concrete slabs are becoming less and less popular. This stems mainly from a few problems that come with these slabs and the emergence of new, better alternatives, like quartz.
Quartz slabs have gained popularity when it comes to upgrading kitchen countertops and bathrooms. And for good reason. If remodeling your kitchen is in your future, you should certainly consider quartz slabs.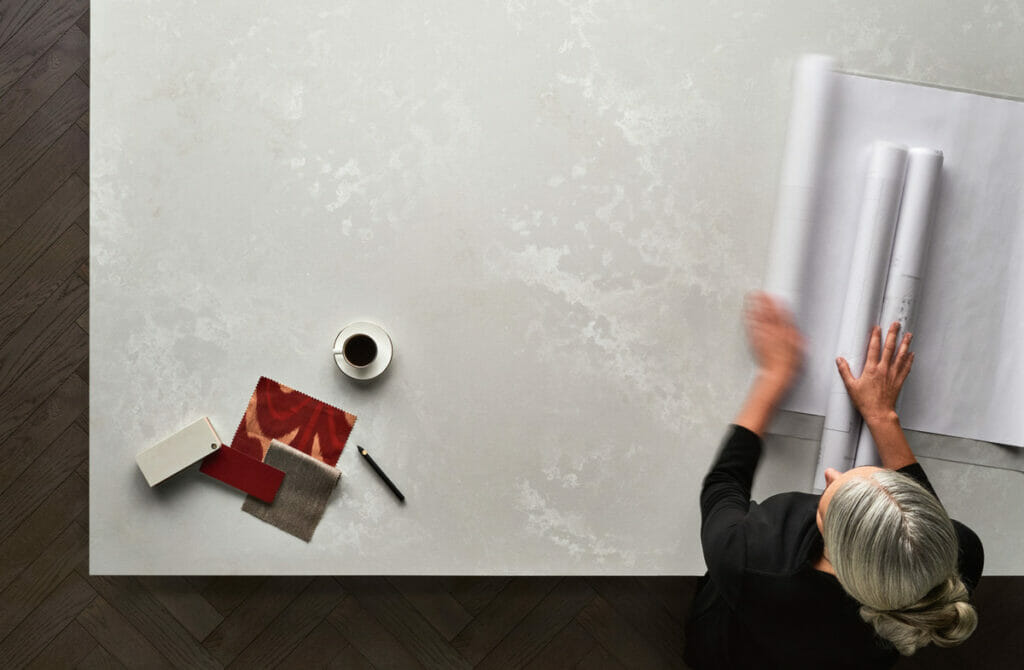 Hiring an Expert Vs. DIY
Quartz countertops may be complex to install as a DIY project. The project not only requires expertise and skills, but it also demands specialized tools and equipment. Since it's also a somewhat costly investment, you should ensure it's done perfectly. Therefore, the ideal path is to hire a professional.
What makes the quartz countertops better than other materials and are they worth the cost?
Why Choose Quartz Over Concrete?
While concrete offers unique qualities for a kitchen, bar, or bathroom countertop, quartz is the better option. Concrete slabs are available in many colors, designs, shapes, and textures. However, quartz slabs offer all of these qualities and much more.
Let's dive in and see the benefits of choosing quartz over concrete.
Quartz can Mimic any Material.
This is the most attractive feature of quartz material when creating a bar, laundry, or kitchen countertop. Whether you want the look of concrete, marble, or granite, the material allows you just that but with the qualities of quartz.
A concrete look alike quartz countertop allows you to enjoy a concrete slab's good qualities, eliminating the bad ones, and topping it up with all the good attributes quartz has to offer.
Cost
While looking at the main differences between concrete and quartz countertops, the cost is one thing that stands out. Both of these materials can be considerably costly as they are among the higher end surfaces.
However, concrete can be even more expensive due to the complexity of its installation. In fact, it can go up to around $400 or more.
Quartz countertops are comparatively easy and straightforward to install and takes just a few hours to complete, depending on the size and design. Another perk, with a quartz countertop, you get to start using it immediately. Concrete countertops, meanwhile, take between 5 and 7 days to cure. The surfaces subsequently need to dry out for another couple of days before they're ready to use. While there are variants that dry faster, they still take up to two days.
Minimal Maintenance
When it comes to maintenance, quartz countertops are considerably easy to maintain. Firstly, these slabs are non-porous, meaning they need zero sealing. They don't absorb water and won't attract stains.
Also, due to their considerably hard surface, they are hard to scratch or chip off. This means that your countertop remains smooth, chic, and attractive even through regular daily use.
Durability
Since quartz countertops are hard, non-porous, and highly resistant to heat, they tend to be significantly durable. Offering the desired appearance for the longest period of time, quartz is a great option for kitchen, bar, and bathroom countertops.
Despite their durability, they are not entirely immune to heat. Using a hot pad or trivet is always recommended in a kitchen setup.
Versatility and Beauty
Quartz countertops can be manufactured and customized in a myriad of colors, textures, and patterns. This gives you the flexibility to choose a slab that matches your interiors and offers exceptional beauty and value.
For instance, these slabs can be made to offer different edge designs, similar to a natural stone. In terms of colors and patterns, these unique Caesarstone surfaces allow you to achieve that trendy quartz concrete countertop.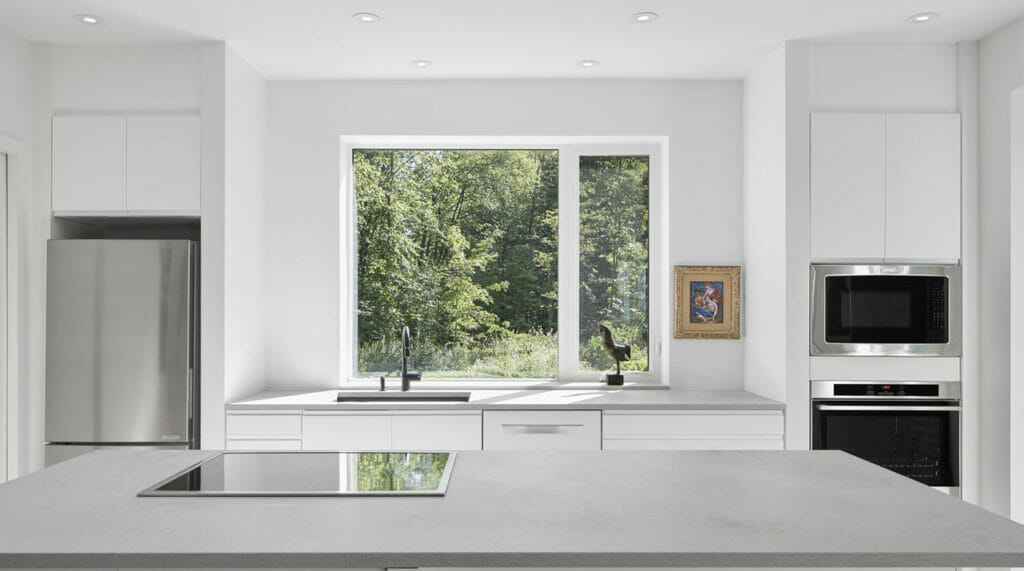 For the feel of true concrete, Airy Concrete offers just that. The dark grey hues and white tones paired with the authentic rough concrete texture brings out the feel of natural concrete.
If you are looking for a concrete look quartz countertop, 4044 Airy Concrete fits the bill. However, you should note that the slab's textured surface is more inclined to show marks and spills from daily counter chores. Therefore, regular cleaning is necessary.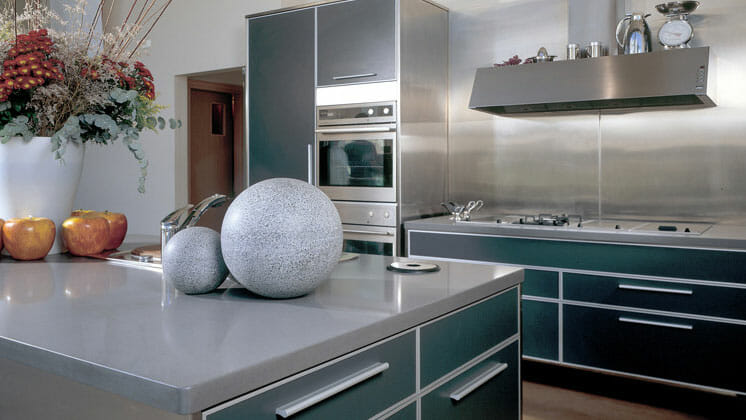 This is a premium quartz slab ideal for residential or commercial countertops projects. It is a hard, non-porous, quartz surface with dark grey shades flowing throughout. Its wet-concrete appearance distinguishes it from contemporary industrial aesthetics.
It's fairly easy to clean—just some soap, a sponge, and some water will do. In some cases, you can use non-abrasive, everyday household cleaners.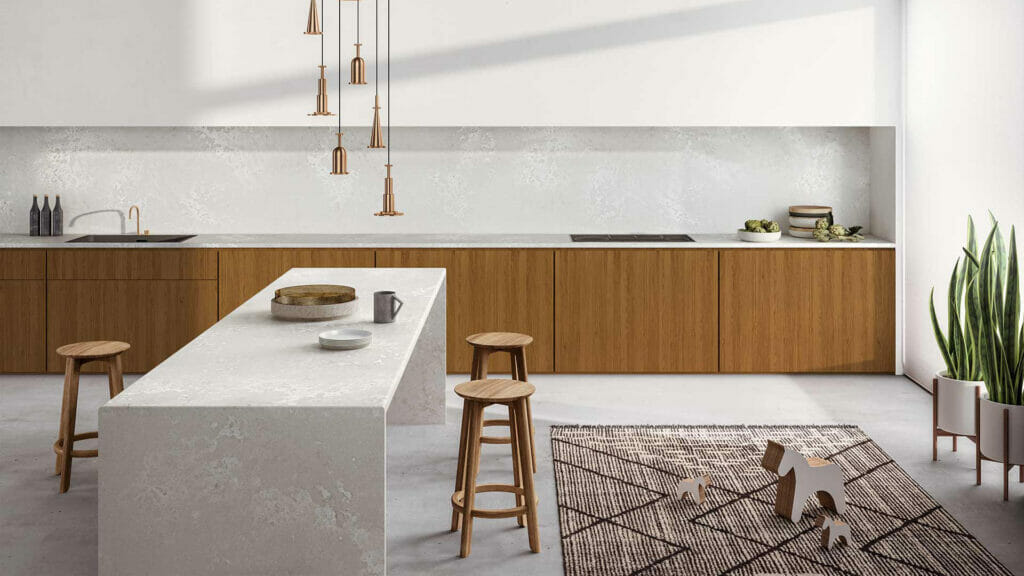 This is a versatile concrete grey quartz slab with subtle veining throughout the surface. The soft waves of pure white, covering a creamy base, offer a beautiful surface with the uneven touch of fresh cement with a textured finish.
This is an ideal concrete quartz countertop for places with high traffic. Manufactured from natural quartz blended with resins, this top-notch slab offers ultimate strength, durability, and resistance against damage.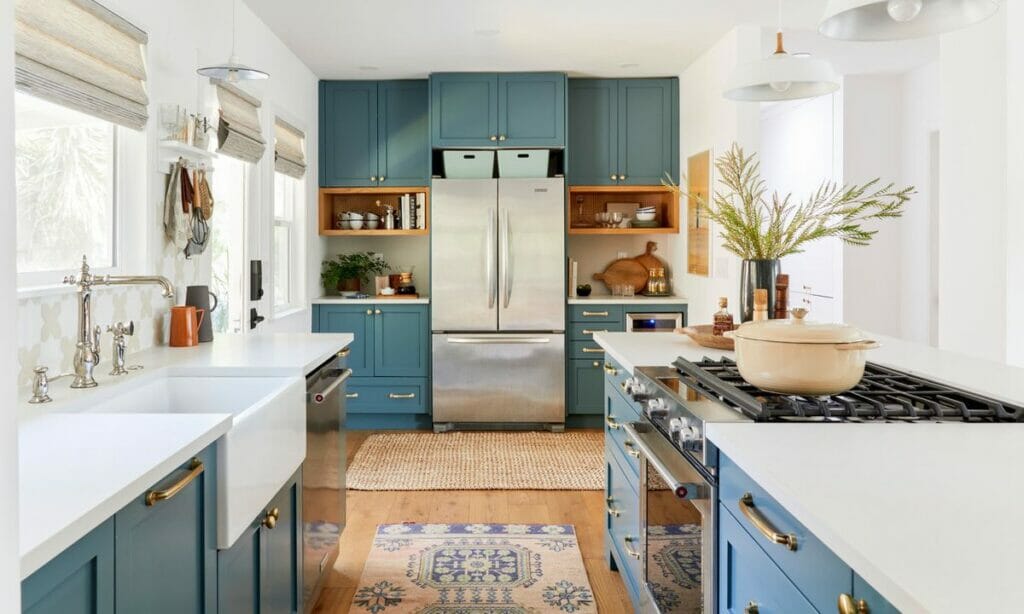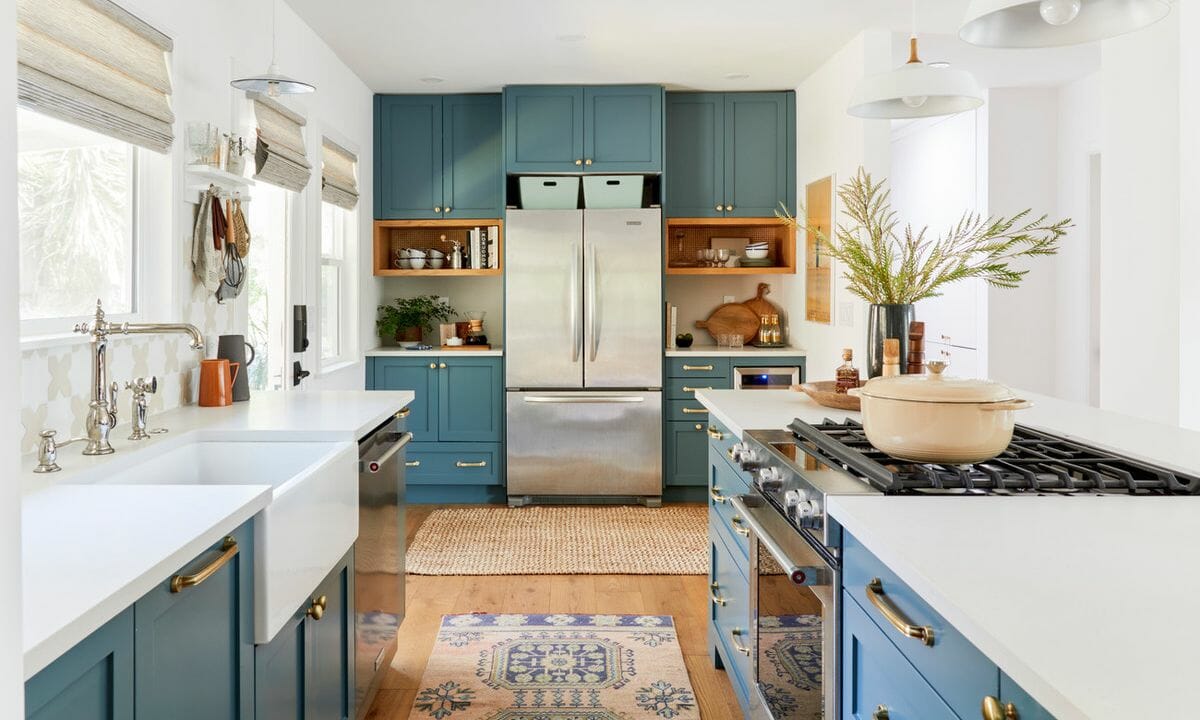 4001 Fresh Concrete is specially designed to offer premium versatility. Its grey, speckled color provides a refreshing alternative to the usual classic cream or white colors. The stunning slab seamlessly blends with almost any color scheme in your space–whether warm or cool-toned.
4001 Fresh Concrete is naturally calming and stylish, and perfect for a serene environment. However, its smooth finish doesn't hide spills or dirty marks. This countertop demands regular cleaning.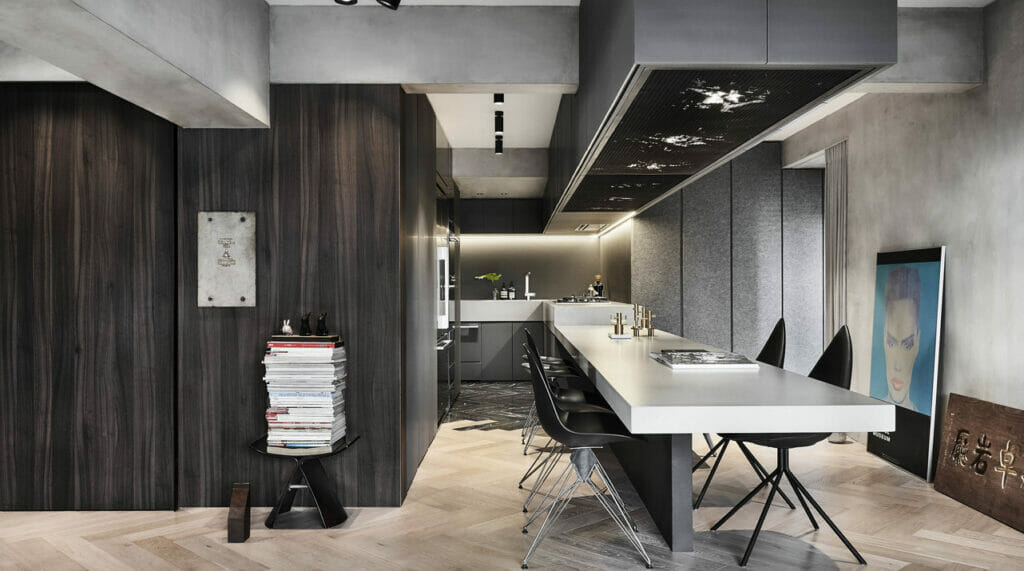 This concrete quartz countertop comes in a natural soft color with a distinct texture, delivering the ideal industrial concrete appearance. Its concrete matte finish adds to the slab's overall appearance, bringing out an authentic concrete look and feel.
As is the case with other quartz countertops, it doesn't require sealing but its smooth matte finish doesn't hide any spills from your daily counter chores and will require regular cleaning.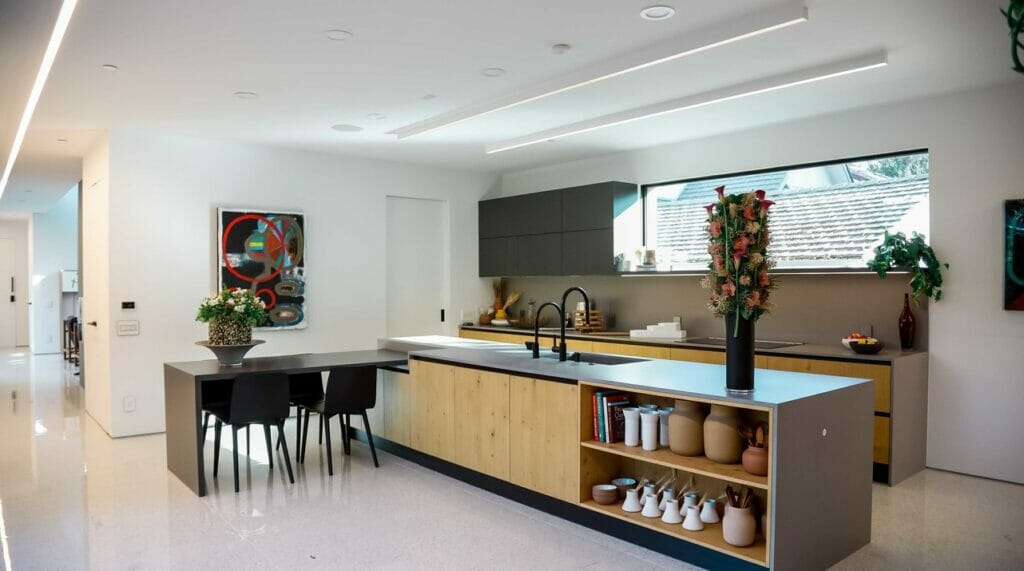 4003 Sleek Concrete is the ultimate solution for those seeking to upgrade their rooms with a contemporary industrial aesthetic. It brings out the look and feel of the beautiful fine concrete with a warm gray foundation.
It's easy to maintain and keep clean. Just a sponge, soap, and some water will keep it sparkling.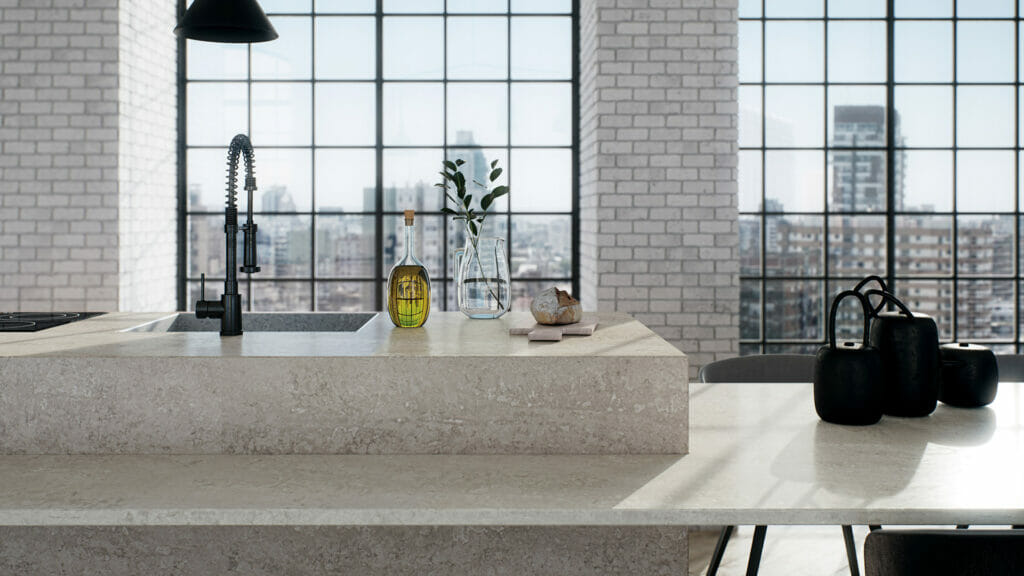 For a concrete quartz countertop that blends perfectly with an off-white and neutral color palette, 4023 Topus Concrete slab is just what you need. The lightly patterned surface of this slab complements virtually any interior.
In addition, it is robust and resistant to various abrasion forms. It is easy to clean and maintain, especially because of its sleek surface.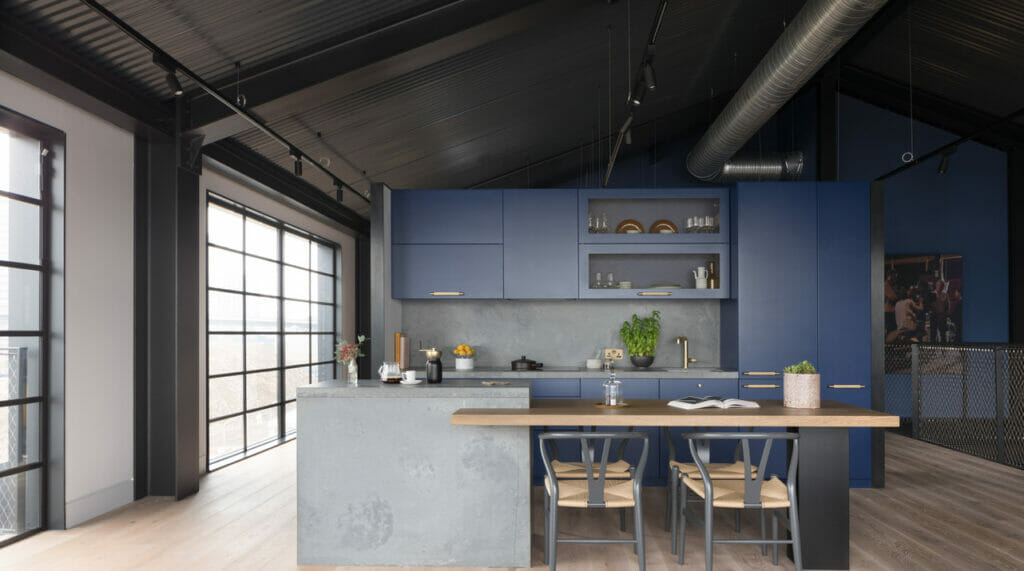 This bold aesthetic concrete quartz countertop is designed to make a statement in almost any area of the home. Its modern design features a deep gray base, crowned by beautiful white and light gray shades to offer textured depth. This stunning color appeals to everyone.
When deliberating between concrete and quartz countertops, the choice is clear.