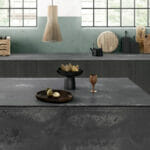 Caesarstone recently undertook a challenge in celebration of its 30th anniversary to predict what kitchens might look like in 2050. The Future Kitchen tasked design students at the Pratt Institute in New York to show Caesarstone where the next 30 years would take its quartz surfaces in kitchen design. They worked under the direction of architect and visiting professor Marc Thorpe and considered a variety of factors such as population dynamics and social interaction in developing their design.
The result was a self-sustaining cooking island that uses aquaponics to grow fresh herbs and vegetables.
Fortunately, you don't need to wait 30 years to see innovative products from Caesarstone. We're always challenging ourselves to come up with new ways to envision quartz, such as our Jumbo slabs and 2017 colors.
Jumbo Slabs
The kitchen has always been the heart of the home, but its importance will increase even further in the future. Kitchen countertops are now used for many purposes not directly related to food preparation, including dinner tables and work areas. We celebrate this trend by offering our quartz surfaces in larger sizes, allowing these slabs to cover more space in the home.
Caesarstone Jumbo slabs are 65" x 130", compared to the 56.5" x 120" for our regular slabs. Jumbo slabs therefore have over 20 percent more surface area than a regular slab, meaning that four Jumbo slabs are equivalent to more than five regular slabs. Jumbo slabs are currently available in the following colors:
1141 Pure White
2141 Blizzard
4001 Fresh Concrete
4004 Raw Concrete
4030 Pebble
4600 Organic White
6600 Nougat
9141 Ice Snow
Our Jumbo slabs are especially beneficial for surfaces like wall panels and islands, where the reduction in seams will be most apparent. The current trend towards larger islands and wider countertops means that these surfaces will look better with fewer seams. Jumbo slabs also reduce costs, since fewer slabs means less work required to install them. Furthermore, Jumbo slabs will reduce the number of slabs that need to be brought to or stored at a project site.
2017 Colors
This spring, Caesarstone launched a palette of new colors that are sophisticated, expressive and aim to inspire design trends rather than follow them. With harmonious color combinations, mixtures of the perfect greys, and a tribute to natural stones, the new colors for 2017 include the following:
4033 Rugged Concrete
5043 Montblanc
5143 White Attica
6046 Moorland Fog
6134 Georgian Bluffs
Rugged Concrete has unique imperfections and color variations that look and feel like real concrete. It's the first quartz surface to achieve this appearance and texture, which is symbolic of converted lofts and urban environments. Neutral palettes are the best choice for softening the raw edges of Rugged Concrete.
Montblanc has a light grey base color with natural veins, giving it the appearance of natural stone. These warm, dominant veins vary in color and thickness to enrich its texture.
White Attica is primarily black and white with hints of mild grey tones. This combination gives it a natural look that will upgrade any interior.
Moorland Fog is our contemporary interpretation of natural stones. It combines a light, cream color with a touch of taupe, resulting in a rich texture. It's also embellished with swirls of light and dark tones as well as brown and dark grey veins.
Georgian Bluffs has the grey tones and gentle veins need to create the classic, refined texture of natural stone. It complements any interior with a trendy, timeless look.
Turbine Grey has a mixture of natural grey tones composed of a classic grey background and swirls of gentle grey colors. It also has beautiful veins in light and dark grey tones.
Visit Caesarstoneus.com and The Interior Collective to be in-the-know on the latest in quartz surfacing design.