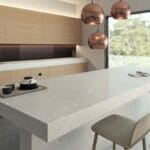 Quartz countertops in Los Angeles adorn the kitchens and bathrooms of everyone from the rich and famous to ordinary people with good taste. In this post, we'll look at why quartz is so popular in the 'City of Angels' and how it compares to other materials.
What Are Quartz Countertops?
How Are Quartz Countertops Made?
Quartz is one of the most abundant minerals on earth. During the quartz countertop manufacturing process, we combine loose samples of the rock with resins and pigments to create an engineered stone surface. We mold this surface into the countertop slab shape, treating it with heat before curing and polishing it. Click here to learn more about our manufacturing process.
Quartz countertops offer you the best of both worlds. You get the natural beauty of stone but with far less hassle than something like granite (more on this shortly). You also end up with a far more versatile surface capable of keeping up with the ever-changing world of design trends.
What Makes Quartz Countertops In Los Angeles So Popular?
For a more in-depth look at quartz countertop benefits, check out this post. We'll summarize some key points here.
Low Maintenance
From the 1980s to the 2000s, granite countertops were the surface of choice throughout America and especially in Los Angeles. Granite was the status symbol to have in your home.
Times have changed, to say the least. Granite is nowhere near the most popular countertop material now, thanks in large part to its impracticality. You see, granite countertops require resealing as often twice yearly. Because the stone is so porous, failure to reseal it will result in stains and damage.
With quartz, maintenance is far simpler. You never need to reseal quartz countertops but rather wipe the surface down regularly and avoid spills.
Popularity
You could certainly argue that Los Angeles is one giant popularity contest. Few other cities in America exhibit the same level of competitiveness when it comes to displaying status symbols. Quartz's popularity makes it one such status symbol.
Here's the thing, though. Unlike some of the more fleeting status symbols out there, quartz's popularity is based on substance. It's legitimately the best countertop material on the market, which has contributed to it becoming the 'standard' all over the world.
Versatility
Los Angeles is a massive city, with each neighborhood having its own characteristics and look. Quartz's engineered nature allows designers to produce styles ranging from traditional to contemporary and everything in between.
Whether you live in casual suburban Venice or have a home in Hollywood Hills, there's a quartz countertop that meets your needs.
Cost
The cost of living in Los Angeles is substantially higher than the national average. If you're spending a fortune on your mortgage, you probably want to keep recurring costs as low as possible. Quartz is one of the few truly premium countertop materials that incur very little ongoing costs, thanks primarily to the lack of need for frequent resealing.
Quartz Is Outdoor-Friendly
Up until recently, quartz still fell short of granite in one key area: outdoor use. Most quartz on the market behaves unpredictably when exposed to excessive UV radiation, which Los Angeles has in spades.
Now, with the launch of our outdoor quartz, that's no longer a problem. This innovation is certain to make quartz even more popular in Los Angeles going forward.
Other Types Of Countertops In Los Angeles
Now that you have a solid understanding of quartz countertops, let's compare it directly to the other materials available in Los Angeles.
Granite Countertops In Los Angeles
As mentioned earlier, granite countertops in Los Angeles used to be incredibly popular. Granite's high maintenance has made it impractical for most homeowners.
Of course, Los Angeles is also a very status-driven city. In granite's early days, it was exclusive; only those with money and exquisite taste had it. As time wore on, granite became substantially more commonplace. Because granite is limited to a few shades and patterns, trendsetters began looking to other materials once those options lost their exclusivity.
Quartzite Countertops In Los Angeles
People often confuse quartzite and quartz, which is why we put together this detailed guide to explain the difference. Quartzite is manufactured using slabs of natural stone. As with most natural stone, quartzite is very porous and requires frequent resealing. Its look and cost are similar enough to quartz that many designers choose quartz instead.
Concrete Countertops In Los Angeles
Those designing industrial-style kitchens often spring for concrete countertops in Los Angeles. What they end up with is something a bit less refined and more impractical than they bargained for.
Concrete countertops offer all the downsides of stone countertops in Los Angeles without any of the natural beauty. Specifically, you need to reseal concrete countertops on a regular basis.
To make matters worse, concrete is very difficult and expensive to install. You need to hire a specialized contractor who knows how to pour concrete. The pouring happens on-site and the countertop must be left to cure for about 28 days.
Further, concrete accumulates cracks and patina very easily. If you'd like your countertop to consistently look as youthful as the many celebrities that call Los Angeles home, consider something like Concrete 2003. It's made from quartz but resembles poured concrete.
Laminate Countertops In Los Angeles
Laminate countertops in Los Angeles are the low budget option. There's really no reason to consider laminate other than that. Its build quality is vastly inferior, with warping and chipping being common occurrences.
Laminate also isn't very aesthetically pleasing. It consists of laminate sheets glued to a piece of particleboard. Whatever pattern the countertops have is printed directly onto the laminate sheets, giving off a two-dimensional look.
Even if your budget is really tight, there are better options. Check out our Transform product. It's a quartz overlay that can be fitted directly over your existing countertop. You'll pay much less than you would for quartz but get comparable durability and looks.
Frequently Asked Questions
Is quartz better than granite?
Quartz is substantially better than granite. It requires less maintenance and offers greater versatility.
Which is more expensive in Los Angeles – granite or quartz?
Upfront, granite and quartz cost roughly the same; $40+ per square foot. Granite costs much more in the long run, however, due to ongoing maintenance costs.
Can you put a hot pan on a quartz countertop?
We don't recommend that you put a hot pan on any type of countertop, including quartz. Hot pans can leave burn marks in the resin.
Do quartz countertops stain?
While quartz is nonporous and therefore resistant to staining, you can still damage it if you're not careful. Avoid spills as much as possible; wipe them up promptly when they do occur.
Things To Do In Los Angeles
Whether you're looking to celebrate after finally choosing kitchen countertops in Los Angeles or you're just looking to take your mind off your kitchen renovation, here are a few popular activities in the city.
Getty Center
The Getty Center houses one of Los Angeles' most popular museums. It's known for its exquisite display of sculptures and other European artifacts. The Getty Center also offers one of the best views of Los Angeles you'll find.
Rodeo Drive
Rodeo Drive is arguably Los Angeles' most iconic shopping district. You'll find some of the most luxurious brands in the world here. Even if you're not shopping, Rodeo is a great place to go people-watching. You'll see lots of fancy cars and fellow tourists soaking in the air of luxury.
Venice Beach
If you prefer beaches to high-end shopping centers, head to Venice Beach. It's one of the world's most iconically beautiful beaches. If you live in Los Angeles and have never caught a sunset here, you're missing out.
Beaches of Santa Monica
Venice Beach can get a little crowded during some times of the year. Check out the beaches of Santa Monica for a few more options. All offer great views of the sunset and plenty of room for recreational activities like volleyball.
The Broad Museum
The Broad Museum is a great free attraction in downtown Los Angeles for those who love contemporary art. You'll find nearly 2,000 pieces of art here, created by visionaries such as Andy Warhol, Jeff Koons, and countless others.
Map Of Los Angeles
https://www.google.com/maps/embed?pb=!1m18!1m12!1m3!1d423286.27405770525!2d-118.69192047471653!3d34.02016130653294!2m3!1f0!2f0!3f0!3m2!1i1024!2i768!4f13.1!3m3!1m2!1s0x80c2c75ddc27da13%3A0xe22fdf6f254608f4!2sLos%20Angeles%2C%20CA%2C%20USA!5e0!3m2!1sen!2sca!4v1584476301708!5m2!1sen!2sca
More Things To Do In Los Angeles
Looking for more great attractions in Los Angeles? Check out the video below.