The choice for eye-catching, practical countertops is diverse, leaving many Miami homeowners overwhelmed when shopping for the perfect one.
Quartz, being one of the most popular countertop materials, is the best choice for any homeowner. It is available in a wide variety of colors and patterns, it is durable, and the material goes well with any home aesthetic.
Caesarstone comes highly recommended as a top choice for Miami quartz countertops. If you are looking for quartz countertops in Miami, keep reading to see why quartz material is an excellent choice for all your countertop needs.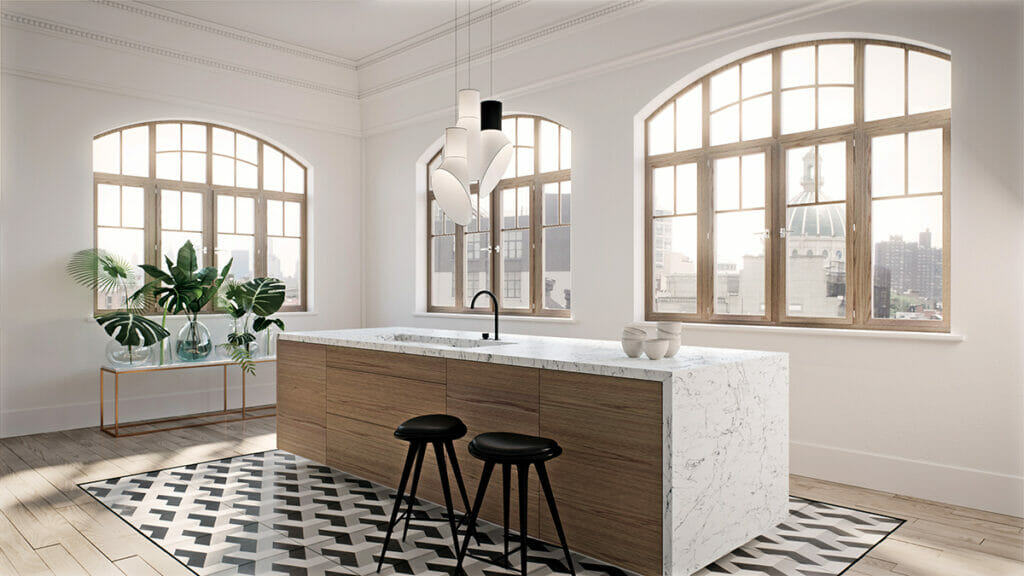 Why quartz countertops are the best option for any homeowner
Here are some of the benefits that homeowners will experience by choosing quartz countertops in Miami, Florida, for their bathroom or kitchen projects.
The aesthetic value
Quartz countertops may be preferred for other reasons. However, the aesthetic value remains a priority for homeowners. The clarity, beauty, and depth are some of the reasons why quartz countertops are among the most sought-after countertop materials in Miami.
Quartz countertops can be manufactured with different sizes of quartz minerals. The use of finer granules results in a smooth and consistent appearance. Larger crystals, on the other hand, produce a more flecked look that mimics natural stones like granite.
As such, homeowners can find the perfect quartz-based countertop to best suit their Miami home. Some options that come to mind include Caesarstone's 4044 Airy Concrete or 6313 Turbine Grey.
The wide variety of colors
Shopping for countertops can be a challenging experience. Since quartz is engineered, the wide variety of colors and patterns for this countertop material is vast, making the shopping process much easier for homeowners.
The hard-wearing nature
Quartz is one of the hardest minerals on earth, a trait that is transferred to the end product. And with the added resins and polymers, the surface becomes highly durable and resistant to cracks and chips. Likewise, quartz manufacturers like Caesarstone offer a lifetime warranty on indoor countertops, which is an assurance of the product's top-notch quality.
Easy-to-maintain
Quartz countertops are a time saver. They are easy to clean and maintain, given their non-porous nature. To clean these countertops, all that homeowners need is a solution of clean water and soap. There are also approved cleaners on the market for tough stains or rust marks. Likewise, quartz countertops don't require sealing, saving homeowners time and money.
Miami homes paired with Caesarstone quartz
These homes are stunning! They boast a colorful and glamorous style, both inside and out. If you have an art deco home in Miami, white quartz countertops that classic, elegant, and timeless, such as 5143 White Attica, will make a beautiful addition to your unique home.
Being one of the most common houses in Miami, bungalows are popular for various reasons. They withstand inclement weather and offer charming architectural elements. Installing a traditional quartz countertop like 6270 Atlantic Salt in a Miami bungalow adds to the home's delight.
Popular in Miami and South Florida, these types of homes have bold and romantic features. They are inspired by the Spanish and Italian Renaissance eras. Bright hues of quartz countertops, whether veined, speckled, or solid, will suit these homes perfectly. Homeowners can try a color like 5212 Taj Royale to add to this aesthetic.
Miami is home to a variety of luxury condominiums. For a feeling of sheer lavishness, condo owners can opt for a quartz countertop inspired by Italian Calacatta marble: 5114 Calacatta Maximus.
Contemporary homes feature all the up-to-date elements that homeowners love. If you are looking for homes with luxury bathrooms, large kitchens, open-concept spaces, and large windows, this is the perfect housing plan.
If you are decorating your contemporary home, quartz countertops are the best choice to add some color and depth to the kitchen while still ensuring you get the vast benefits that come with the durable countertop material. An option like 3100 Jet Black would work beautifully in a contemporary space.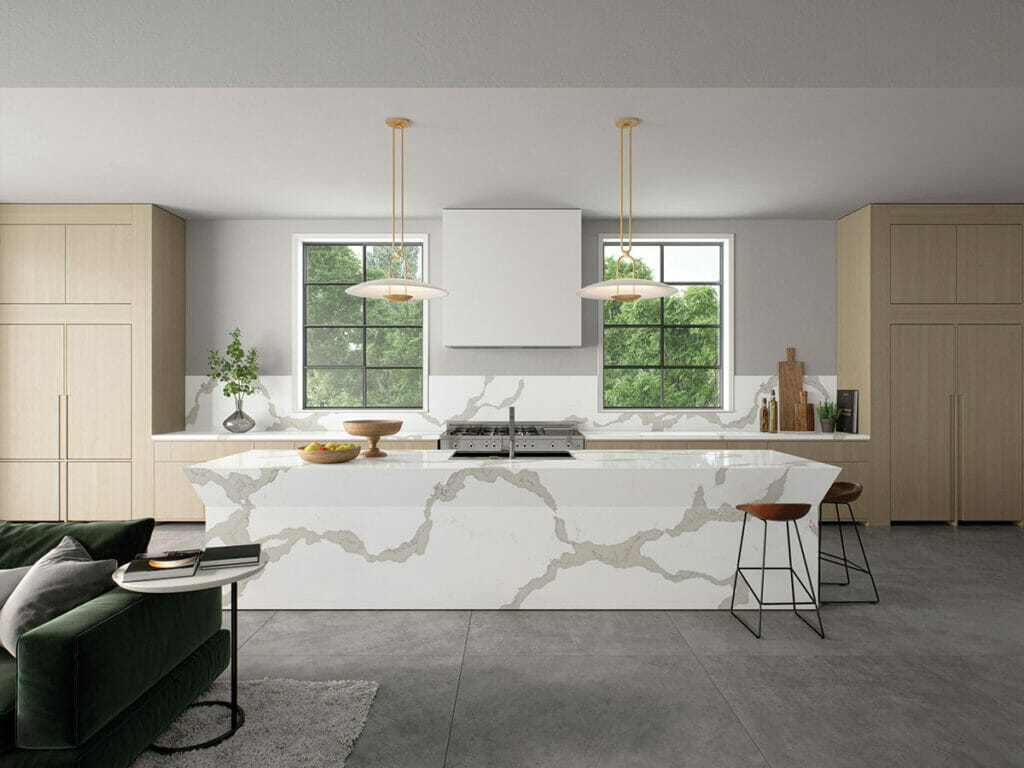 Miami Quartz Countertops: Price
The price of quartz countertops in Miami ranges from $50 to more than $100 per square foot. This price depends on the manufacturer, slab size, color, and pattern chosen, as well as any other additional specifications.
Given the durability of quartz countertops, this cost is well worth the longevity that homeowners will get from their material. The most important thing to remember when shopping for quartz countertops in Miami, FL, is to avoid cheap countertops. While you may think you are saving by buying cheap, the cost incurred to repair or replace the countertops is nothing that any homeowner wants to experience.
Where to get quartz countertops in Miami
Shopping for quartz countertops can be a stressful process. Differentiating between high-quality and subpar-quality countertops is a skill that most people have yet to master. For homeowners who are just starting a countertop project, purchasing from reputable manufacturers eliminates this process.
If you are looking for quartz countertops in Miami, Caesarstone is renowned for quality countertops. You can find nearby Caesarstone showrooms and retailers here.