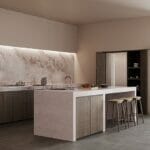 Each year, SEN Design Group hosts a semi-annual kitchen and bath conference that features proactive workshops, roundtable discussions, training, panels, and one-on-ones with nationally renowned kitchen and bath experts. The fall 2018 conference took place Sept. 4-7 in Denver, CO.
Caesarstone is a proud vendor of the SEN Design Group which allows the opportunity to connect with kitchen and bath retailers with real conversations to foster deeper relationships.
In lieu of traveling from booth to booth hoping to catch all the vendors during the conference, this season's format had each design group member meet directly with each vendor one-on-one for ten minutes. This allowed personal connections between all accounts and open talk about new products, new colors, vendor/member relationships, S/Lab, and more.
The Caesarstone representatives were inspired by each member's passion for their business and were happy to hear how they could help members with product knowledge, print collateral and sample needs, and more.
The Metropolitan Collection was the talk of the conference as members discussed how excited they are about the new Caesarstone color palette, specifically Excava and Airy Concrete.
If you are a SEN Design Group member or a kitchen and bath retailer interested in learning more about Caesarstone or the SEN Design Group conference, please contact us and we'll be happy to help answer any questions you may have.