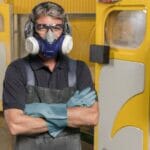 In our continual effort to ensure greater workplace safety for quartz fabricators and other industry professionals, Caesarstone announces our Master of Stone program—a series of free professional seminars, e-learning modules, and web resources. While we have long had safety measures in place, this educational initiative was created for our fabricators and industry professionals and addresses all issues of health and safety in the workplace with special emphasis on creating a space free of the potential implications of respirable crystalline silica dust.
"There are so many good fabricators in the business who want to know [how to do better] and are coming to us with questions. And there are so many good architects and designers who want to do the right thing and take so much pride in what they do," said Elizabeth Margles, Caesarstone vice president of marketing, of the initiative. "This program will help [the industry] become a little more buttoned-down—clearer and more regimented and rigorous in regard to the product. That's what we're focused on."
Oftentimes, safety guidelines are confusing, so fabricators don't take the time to gain knowledge about the issue. Our unique Master of Stone online training center puts safety knowledge as high priority and is clearly accessible to managers and employees in the quartz surface industry. "When dealing with the dust risk and its implications, we at Caesarstone are determined to become part of the solution by being proactive and leading the revolution to create a safer work environment for all," said Margles.
Master of Stone formally launched February 3, 2020, and is now available to all companies involved in the quartz surfaces business. Professional fabricators can enroll at mos.caesarstone.com to access health and safety information, guidelines, methods, and collateral through a mobile-accessible platform designed to present complex content in a user-friendly manner.
Professional training seminars will increase fabricator awareness on safety and enrich their professional knowledge. Look for dates in select cities in New York, New Jersey, California, Texas, Illinois, North Carolina, and Georgia throughout 2020.
For more information on the Master of Stone safety program, check our Press Release or visit this Business of Home article or Stoneworld article.