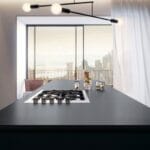 A beautiful kitchen is an organized one. But sometimes that's easier said than done. We know that a busy lifestyle makes it difficult to keep the kitchen clean and organized with making and eating dinner, doing homework and rushing to get to soccer, hockey, dance piano or just getting ready for bed. So we're sharing a few simple tips that will make it easier to keep your kitchen organized and make cleaning up quicker and easier.
Out with the old
Clean your cupboards, clear your mind. The first step in organizing your kitchen is to free yourself of clutter and get rid of anything you're not using. Go through everything in each cabinet and discard or donate any duplicates, items you use infrequently or things you forgot you even had. Show no mercy, and only keep what you love and use regularly.
Counter intelligence
A beautiful kitchen countertop speaks volumes. But its beauty can't come through if it's all covered up. Free up precious counter space with a few smart storage solutions. For example, install a paper towel holder on the wall or under a cabinet by the sink. Keep cleaning tools like soap and sponges out of sight and out of the way with caddies made to go inside the sink, or behind a cabinet door underneath the sink.
Off the junk
Don't let junk get in the way of a beautiful kitchen. While the countertop can be a magnet for every scrap piece of paper, mail, car keys and more, you can keep it clear by placing a small or medium bowl in the corner to hold all of the stuff that hasn't yet found its rightful place. Go through it every week and throw things away or put them where they belong. If it keeps filling up again, look at some new organization strategies like installing a dedicated key and mail holder or adding storage to your entryway.
The great divider
Where's the bottle opener when you need it? Put everything in its right place and keep your drawers from becoming a jumbled mess. Dividers are a great addition to cooking utensil drawers and even the junk drawer to give all those special tools and random things a proper home, making it easy to find whatever you're looking for.
Vertical challenge
Free up valuable cabinet real estate by making full use of vertical space. Install a hanging stemware rack underneath a cabinet for wine glasses or add hooks to hold your mugs. You can also use simple adhesive hooks inside cabinet doors to hold oven mitts and more. Find even more room in your kitchen by looking up. A ceiling rack is a great storage solution for pots and pans.
Double up
Wire shelf risers multiply vertical storage space and effectively turn one shelf into two. Perfect for a kitchen short on cabinet space, risers are a simple way to make more room for dishware and take your storage up a notch.
Beautifully practical
Get more ideas for the kitchen and see why Caesarstone quartz countertops are the perfect combination of beauty and durability.