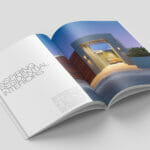 First and foremost, Caesarstone thanks the A&D community for trusting us as their preferred surface. It has helped Caesarstone hold position as a leading brand.
Caesarstone is renowned for producing the very best surfaces in the industry, designing a variety of perfectly considered shades featuring extraordinarily elegant patterns and textures. So how does its design team start and where do they find their inspiration?
"We have been designing surfaces for more than thirty years and since day one our intention has been to push technical and creative boundaries," says Chief Designer, Mor Krisher. "The story reflects the broader design approach of Caesarstone, where inspiration is sometimes less than obvious but the results are always breathtaking. We are visual creatures and we respond to the color and patterns that surround us, good or bad. I think Caesarstone plays a role in creating environments that inspire, that connect us with nature or that provide the tactility that is so important to human beings," says Mor.
See how, with artistic innovation and synergetic creative vision, Caesarstone pushes the boundaries and elevates the exploration of color and texture to enhance designs in new and profound ways in commercial interiors like hospitality settings, healthcare facilities, urban development, and in residential interiors.
Caesarstone provides the freedom to create custom spaces and unique applications that garner awards and international acclaim—endorsing those who use the product as visionaries.
"When I show someone a new Caesarstone product for the first time, they always end up with their hand repeatedly playing across the surface as we talk, often quite unconsciously. That's when I know we've done our job," Mor concludes.