The vanity top is the center of attention in any bathroom. It's also one of the most used areas during the personal cleaning and beauty regimen, and therefore, it should be functional and stylish.
Selecting the best vanity top material for a bathroom is an important decision that demands thorough planning, specialized skills, and meticulous taste. Whether renovating to list the property or for an updated aesthetic, choosing a suitable bathroom vanity top material will help to achieve a beautiful, functional, and high-valued space.
Like kitchen countertops, bathroom tops may experience minor wear and tear. But, it should withstand soap, cosmetics, toothpaste, alcohol, and acetone-based liquids.
Material Options for Bathroom Vanity Top
Some excellent bathroom vanity top material choices include:
Granite comes in a limitless variety of colors, styles, and patterns and is loved for its dramatic beauty. It's durable and resistant to heat and humidity. Granite has been one of the most expensive options in the market, but it's becoming more affordable now. A significant drawback of granite is that it must be sealed to resist stains.
Quartz is the most popular countertop material for bathroom renovations among homeowners. In fact, quartz has overtaken granite and is now the number one choice.
This artificial material consists of 93% natural quartz bonded together using resins and polymers, making it the most durable and hardest material. Unlike granite, quartz doesn't require sealing. Quartz is naturally stain, moisture, and bacteria resistant.
The only downside is that quartz is one of the higher priced options. However, that high upfront cost you incur pays off over time.
This limestone type of material comes in different colors and patterns. It has fewer color patterns compared to granite. The most common pattern is white with gray streaks or almost black with white stripes.
Marbles' main drawback is that it's prone to scratch and stain. Another disadvantage is that it's relatively porous and soft. However, most people still love it because of its stylishness and elegance.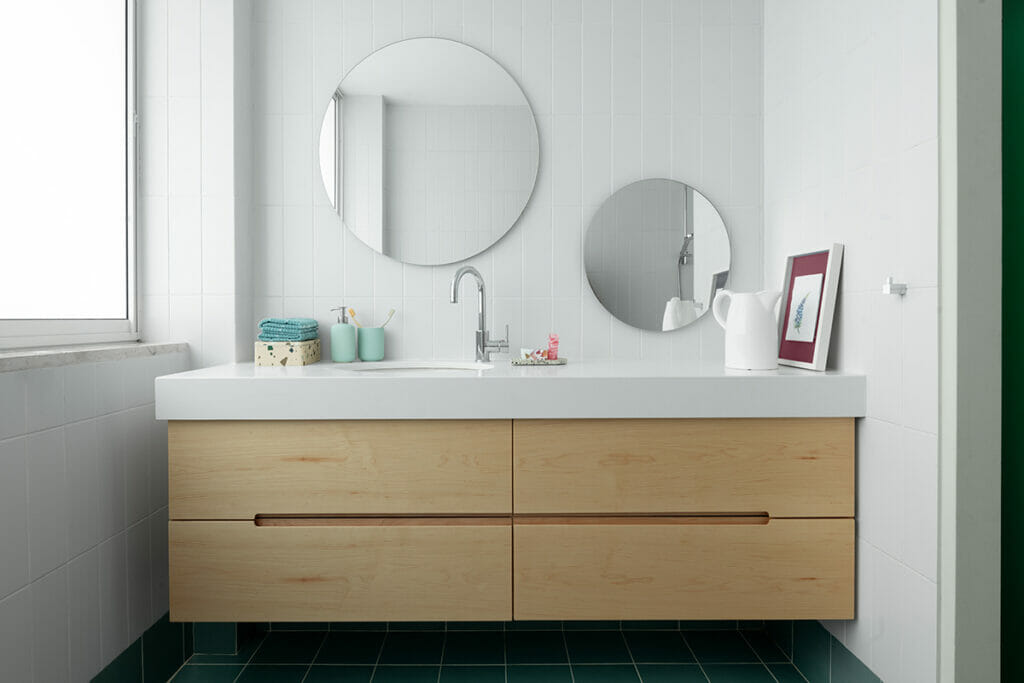 5 Factors to Consider When Selecting the Best Vanity Top Material
When selecting the best vanity top material for your bathroom, here is what you need to consider:
Appearance
The overall look you want to achieve is the first factor to consider. Sophisticated or straightforward? Modern or classic? What color theme will complement the rest of the home?
For small bathrooms, white or neutral tones work better because they minimize that cave-like feeling. More expansive spaces, on the other hand, pair well with brighter colors and patterns with veining. 
To achieve a dramatic look in your contemporary bathroom, consider veining with darker tones or incorporate random speckles of gray, white, or gold against a darker background. Marble is one of the best options for richer and thicker veining patterns.
Alternatively, home remodelers that prefer finer veining styles and a cool modern look for their bathroom countertops should go for quartz. With this slab, a rounded edge will bring a better flow to the space.
Made of 93% quartz and mixed with resins and polymer materials, quartz is ideal for a fresh bathroom look. This makes it not only durable, scratch-resistant but also non-porous. While it may be at a higher price point, it's not only durable and scratch-resistant but also non-porous. Furthermore, choosing quartz material will also increase your homes' resale value.
Cost
Cost is also an essential factor when planning a bathroom remodeling project. It's a no-brainer that you should consider your overall budget compared to the countertop size you want to replace. This way, you'll be able to pick the suitable bathroom vanity top material that complements the finished project and remains within your budget.
The average cost for remodeling a mid-range bathroom lies between $3,000 to $25,000, and a small bathroom upgrade can cost between $6,000 to $15,000 in the US. While it's possible to create a lovely custom bathroom countertop with low-budget materials, it's also important to think about the long-term implications.
Sometimes, cheap is expensive. Meaning a low-cost material may cost more money in maintenance later. Be sure to work with the right contractor and source materials from a trusted producer like Caesarstone.
Durability
Considering your bathroom vanity tops will be exposed to harsh chemicals, cosmetics, soaps, and lotions, it is crucial to ascertain that it is tough enough to withstand them. Finding a strong bathroom vanity top material should be a priority.
Quartz tops the list of the most durable and hard materials and the most in-demand today for most homeowners, according to the National Kitchen & Bath Association (NKBA) study. It comes with plenty of advantages such as its striking beauty, low-maintenance, and stain-resistance.
Quartz is an ideal choice for those willing to spend a little more now with a guarantee that they won't be spending any more money on it again any time soon. It maintains its optimal condition for longer and, as such, will give you good value for your money.
For budget-friendly materials, quartzite, wood, tile, or soapstone may be reasonable depending on budget. To ensure these materials won't disappoint in the long run, get expert advice before making a decision.
Personal Style & Taste
The best material for bathroom vanity tops should complement your taste and style. Some people may prefer a rustic bathroom, while others would rather have a spa-inspired or streamlined countertop.
Some homeowners also prefer different styles like single or double bathroom sinks, and others want wall-mounted or freestanding types. Whichever you choose, it should suit your personal preferences.
Choosing between a wall-mounted or a freestanding vanity top also depends on the bathroom size. For example, a freestanding style may add a luxurious feel to a master bathroom. This style results in a more significant visual impact that seamlessly flows into your space. However, it may require moving the existing plumbing system.
On the other hand, a wall-hung vanity top is a superb option for those with small bathrooms. This costs less to install and does not require moving the plumbing system.
Different materials can help you achieve any style. Whether granite, quartz, porcelain, or glass, when picking the material, opt for either bold and warm palettes with flecks and pigments or opt for cool neutral colors.
The finish will also affect how your bathroom turns out. You can have your edge profiles customized to achieve a stylish space.
Available Bathroom Space
The bathroom size is a significant factor to consider when choosing the best vanity top material for your bathroom. Pick the correct dimensions that perfectly match the space available.
Consider factors such as depth, width, and height. The material size you pick should fit the typical stature of your bathroom.
The standard sizes primarily available in the market include 24", 48", 60", and 72". Typically, the vanity top's height range between 33" to 35". And the depth lies between 17" to 24", the standard measure in most cases being 22."
In conjunction with that, picking the right dimension is also crucial since it affects the vanity cabinets' style and size. Choose them considering that you may need to use your vanity top for other purposes like storage of cosmetics and toiletries. Ensuring it has sufficient space for everything is essential.